Happy holidays from the PIVOT crew! We attempted, and I'm happy to say, we succeeded at cooking a full Thanksgiving meal on a boat! Together with our boat buddies, Gwen, Andy, and their dog Aiden on SV Acadia from Abroad Reach Travel, we divided and conquered our Friendsgiving Menu. We have two different boats, a sailboat and a trawler, with two very different galleys. SV Acadia has a propane oven and three burner stove while MV PIVOT has a microwave convection oven and a two burner propane stove. With limited galley equipment and space, we made a 2 course meal in a few hours. We've shared the recipes we made for our Friendsgiving below for you to also enjoy.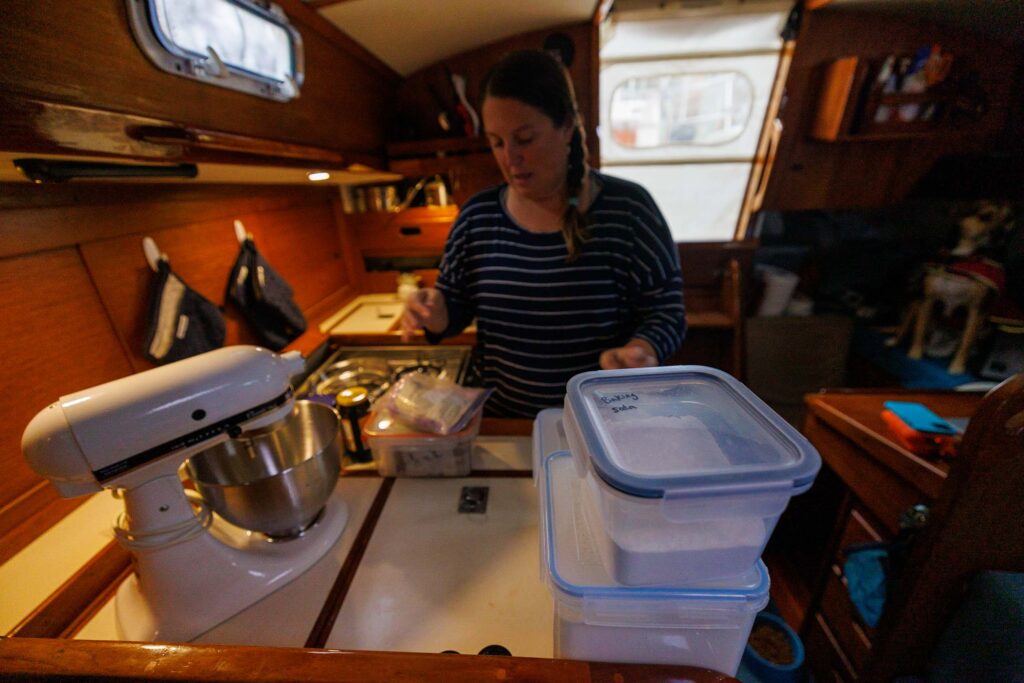 Buttered Stuffing with Celery and Leaks
This is the BEST stuffing recipe I've ever made and enjoyed. I would make this every week if we could on the boat. It's that good!
Ingredients:
1 large loaf good, crusty bread, preferably sourdough or ciabatta (about 1¼ pounds)
½ cup olive oil
8 tablespoons (1 stick) unsalted butter
8 garlic cloves, thinly sliced
2 medium yellow onions, thinly sliced (or 2 large leeks, thinly sliced)
Kosher salt and freshly ground black pepper
4 cups celery, chopped, leaves reserved for garnish if available
1 cup dry white wine
2 ½ cups low-sodium chicken, turkey or vegetable broth
3 large eggs
1 cup finely chopped parsley or celery leaves
½ cup finely chopped chives
2 tablespoons finely chopped marjoram, oregano or thyme (optional)
Directions:
1. Using your hands, tear bread, crust and all, into 1 1/2- to 2-inch pieces. (Alternatively, you can cut the bread with a knife, but I prefer the way the craggy bits toast and soak up the goods.) Place chunks on a rimmed baking sheet, and let sit uncovered at room temperature for 12 to 24 hours. If you're short on time, you can toast the chunks in a 300-degree oven instead, tossing occasionally, until dried out (but not browned) on the outside.
2. Heat oven to 375°. In a large skillet over medium-high heat, combine olive oil and butter. Once butter has melted, add the garlic and onions. Season with salt and pepper and cook, stirring occasionally until onions are totally softened, 10 to 12 minutes.
3. Add celery, and season with salt and pepper. Cook, stirring occasionally until bright green and tender, 4 to 6 minutes. Add white wine, and cook until reduced by about half, 3 to 4 minutes.
4. Whisk together broth and eggs in a medium bowl. Place bread in a large bowl (you want a lot of room for mixing, so go big), and add the egg mixture over everything and toss a few times (I like to use my hands here, but a wooden spoon is good, too). Let sit a minute or two and give another toss. Repeat twice until all the liquid has been absorbed and evenly distributed to each and every piece of bread.
5. Add the onion and celery mixture, parsley, chives, and marjoram, if using. Stir to coat so that everything is evenly distributed, trying not to totally crush the bread.
6. Transfer mixture to a 2 1/2- to 3-quart baking dish (a 9-by-13 pan also works, so does a cast iron, so does…), making sure not to pack it too tightly. (You want to keep the bread in the stuffing as light as possible.)
7. Cover with foil and bake until the stuffing is sizzling at the edges and completely cooked through, 40–45 minutes. If it's not yet time to serve, remove stuffing from oven and set aside. (If you are nearly ready to serve, proceed directly to the next step and continue without pausing.)
8. When ready to serve, remove foil and increase temperature to 425 degrees. Bake stuffing until crispy, crunchy, and impossibly golden brown on top, 20 to 25 minutes. Scatter with celery leaves, if using, and serve.
Recipe courtesy of Allison Roman and can be found here.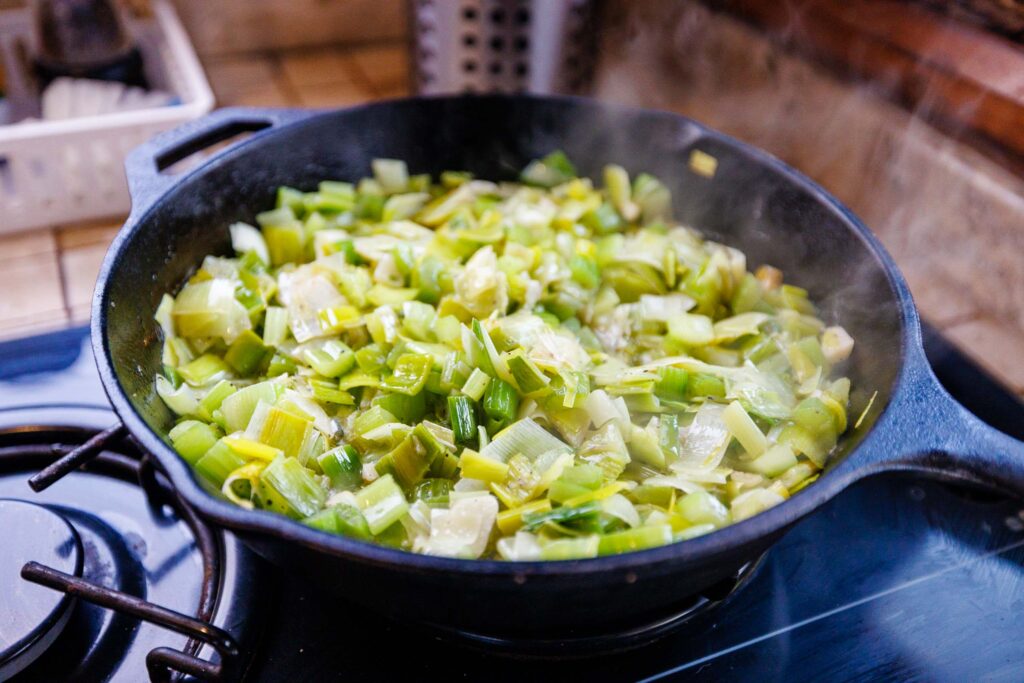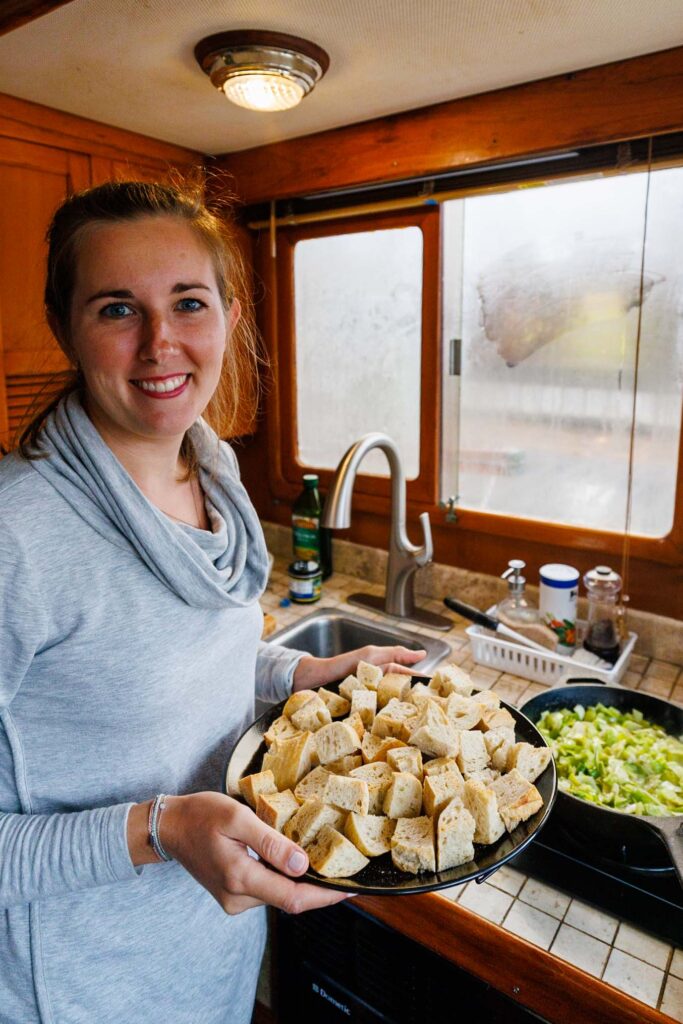 Corn Pudding
Ingredients:
1/4 cup sugar
3 tbsp flour
2 tsp baking powder
2 teaspoons salt
6 large eggs
2 cups whipping cream
1/2 cup melted butter
6 cups (4 cans) corn
Directions:
Combine first 4 ingredients. Beat eggs then stir in cream and butter. Gradually add dry ingredients and stir until smooth. Add corn and pour into lightly greased 13×9 pan. Bake at 350 for 45 minutes.
Recipe courtesy of Gwen Johns from SV Acadia.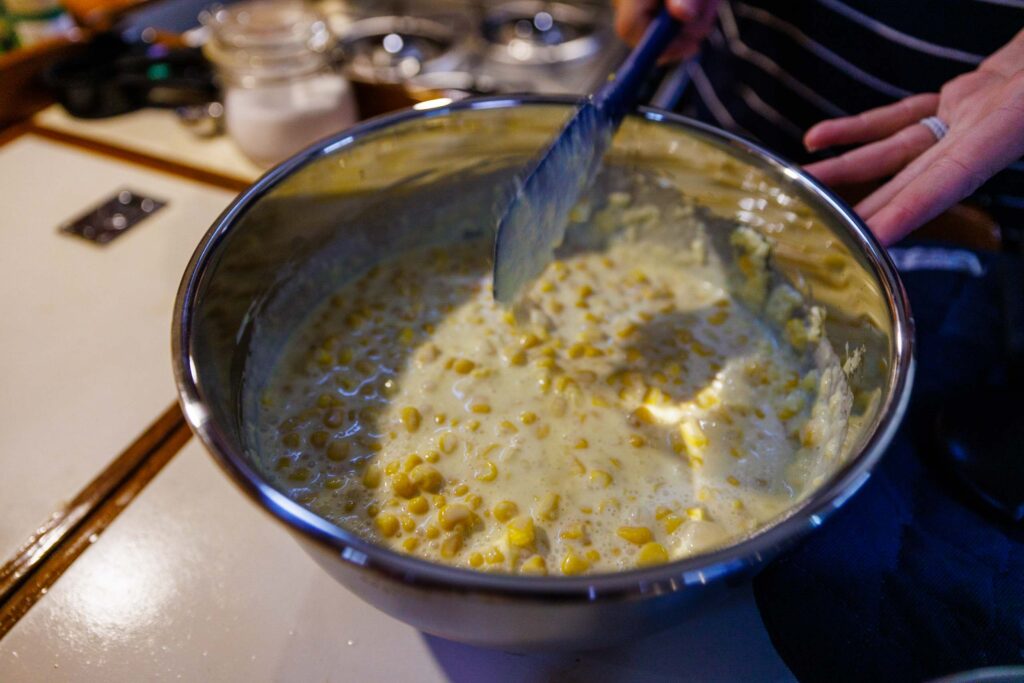 Sweet Potato and Butternut Squash Casserole
Casserole Ingredients:
3 large (~1/3 lb each) sweet potatoes (or sub 6 small per 3 large halved // skin on // organic when possible)
6 cups peeled, cubed butternut squash (1 small butternut squash yields ~6 cups)
2 Tbsp avocado or melted coconut oil (divided)
1 pinch each sea salt + black pepper
1 pinch ground cinnamon
1 Tbsp maple syrup
1 Tbsp butter
Pecan Topping Ingredients:
1 cup pecans (roughly chopped)
1 Tbsp coconut oil
1 Tbsp coconut sugar
1 Tbsp maple syrup
1 pinch ground cinnamon
1 pinch sea salt
1 Tbsp butter (optional)
Directions:
Preheat oven to 400 degrees F (204 C) and lightly grease (or line with parchment paper) 2 large, rimmed baking sheets (use fewer or more baking sheets, as needed, if altering batch size). Also lightly grease a small baking dish (8×8 inch is ideal // size as original recipe is written // adjust if altering batch size)).
Add halved sweet potatoes to one baking sheet, and the cubed butternut squash to another. Drizzle each with half of the avocado or melted coconut oil (1 Tbsp as original recipe is written // adjust if altering batch size)
Sprinkle with a pinch of salt and pepper. Rub sweet potatoes together to distribute the oil, and toss the butternut squash as well.
Roast butternut squash for 15 minutes, then remove from oven and test doneness. It should be very fork tender and easily mashed. Once it's done, remove from oven and set aside.
Depending on the size of your sweet potatoes, they should take anywhere from 20-35 minutes total. Remove from oven when very soft to the touch. Then reduce oven heat to 350 degrees F (176 C).
Heat a large skillet over medium heat. Add chopped pecans and toast for 5 minutes, stirring frequently. If smoking or browning too quickly, turn heat to medium-low or low.
At the 5-minute mark, add coconut oil, coconut sugar, maple syrup, cinnamon, and salt. Stir to coat and cook for another 1-2 minutes. Remove from heat and set aside.
Peel sweet potatoes and add to a large mixing bowl with butternut squash. Use a fork, potato masher, or whisk to thoroughly mash.
Add another pinch salt + pepper, ground cinnamon, maple syrup, and vegan butter. Mash once more to combine, then taste and adjust seasonings as needed.
Transfer mashed squash and potatoes to prepared baking dish and top with toasted pecans. Add vegan butter, cubed, to add additional moisture and flavor (optional).
Bake for 10-15 minutes or until completely warmed through and fragrant. Let cool briefly and then serve.
Leftovers store well in the refrigerator for 2-3 days, though best when fresh. Reheat in a 350-degree F (176 C) oven or in the microwave.
Recipe courtesy of Minimalist Baker and can be found here.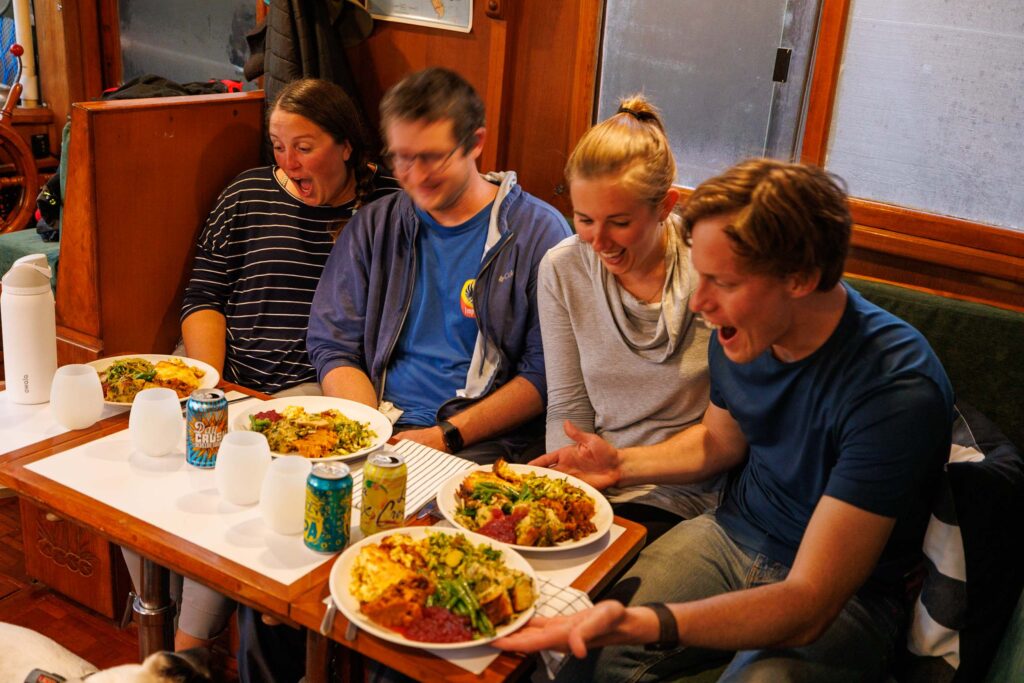 Sautéed Green Beans with Slivered Almonds
Ingredients:
1/3 cup slivered or sliced raw almonds
1 pinch sea salt
1 lb green beans, stems and rough ends trimmed (organic when possible)
1 Tbsp avocado oil (or other neutral oil with high smoke point)
Sea salt and black pepper, to taste
3 cloves garlic, minced
1 Tbsp dairy-free butter (or sub organic dairy butter as needed)
Directions:
Heat a large rimmed skillet over medium heat. Once hot, add almonds and salt and toast for 4-5 minutes, stirring frequently, until toasted. Watch closely and be careful not to burn. Then remove from pan and set aside.
Rinse and dry the green beans and remove any stems or rough ends with a knife or scissors.
Heat the same large rimmed skillet from earlier over medium-high heat. Once hot, add the oil. Wait 1 minute for the oil to get hot, then add green beans. Season generously with salt and pepper (as the recipe is written, we recommend starting with 1/2 tsp sea salt and 1/4 tsp black pepper and working your way up from there).
Cover and cook for about 8 minutes, stirring / tossing occasionally. You want the heat to remain high and the cover tight so the green beans get browned but also tender. Turn down heat slightly if they're close to burning.
In the last few minutes of cooking, add the minced garlic and butter and toss to coat. Cook for 1-2 minutes more, tossing frequently until garlic is fragrant and the green beans are golden brown and tender. Add the almonds and toss.
Serve immediately. Best when fresh. Store leftovers covered up to 2-3 days in the refrigerator (not freezer friendly). Reheat on the stovetop over medium heat until hot.
Recipe courtesy of Minimalist Baker and can be found here.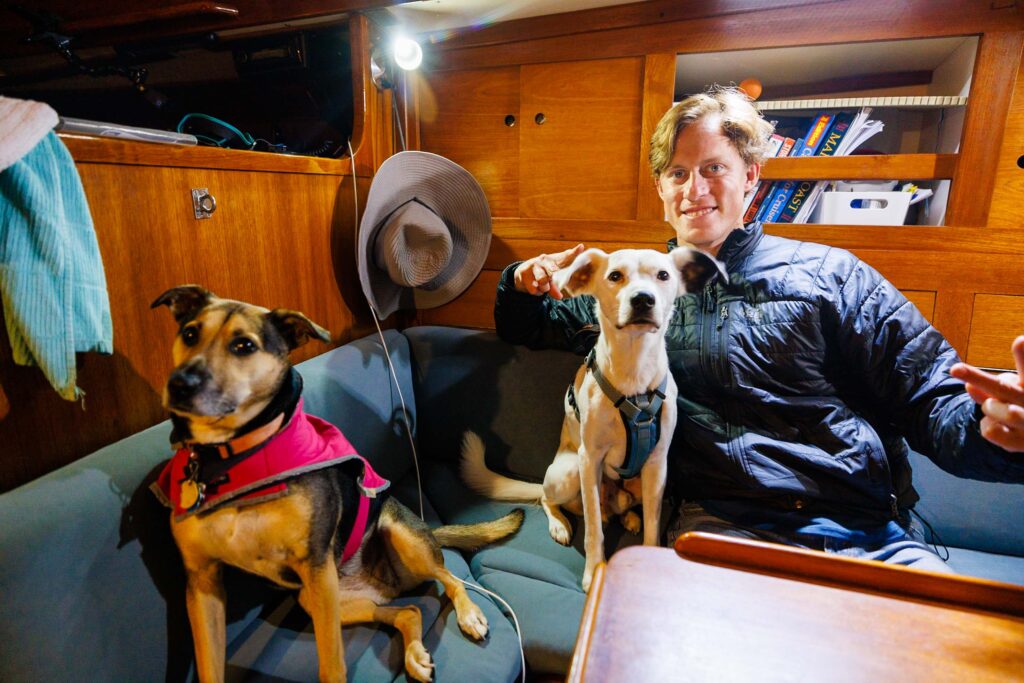 Pumpkin Pie
Ingredients:
1 can ONE-PIE Pumpkin
1 tbsp. Cornstarch
1/2 tsp. Cinnamon
1/2 tsp. Ginger
1/2 tsp. Nutmeg
1/2 tsp. Salt
1/2 tbsp. Butter (Melted)
1 1/2 cups Milk or 1-12 oz. can Evaporated Milk
1 cup Sugar
1/8 cup Molasses
2 Eggs (beaten)
Nothing-in-the-House pie crust
Directions:
Sift sugar, cornstarch, salt, cinnamon, ginger, & nutmeg together. Mix this with contents of one can ONE-PIE Pumpkin. Add eggs, beaten, melted butter, molasses, & milk. Add a dash of lemon juice (if desired). Line a 9-inch pie plate with crust, pour in contents. Preheat oven & bake at 450 for 15 minutes. Then reduce temp. to 350 & continue to bake for 50 minutes.
Recipe courtesy of Gwen Johns from SV Acadia.