Choosing the right outboard motor is important for those boaters who plan on frequently anchoring and need to take their dog to shore. Having a reliable motor that didn't need a lot of maintenance and upkeep was important to us as a young couple balancing working while cruising full time. We explain our experience as two young boaters who decided to purchase an E-Propulsion electric motor when our old propane motor stopped working. Three months later, we examined our decision and gave honest feedback on using the E-Propulsion electric motor.
Our dinghy and outboard came with the sale of our boat, so we didn't go shopping and choose our previous engine. We had a Lehr Propane gas motor and didn't think much of it as our dinghy outboard motor until it started to give us problems. We thought initially, that propane was a fantastic option as we already need it onboard Pivot. So we wouldn't need to find and maintain gasoline as well as diesel and propane. From the start of our maiden voyage, we had problems with our outboard leaking propane gas from the poor wiring and connections. We were anchored near Blue Springs State Park on the St. John's River when our issues with it occurred and we rowed our dinghy to shore for the first time. The motor continued to be finicky and Elliot researched and implemented ways to improve the connections.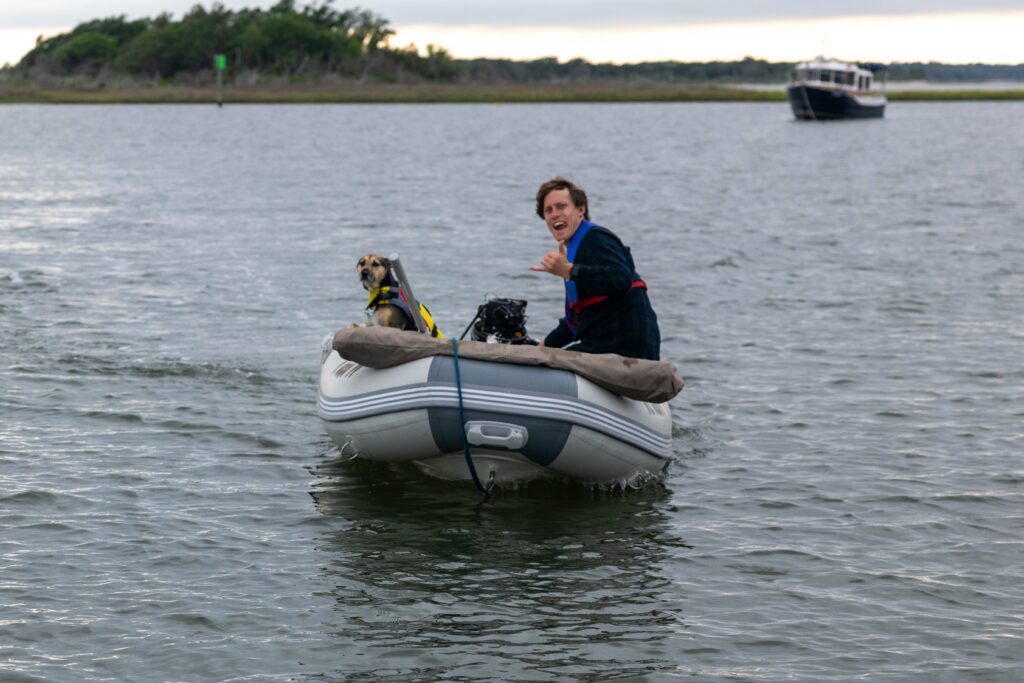 As we left on our grand adventure around America's Great Loop, we continued to have problems with our dinghy motor in Fernandina Beach FL, Cumberland Island GA, Beaufort SC, and Belhaven NC. Elliot attempted to fix the leaks with 5200 which ended up looking like our engine was covered with blobs of marshmallows throughout the engine components. One thing after another continued to break including the kill switch, which would keep the engine running even with the kill switch removed. Elliot had to jerry rig some of the wires together to even make the motor go. It was a mess.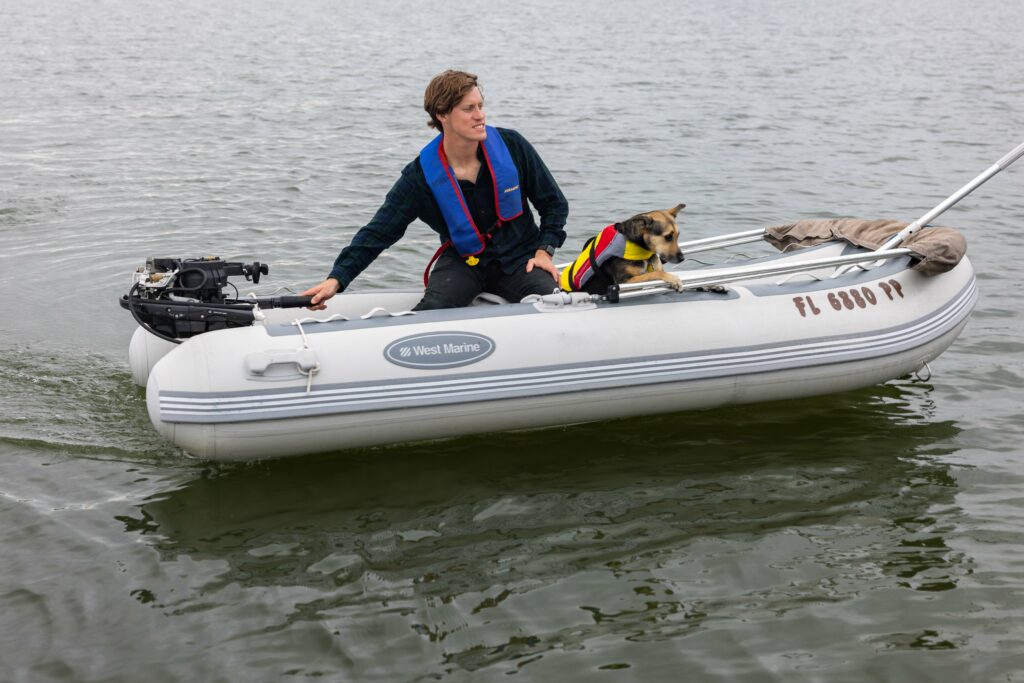 After two months of dealing with a broken outboard motor we knew we had to buy a new motor. Our dependence on our dinghy to take our dog to shore was a big priority given that we wanted to anchor more than go to marinas due to the high compound cost of marinas.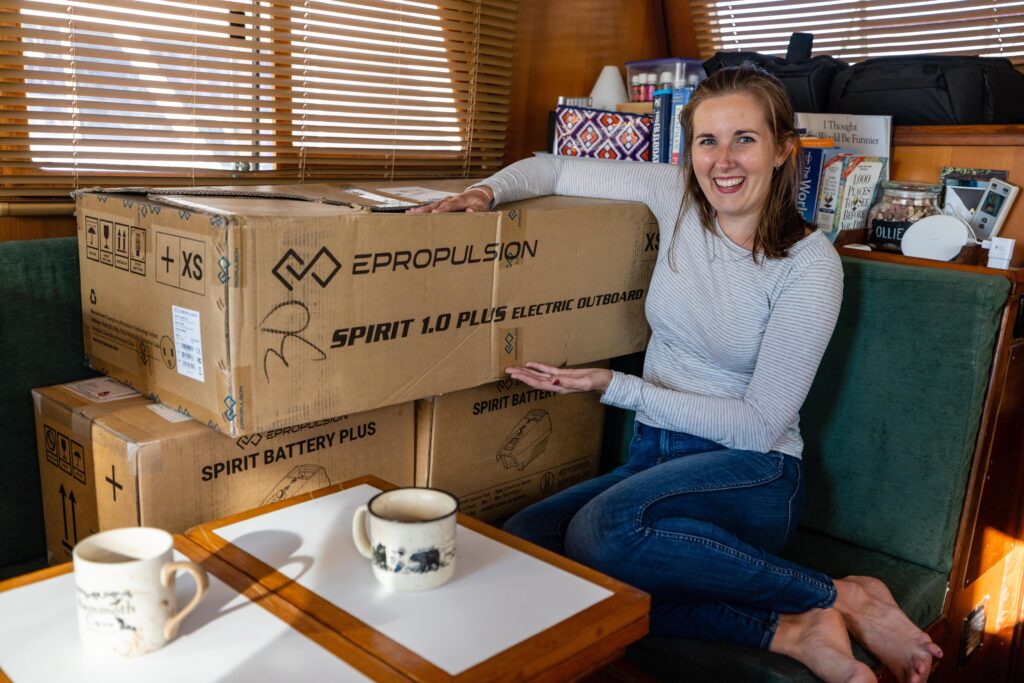 We chose the E-Propulsion Electric Motor for several reasons. First, we wanted a motor that would be easy to start. Our old pull-start Lehr motor was difficult for Jenn to start, so for the two months we were using it, Elliot had to crank start it or he had to jerry rig the wires together to get it to start. It was never easy. Secondly, we already had two fuel types on board (propane for cooking and diesel for our inboard engine) and we didn't want to add a third fuel type (gasoline) to the mix. By purchasing an electric motor, we would be able to limit our fuels on board and charge our batteries with our existing solar set up. Thirdly, we wanted something that would be somewhat lightweight. After reading several reviews online, we decided to go with the E-Propulsion electric motor over other electric motors on the market as it had some very good reviews.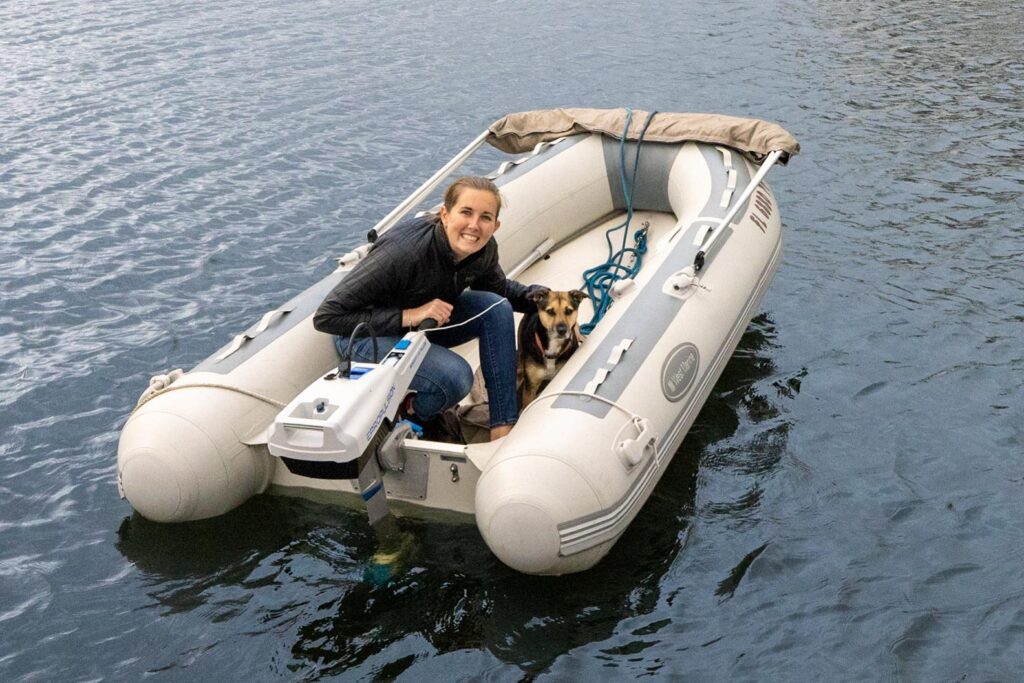 Installing our new E-Propulsion motor was very easy. After much research and thought, we bought two batteries so we would always have one back up given our expected daily usage of the motor to take our dog to shore. The motor arrived in three boxes: one for the motor, keys, charger, and instruction manual, and two additional boxes that held one battery each. Installation onto our dinghy was like any other outboard motor installation with two pins that hold it into place on the transom. The key is magnetic so it stays in place on the handle. There is one screen that shows the current watt usage as well as how much battery power remains. The motor beeps at ½ and ¼ battery remaining which helps us to stay conscious of how much power is remaining.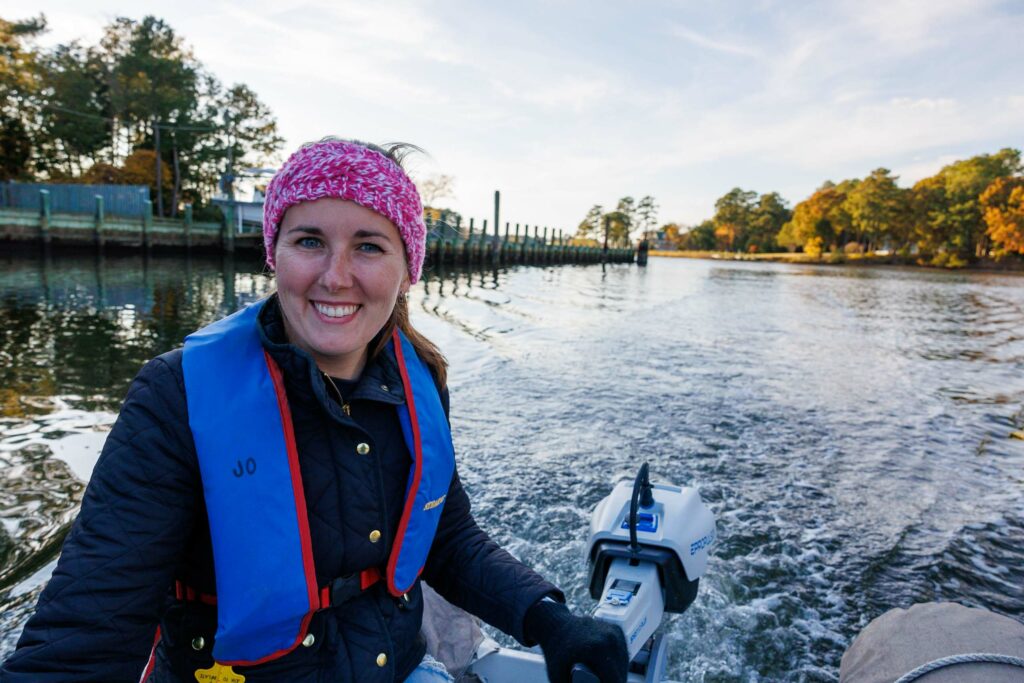 Overall, we are very happy with the motor. There are several things we like about the motor and several things we dislike about it.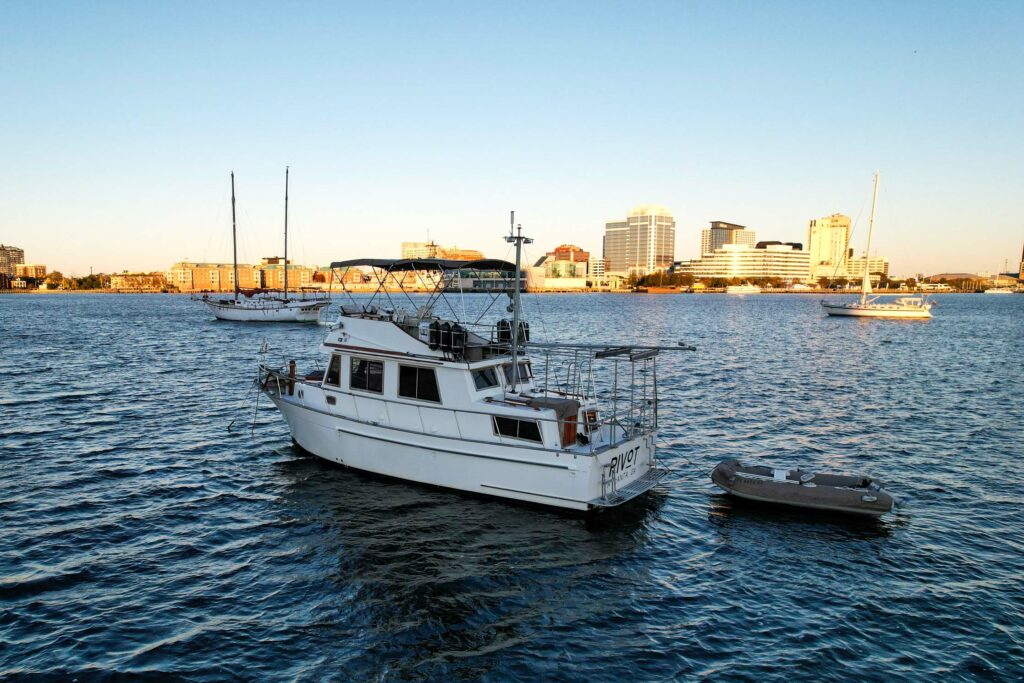 Ease: We love the ease of the motor. The fact that we can attach the key, push a button, and be off is amazing! The motor is quiet, making it nice to use to explore and be able to enjoy a conversation while cruising on our dinghy.
Fuel Type: We're happy that we don't have to keep a third fuel type on board. The battery usage of this motor does go by relatively fast, giving us about 4-5 days (2 dinghy rides per day) of usage out of it before we need to charge it. Charing our motor does take all day, and with our current (winter) solar input, it takes almost all of one day's input.
Speed: We don't go fast, however, that's not why we bought the E-Propulsion electric motor in the first place. We thought we wouldn't mind going slow in our dinghy because we're already on a trawler and travel at a whooping 6 knots. This ended up being the one and only thing that we really disliked about our motor. We realized that after a day of cruising, we would prefer to take our dog out to shore quickly, and that's not always possible with our motor.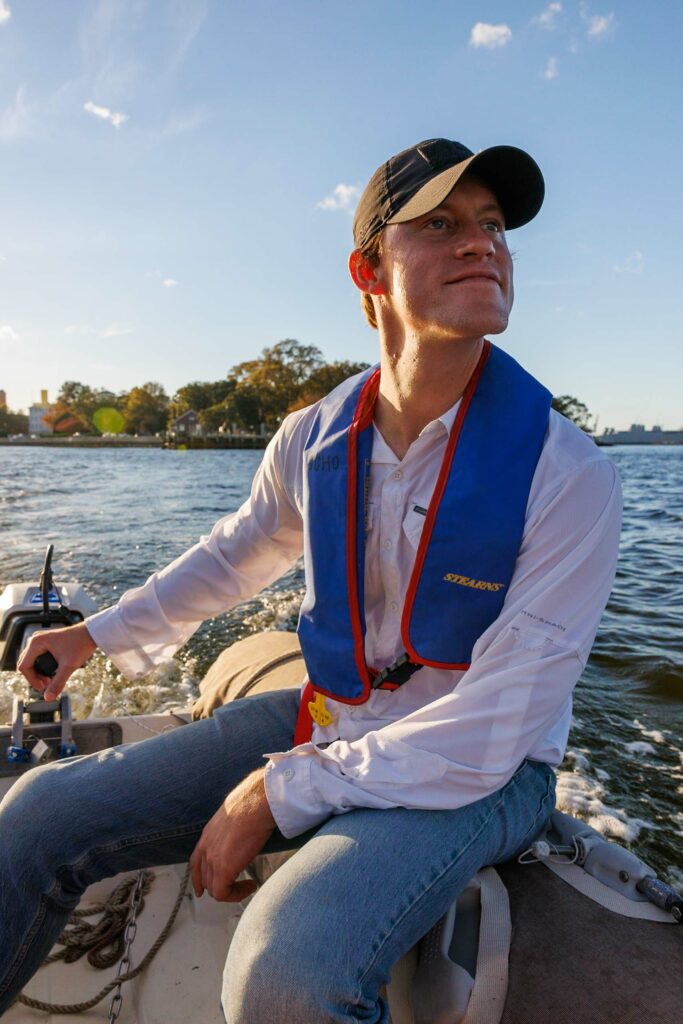 So do our likes outweigh our dislikes? Yes. Would we buy it again? Probably. We're really happy with our purchase and love the easy and overall usage of the motor however we wish we had a little bit more speed. We're not talking about a 20 horsepower motor or anything like that, but having even 6 knots of speed would be nice. We both are happy with our decision to purchase the E-Propulsion Electric Motor.