One Day in Elizabeth City, North Carolina
Elizabeth City, North Carolina is one of the friendliest towns along the Intracoastal Waterway and in this guide, we are sharing some tips and tricks that will ensure you enjoy your time in Elizabeth City, North Carolina. With a beautiful, walkable downtown area, Elizabeth City full of local businesses and southern charm, it's sure to be an enjoyable stop along America's Great Loop or another local boating adventure. We recommend visiting Elizabeth City Tuesday though Saturday as many of their local business or attractions are closed on Sundays and Mondays.
We use affiliate links in this post and on our website. By clicking on our affiliate links you are providing us a small commission, which is at no extra cost to you. It helps us to continue traveling and doing the things we love. We only recommend products we love and actually use during our adventures, and think you can benefit from too!
About Elizabeth City, North Carolina
Elizabeth City is located on the Pasquotank River, just north of the Albermarle Sound, and is known for being the Harbor of Hospitality. The city offers 48 hours of free dockage to visitors and was known for welcoming visitors with a rose, wine, and cheese. It's still known for being a friendly stop for transient boaters from across the world. The waters that connect Elizabeth City to the Pasquotank River and the great Pamlico Sound were some of the waterways that the infamous pirate, Blackbeard once sailed. The town was frequented by the Wright brothers on their way to the Outer Banks. Elizabeth City is the home of three institutions of higher learning – two colleges and one university. Elizabeth City was named one of the Best 100 Towns in America and has a lot to offer its visitors.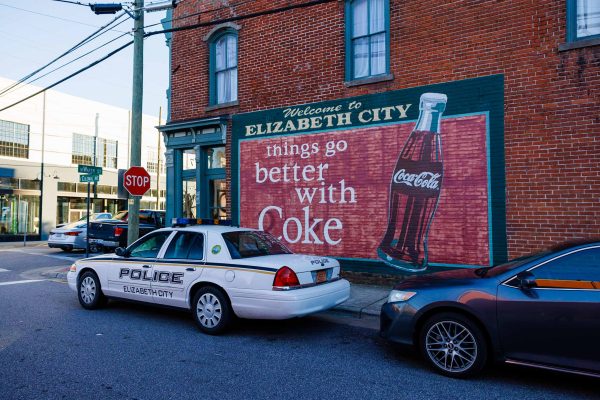 When to Visit Elizabeth City, North Carolina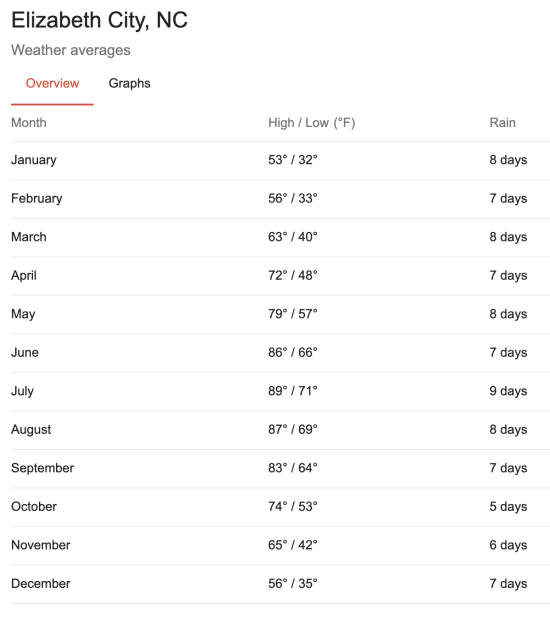 The best time to visit Elizabeth City on America's Great Loop is around April or early May as it keeps in line with the goal of being in the Chesapeake Bay by May. Arriving to Elizabeth City earlier will give you cooler temperatures and arriving later will make it more challenging to be in the Great Lakes during the summer months.
Getting To + Around Elizabeth City, North Carolina
Getting to Elizabeth City by Boat
Elizabeth City has two primary routes in which boaters can access it. Southbound or northbound from the Pasquotank River. An important bridge to keep note of is the Elizabeth City Bridge, which has limited availability during rush hour in the morning and evening. For the most up to date information, check out Active Captain. Check out a full boaters map of Elizabeth City.
Getting around Elizabeth City
The Downtown core of Elizabeth City is walkable and pedestrian friendly. Enjoying the town by foot gives you a great perspective of what's available in the area. Most of the places mentioned in this guide are easily accessed by walking, however, some of the shops might be more easily accessed by bike. Elizabeth City has a 36 Walk Score and a 49 Bike Score (see more about walk score and bike score at the bottom of this article).
Where to Stay in Elizabeth City, North Carolina
We share a variety of places to stay whether you're traveling to Elizabeth City via boat on America's Great Loop, cruising locally, meeting family or friends along for a long weekend, or enjoying a weekend getaway.
Free Docks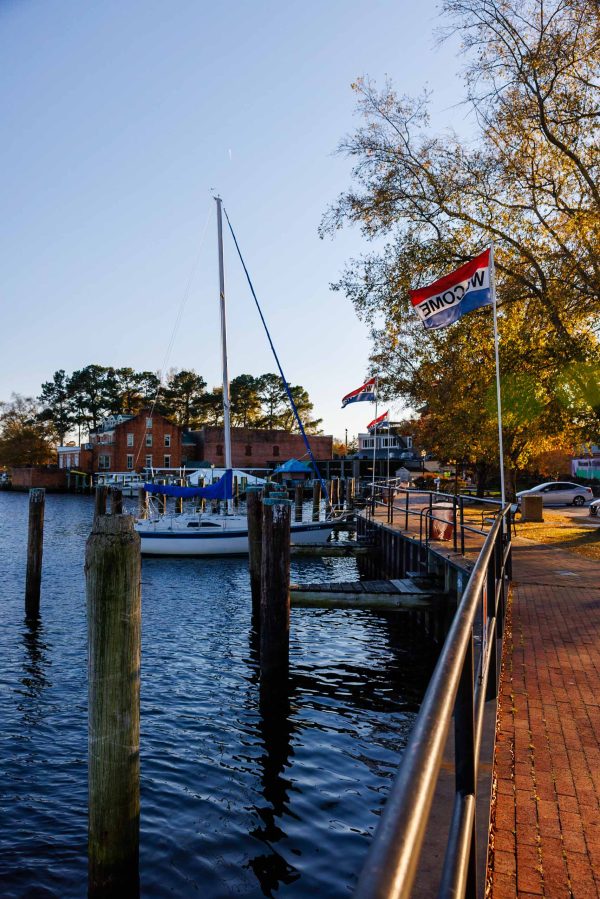 Elizabeth City is known for being the Harbor of Hospitality. They have several free docking options for transient boaters. When choosing which free dock to stay at, it's important to keep wind direction in mind as the Pasquotank River has a lot of chop and fetch if the wind is coming from that direction.
Mariners' Wharf has 14 transient boat slips available for a maximum of 48 hours. The longest slip is 50 feet (15.24 meters), there is no water or electrical service and reservations are not required (nor are they accepted). Slips are available on a first-come, first-serve basis, however, in our experience there have always been slips available. There is a Harborcam to view the dock and slip openings, which we've done on our way to the dock to check availability.
Elizabeth City Waterfront Park has a free bulkhead and can fit a few boats depending upon their size. The bulkhead is on either side of the fishing pier located south of Mariners' Wharf.
Mid-Atlantic Christian Universtiy has free dockage on a wood, fixed dock. No electric or pump out facilities exist, but bathrooms and showers are available. This option is on the north side of the Elizabeth City Bridge.
There are hot showers available to transient boaters located in the waterfront market brick building with a green door. Look for the bathroom signs. For full boating information in Elizabeth City, check out their website!
Check out Active Captain or Navionics for the most recent information on the free docks and what each one offers.
Anchoring
There are a few anchorages near Elizabeth City, which offer varying protection from the wind and current from the Pasquotank and subsequent Albemarle Sound. You can dinghy on over to one of the free docks or the Elizabeth City Municipal Boat Ramp. We recommend checking Active Captain for holding information as well as any other recent reviews and information.
Marinas
Here is a list of marinas in the area, however, with all of the great free docking options, we highly recommend docking at one of the free docks near Mariners' Wharf because of cost and proximity to Downtown Elizabeth City. Although we stayed at the Pelican Marina on our way northbound because we needed power, we would not recommend it.
Pelican Marina
DB City Marina
Lamb's Marina
Use our Referral Code 450ZMS3 when making your first Dockwa reservation and get $15 in Dockwa Dollars.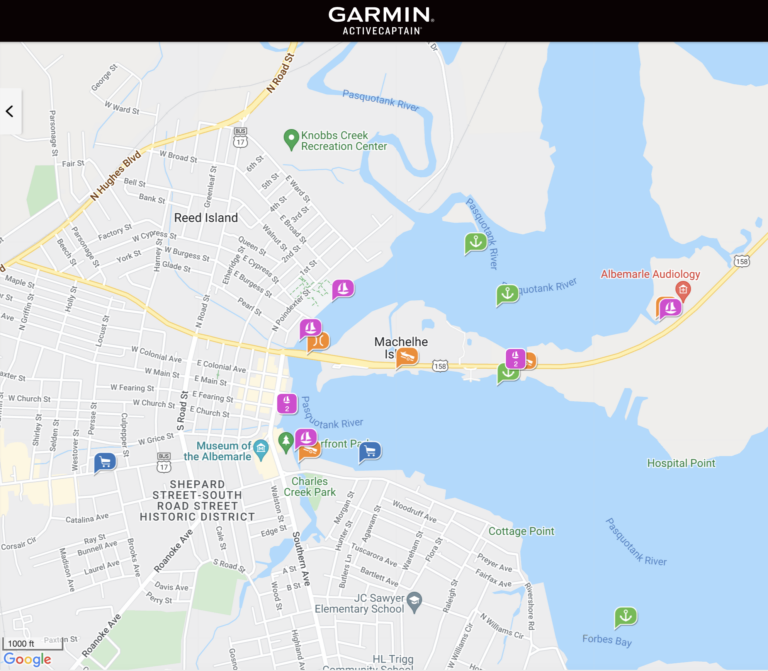 Vacation Rentals + Airbnb's + Bed and Breakfasts
Hotels
Elizabeth City has several hotels, however, all of them are not located in the downtown area. If you have family or friends visiting, or are visiting by car for a weekend getaway, you'll have to drive into Elizabeth City for the activities we're recommending.
Fairfield Inn & Suites by Marriott Elizabeth City
Best Western Plus Elizabeth City Inn & Suites
Comfort Inn Elizabeth City Near University
Hampton Inn Elizabeth City
Campgrounds
Elizabeth City Coast Guard RV Park is a 10 minute drive from Mariners' Wharf but is only available for people with a military ID.
North River Campground is located east of Elizabeth City and is a 21 minute drive to Mariners' Wharf.
Boondocking
Although there is not a lot of boondocking available nearby Elizabeth City, the Elizabeth City Walmart allows overnight parking. It's a 12 minute drive from Walmart to Mariners' Wharf.
Transient Visitors in Elizabeth City, North Carolina
This is not the best stop along America's Great Loop for provisioning and hardware or marine supplies as most of the locations mentioned below are not within walking distance to the Mariners' Wharf Park, however, we included them for visitors who may be traveling by car.
Provisioning
Food Lion – This grocery store is not within walking distance for transient boaters.
Hardware + Marine Supplies
Don's Place – A 15 minute walk from Mariners' Wharf.
Harbor Freight Tools – This hardware store is not within walking distance for transient boaters.
Lowe's Home Improvement – This hardware store is not within walking distance for transient boaters.
Tractor Supply Co. – This hardware store is not within walking distance for transient boaters.
WiFi
The Pasquotank County Library is a 12 minute walk from the Mariners' Wharf Park. It is open Monday through Saturday and has wifi access from inside the library as well as the parking lot.
There is also free wifi at the Mariners' Wharf. Network is HARBORNET and there is no password.
Things to do in Elizabeth City, North Carolina
Museum of the Albemarle
The Museum of the Albemarle was a highlight to our trip in Elizabeth City! Not only is the museum free, but its large exhibits provided a great deal of information on Elizabeth City and the Albemerle region. It is open 10am-4pm Monday through Saturday and admission is free, however, donations are appreciated.
Walk Down Pailin's Alley
Learn the history of Pailin's Alley and how its revitalization was initiated by the small local businesses. Take in the Pailin's Alley Mural as well as the night time ambiance with lights and outdoor seating from the adjacent local businesses.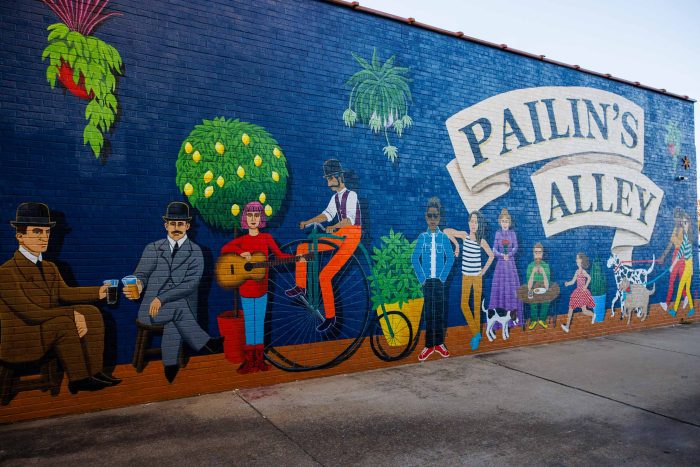 Kayaking
Enjoy the water by kayaking on the Pasquotank River or if the conditions are a bit choppy, head on over to Charles Creek. If you arrived here by car, you can check out a variety of waterways further away from the downtown center. Check out the Visitor's Guide for more ideas!
Downtown Waterfront Market
Elizabeth City has a great farmer's market called the Downtown Waterfront Market every Saturday from 9am-1pm located in their Mariners' Wharf. The season runs May through September. For up to date information, check out their Facebook page.
Self-Guided Historical Main Street Commercial District Tour
Take a self guided walking tour of the historical main street commercial district. Learn about the history of the area's two main districts: shipping, wholesaling and manufacturing, and the retail and banking area on Main and Road Streets. Use this brochure as your guide.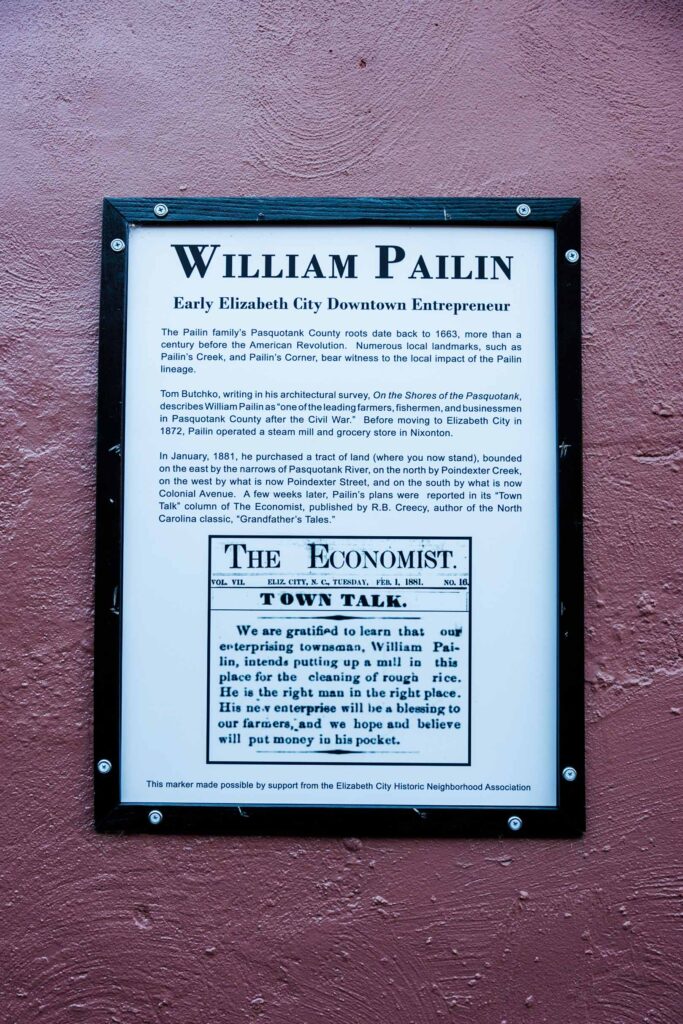 Where to Eat in Elizabeth City, North Carolina
Food
Paradiso Roma Ristorante – An Italian restaurant that features local produce, steaks, and seafood, and all pastas are tossed with Romano cheese. The owner, Andrew, strives to create dishes you are unlikely to make at home and provide a menu of dishes that are unlike most dishes found in Elizabeth City. They use locally sourced food to create an ever changing menu. Best of all, this restaurant is dog friendly on their outdoor patio which faces the Pasquotank River. Open Tuesday through Saturday, but check out their Facebook page for up to date information. This restaurant is not located in Downtown, however, it is a short walk 10 minute from Mariners' Wharf. Contact the restaurant ahead of time for vegetarian options.
Hoppin' Johnz – Focuses on southern ingredients with classic culinary influences. They have a lunch and dinner menu that include salads, sandwiches, and burgers to gumbo, crab cakes, shrimp and grits, steaks, pork chops, and much more. They are open Monday through Saturday and have an outdoor patio.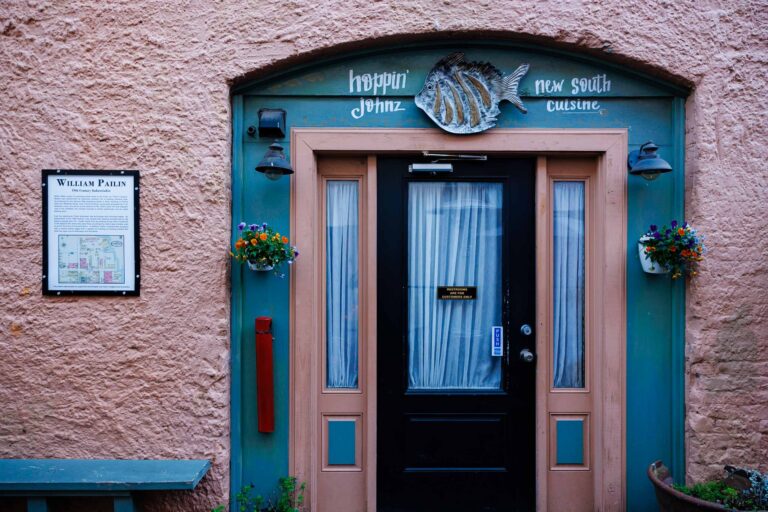 The Mills Downtown Bistro – Serving tapas, crepes, and flatbreads. Open Tuesday through Sunday. They have vegetarian options.
Elizabeth City Pizza Company – Their menu includes New York Style pizza with a variety of toppings and they even have a gluten-free crust option. They're open Wednesday through Sunday for lunch and dinner.
Big Boss Burritos – A local business that features huge burritos and taco salads and include a vegetarian option (burrito fresco). They have indoor seating and are open Monday through Saturday.
Breweries + Drinks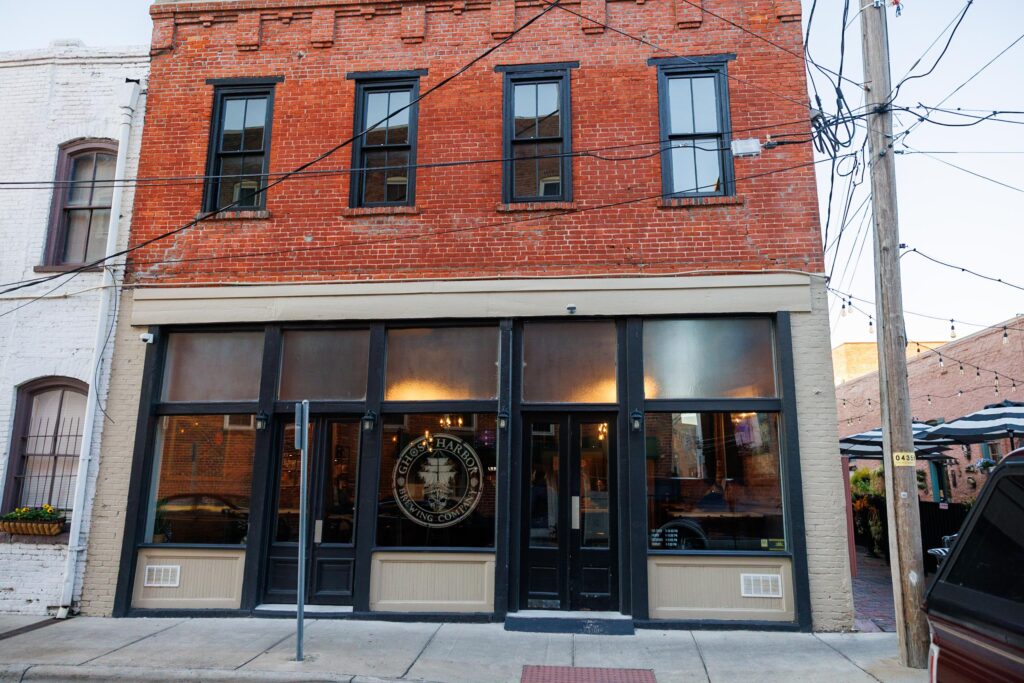 Coffee + Sweets
Festivals + Special Events
North Carolina Potato Festival
Mariners' Wharf Film Festival
Music on the Green
One Day in Elizabeth City Itinerary
Option One
Option Two
Watch our time in Elizabeth City, North Carolina on YouTube!
Jen's Corner: Architecture + Urban Design + City Planning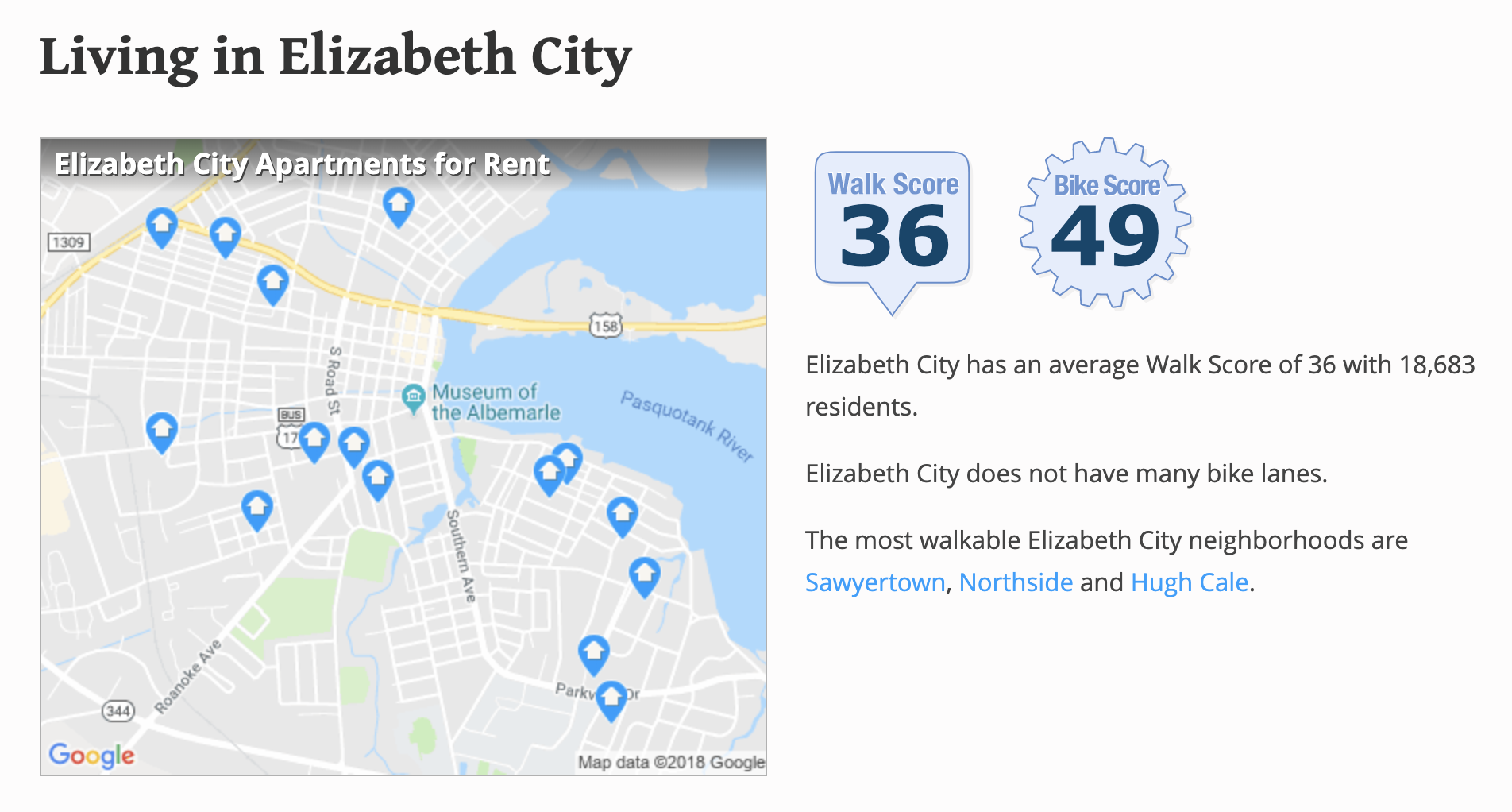 Comments
I love this guide so much!! Elizabeth City will be a stop for us soon on the Great Loop and I can't wait to see and do some if the things you talk about!!
Thanks!

Thanks, Maggie! I hope it was helpful for your trip to Elizabeth City, NC!

This is great will love seeing more as we are leaving Jacksonville soon we love following you. Thank you for all of your time sharing your journey.

Awesome! Wishing you a safe journey ahead. Thank you for reading and following along!