MONTHLY EXPENSES ON AMERICA'S GREAT LOOP – FEBRUARY 2023
In this blog post, we share our monthly expenses as we travel around America's Great Loop – a 6,000 nautical mile journey around part of the US and Canada by boat. This month was a perfect example of the power of anchoring and why anchoring is our best tool to saving money on the Great Loop. We completed our final month on the loop and crossed our wake in Stuart, Florida. Florida has some of the most expensive marinas but is also a full-time cruiser's haven for anchorages. With the higher cost of marinas in this region, we've transitioned to spending most of our nights on anchor which has resulted in our third least expensive month on the loop.
February is our last monthly Great Loop Expense Report. Our next Great Loop Expense Report will be Expenses for One Year on the Great Loop. In the past year, we've received a lot of positive feedback about our Great Loop Expense Reports as they've helped other prospective loopers plan their budget for a trip of a lifetime. We hope you find these reports valuable so you can untie the lines and begin your own journey. Life is short.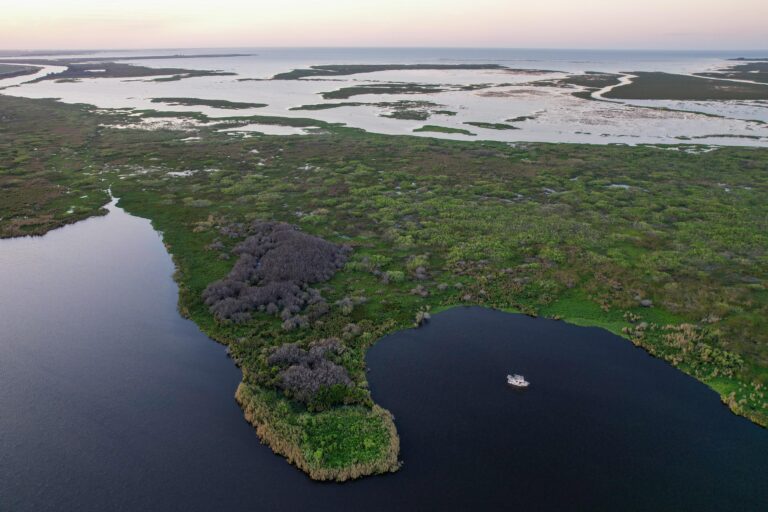 TRAVEL SUMMARY – FEBRUARY 2023
Before I dive into our February expenses, it's important to understand where we traveled, how far we cruised, and some specifics in our particular loop experience. We began our travels in St. Pete Beach, Florida, and traveled 423 nautical miles to Islamorada, Florida. During this time we crossed our wake and completed our Great Loop. Here's our Nebo travel summary: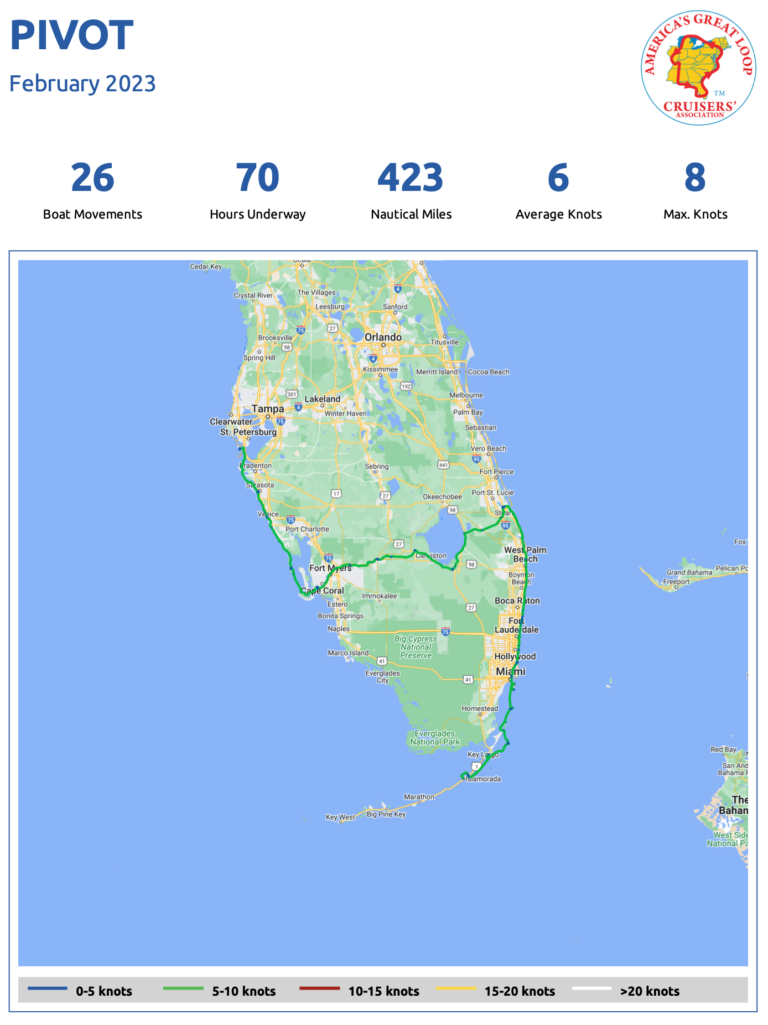 Nights at a marina dock: 0
Nights on a marina mooring ball: 2
Nights on a free dock: 0
Nights on a paid dock: 1
Nights on a free lock wall: 0
Nights on a paid lock wall: 0
Nights at anchor: 25
We spent most nights on anchor this month which significantly helps us stay on budget. There are a few "given expenses" on the Great Loop including fuel, boat maintenance, and boat insurance, but there are a few expenses that are much easier to control. Spending time at marinas is a reoccurring high expense for loopers, but by anchoring out significantly helps control this expense category. Anchoring is by far our easiest way to save money on the loop!
"Never allow waiting to become a habit. Live your dreams and take risks. Life is happening now."
-Paulo Coelho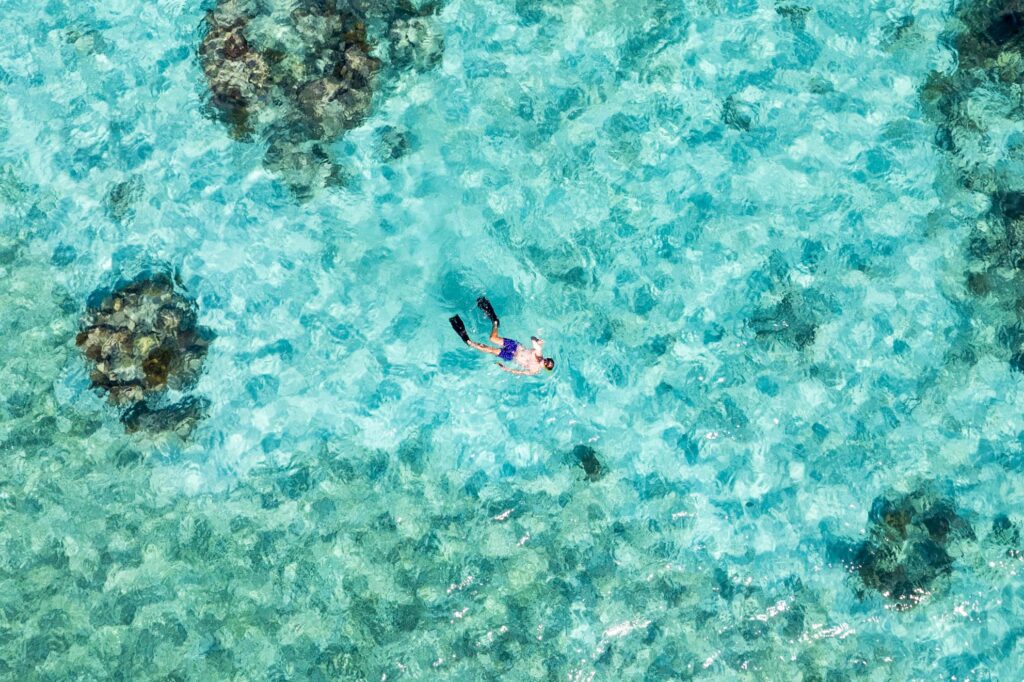 GREAT LOOP MONTHLY EXPENSES – FEBRUARY 2023
We spent a total of $2,684.17 on our Great Loop expenses for February 2023. This list does not include our healthcare, phone bills, personal subscriptions, and business expenses as those all vary from one person to another. All expenses are in USD.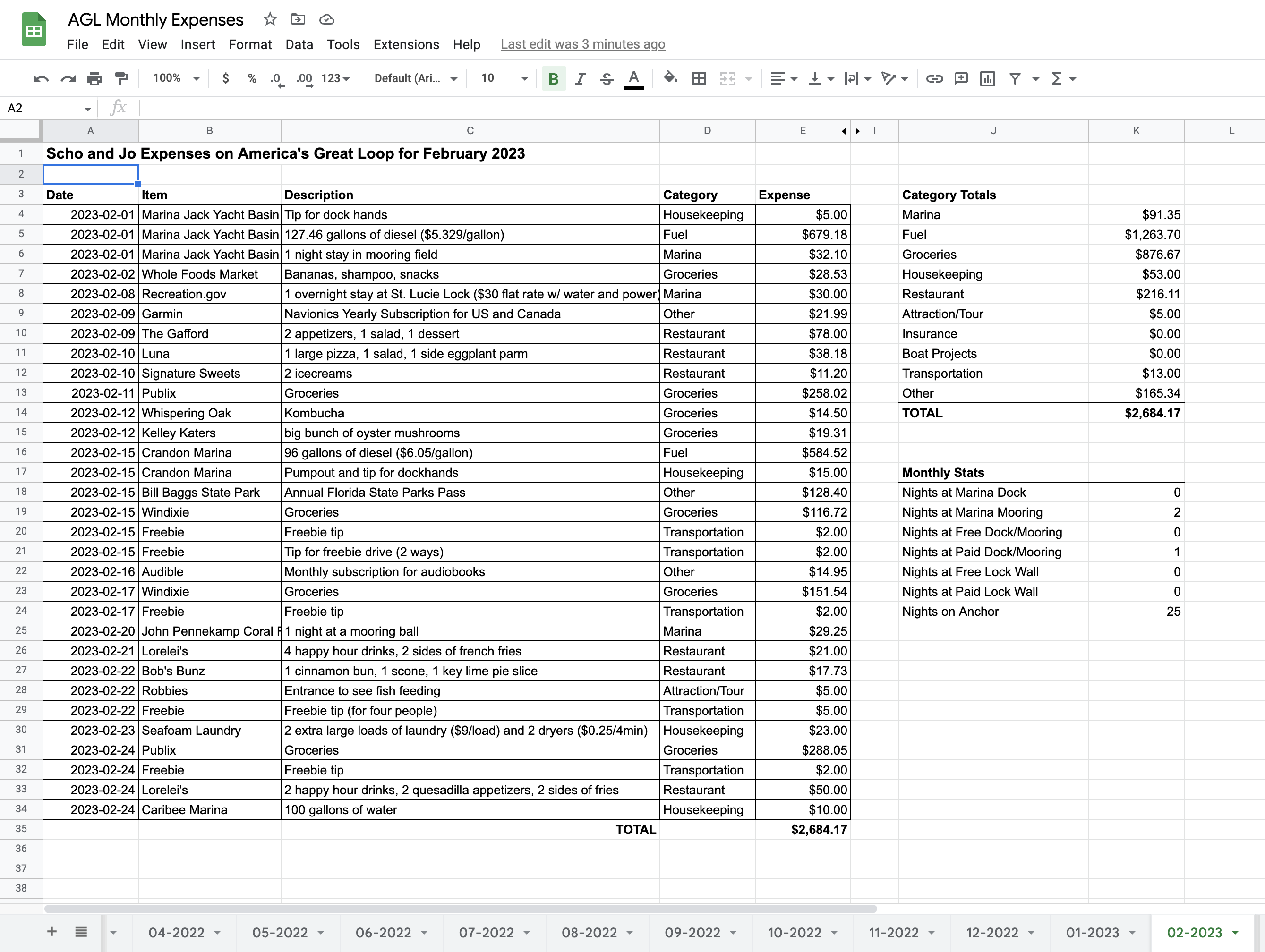 Our largest expense in February was fuel for $1,263.70. We fueled up twice; once in Sarasota and a second time in Key Biscayne. Our fill-up in Key Biscayne was pretty high for prices we had been seeing, but we wanted to make sure we had full tanks before entering into the Atlantic Ocean.
Our second greatest expense this month was groceries for a total of $876.67. Most of the meals we eat are cooked on our boat, making this a reoccurring high category for us.
Our third greatest expense was restaurants for a total of $216.11. We enjoyed a celebratory dinner out when we crossed our wake in Stuart, Florida as well as a few meals here and there.
Lastly, boat insurance renews every January, so we pay for January and February in January which made it double the average monthly cost and means we didn't pay for insurance in February. Our "Other" category was also higher than normal as we paid for a few annual expenses including our Florida State Parks Family Pass and our Navionics subscription. A few of the remaining categories were pretty close to what we had hoped for. We continue to be flexible which has been key to "staying on budget." We spent less than $100 in our Marina category because we stayed at a marina/mooring ball/paid dock for a total of 3 nights in February. This month was a perfect example of the power of anchoring and why anchoring is our best tool to saving money on the Great Loop.
OUR GREAT LOOP BUDGET RESOURCES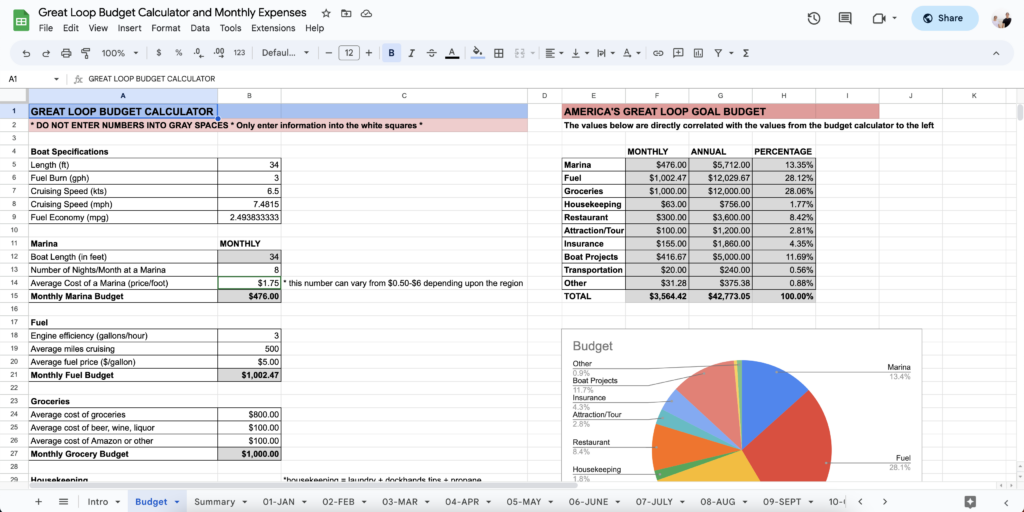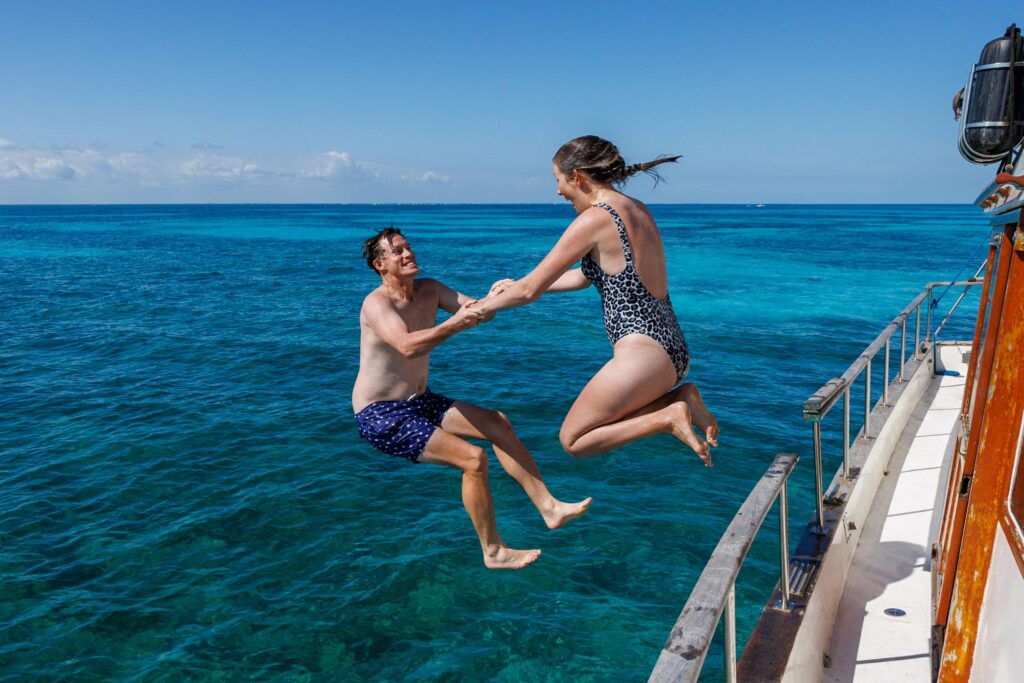 We hope this post provided you with some insightful information on how much it costs to do the loop on a budget. Share this post with a friend if you think someone else might find this information useful. If there is something you would like us to include in our final Great Loop Total Expenses, let us know in the comments below!
The ups, downs, and everything in between, we share it all. If you like what you see, there are lots of ways to show your support and say thanks!
MORE GREAT LOOP EXPENSE REPORTS
Comments
Hey I couldn't find any you tube videos of your trip past the tallest hydro lift lock in Canada.. would really like to see the rest.
I watched every one I could find.
Sorry I forgot to hit like on every video.

No worries Scott, we are releasing videos about 2 a week! Make sure you are subscribed and have the notification bell turned on to get alerts when we post a new video. Cheers!

i found you in late fall 2022, i have just finished all your videos 120 to 300! which put you thru the famous lift lock on the trent severin waterway. i have loved every video, and cant wait to see the rest. my wife and i have sailed lake erie for the past 43 years owning 5 sailboats, in 2021 with our advanceing age we took the plung and bought a trawler. resolute is a 2003 nordic tug 32. we still sail with freinds, but we both feel that resolute is much more civilized! lol! you two have improved so much with your boatand take it from me, the learning never stops. i see you crossed your wake at stuart fla. so as i write this in cleveland ohio, with the snow falling and hoping for an early spring, considering a trip to the thousand islands, i want to thank you both and ollie to for a great winter watching your videos! bill

Hi Bill and Karin,

Wow, thanks so much for watching all of our boat videos! That's a huge task. We're so glad you've enjoyed watching them 😊

You have a long boating history and boating on the infamous Lake Erie. Resolute sounds like a great boat. We've been on a few Nordic Tugs and love them. Wishing you both a safe and fun 2023 boating season!

Kind regards, Jennifer

Thank you for all your monthly expenses, we have created a spread sheet from them and then used it to create our own budget for the loop hopefully starting this year. Don't see a way of attaching it, maybe by regular email if you would a copy.
Congratulations on crossing your wake, waiting to see more videos as you are in Canada our cruising area.
Graham & Sacha

Hey Graham and Sacha!

You're welcome! I'm glad they are helping you plan for your Great Loop journey.

Thank you so much! We are very happy to see that gold flag flying at our bow.

Kind regards, Jennifer

Hi Jennifer, Elliot and Olie. First of all CONGRATULATIONS! And thank you for sharing all this information, blogging, sharing videos…It is so informative and helping us plan our great loop adventure. We have watched every single video and often times more than once. We live in Canada and our home port is in Parry Sound, at Big Sound Marina. We were so hoping to see you when you went by, but sadly for us you stayed at the town docks then Kilcoursie by Killbear so we unfortunately missed you.
Again thank you!

Lise and Dustin

HI Jennifer, Elliot and Olie my wife and I have watched and enjoyed your all your loop videos . We're planning our own trip and wonder if you could give us information on your stand alone freezer. We are looking for a similar unit and yours looked great.

Thanks Bob and Linda Huici

Hi Bob and Linda!

Thanks for the comment! Our freezer is a typical household deep freezer, it's eco-friendly so it doesn't use too much power. It isn't meant for boating, but the previous owner installed it and with our lithium battery bank we had no issues keeping it running. We thoroughly enjoyed it on the Loop.

If your budget permits, I'm sure a marine or RV-specific freezer would be a great option, but if you're interested in checking ours out, you can go to your local Home Depot or appliance store, check them out, and find the best one that fits your space! Here is a link to a similar model on Amazon: https://amzn.to/46T4ZbE .