MONTHLY EXPENSES ON AMERICA'S GREAT LOOP – APRIL 2022
Traveling around America's Great Loop doesn't have to break the bank. This article explains the detailed monthly expenses in of our journey around the Great Loop. By sharing our Great Loop monthly expenses with you, we hope to inspire other people that you can do the Loop on a budget at any age.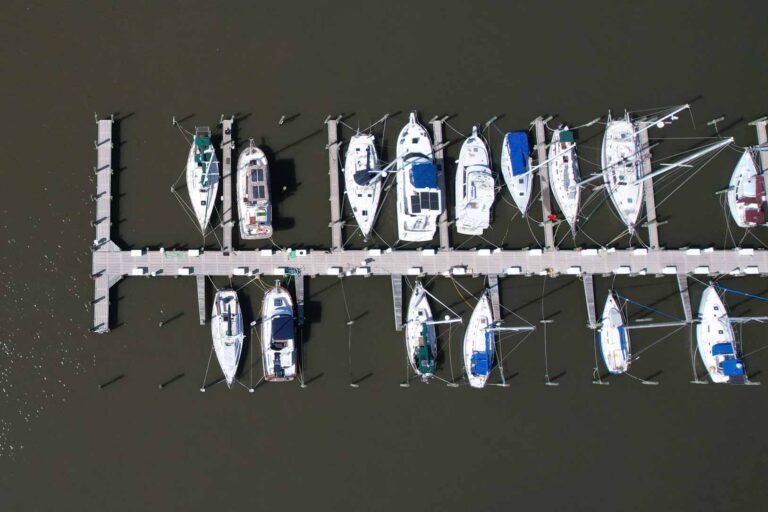 TRAVEL SUMMARY – APRIL 2022
Before we dive into our April expenses, it's important to understand where we traveled, how far we cruised, and some peculiarities in our particular loop experience. We began our travels in Georgia traveling from Fort Frederica on St. Simons's Island and traveled to Portsmouth, Virginia for a total of 695.6 nautical miles. Here is our Nebo travel summary for April: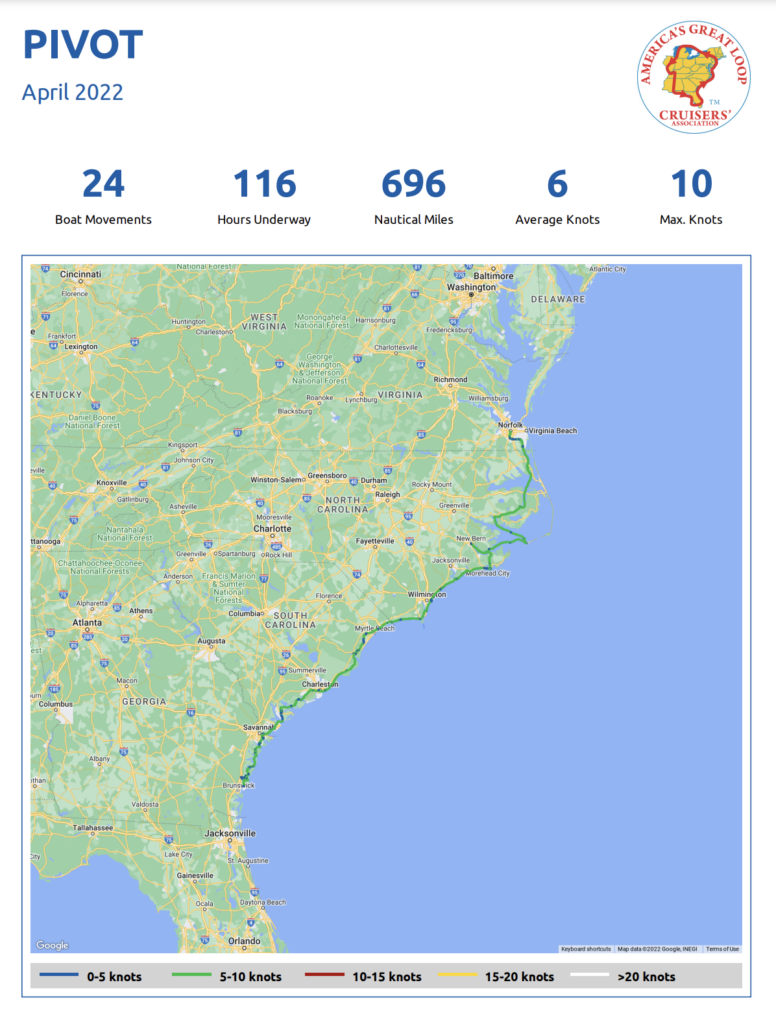 Nights at a marina dock: 4
Nights on a mooring ball: 0
Nights on a free dock: 11
Nights at anchor: 15
As you can see, we spent most nights on anchor for a total of 15 nights. We spent 4 nights at a marina and 11 nights on free docks, either private docks or marina docks that were shared with us for no cost to us. We went to two marinas this month. The first marina was in Charleston for $2.40/foot plus electric. Although there is an anchorage in Charleston, we've read reports of fouling anchors on the bottom, so we choose to deal with the high cost of the marina for two nights. The next marina was just south of Myrtle Beach, Osprey Marina, which is one of our favorite marinas for its $1/foot price. Besides that, we were fortunate to have free dockage available to us or were able to find safe, dog-friendly anchorages. If you're interested in learning more about what it's like cruising full time with a dog on America's Great Loop, check out our blog post!
Some anomalies about the month of April that are important to consider are our guests aboard as well as our time with friends. We had Elliot's mom visit us for one night aboard PIVOT. We also spent 3 days with friends on their private dock in Savannah, where we did 3 loads of laundry. If this were included in our monthly expenses, it would have added about $18 to our housekeeping and total budget. It also would have added $234 if we would have stayed at a marina. Knowing the anchorage situation in Savannah isn't great for dog access, we would have only stayed one or two nights. We also had free dockage in Oriental, North Carolina at a marina, which saved us $90-150. If we didn't have this option available to us, we would have docked at the two free public docks in town or anchored out.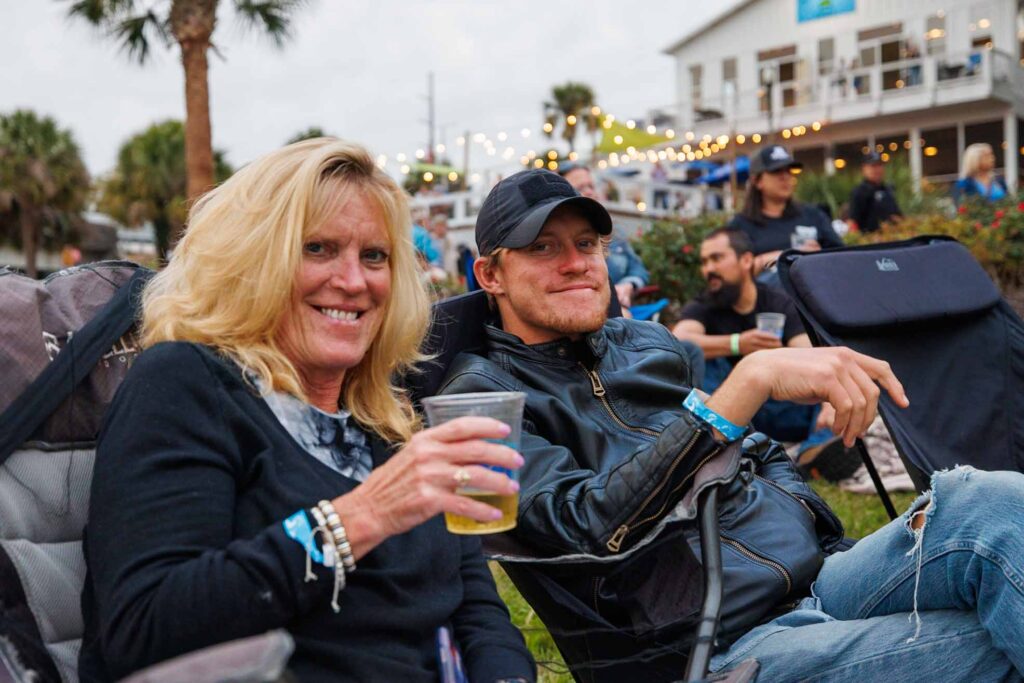 GREAT LOOP MONTHLY EXPENSES – APRIL 2022
We spent a total of $3,549.82 on our Great Loop expenses for April 2022. This list does not include our healthcare, phone bills, personal subscriptions, and business expenses as those all vary from one person to another.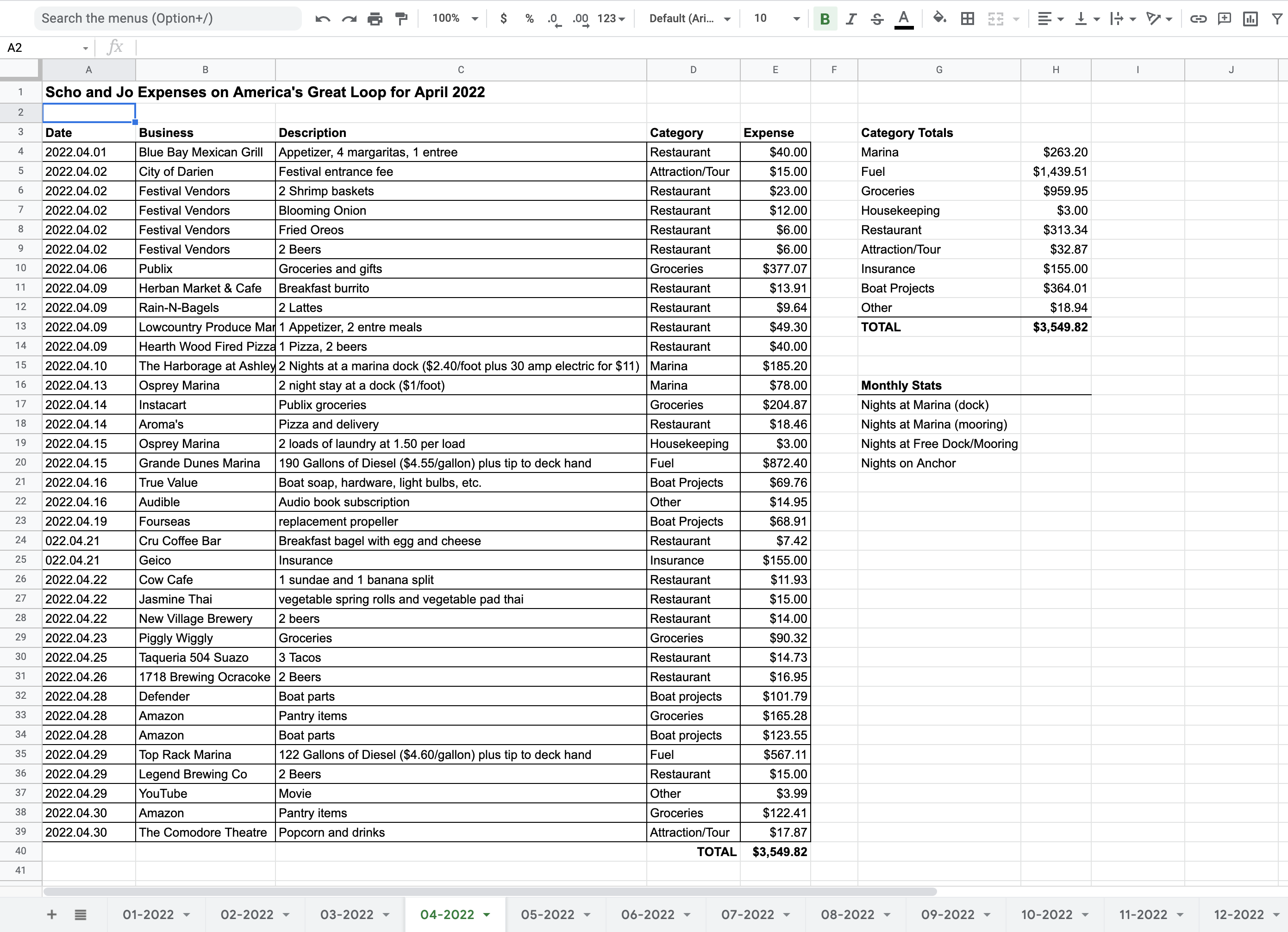 Our greatest expense was fuel for a total of $1,439.51. We bought 190 gallons of diesel at $4.55/gallon and 122 gallons of diesel at $4.60/gallon, which was higher than normal. We typically don't buy fuel twice in one month, but we had been making a lot of miles and wanted to score some cheap fuel before we heard it would be more challenging to find cheap fuel in the Chesapeake Bay and the northeast US. After searching around for fuel prices and doing our homework, we did find the cheapest fuel available to us in our region. This is something we're not able to escape as we're in a motorboat, so we've tried to save money on other areas of expense.
Our second greatest expense this month was groceries for a total of $959.95. This month was particularly high as we bought a lot of pantry items on Amazon that we haven't had to purchase in 6 months to a year since leaving on the Great Loop in April 2021. Most of the meals we eat are cooked on our boat, making this a particularly high category for us. The cost of eating isn't an expense anyone can escape, however, we try to cook more meals than going out to eat at restaurants, which helps us overall save money.
Our third greatest expense was boat projects for $364.01. After we spent two days at a marina in Myrtle Beach cleaning PIVOT and doing some much-needed boat projects, we realized that we needed some additional boat cleaners, which we bought online and had delivered to a future marina. We also bought some additional parts and replacement parts for our bilge pump. These boat items were specific to our needs and requirements, so they'll vary from one boat to another. 22
The remaining categories were pretty nominal. We tried to keep our exploring, touring, or sightseeing to free or inexpensive activities. We visited more restaurants this past month because we had a few places we wanted to stop and heard great reviews. We were a little over budget in the restaurant category this month, so we'll try to rein it in next month. As we travel and are exposed to a variety of great food options, we try to limit our restaurant spending by sharing an entree or only going out for food that I can't or won't make on the boat (hence the fried food and ice cream).
As we've spoken with other loopers, their two highest categories for expenses along the great loop are marinas and restaurants, which you can see varies among our two greatest expenses on the loop. That's why not all Great Loops and budgets are the same. Overall, this was a more typical month's budget for us on America's Great Loop. If you read our March 2022 Expense Report, you'll know this month was higher than last month.
OUR GREAT LOOP BUDGET RESOURCES
If you're interested in our Great Loop Budget Calculator, check it out here!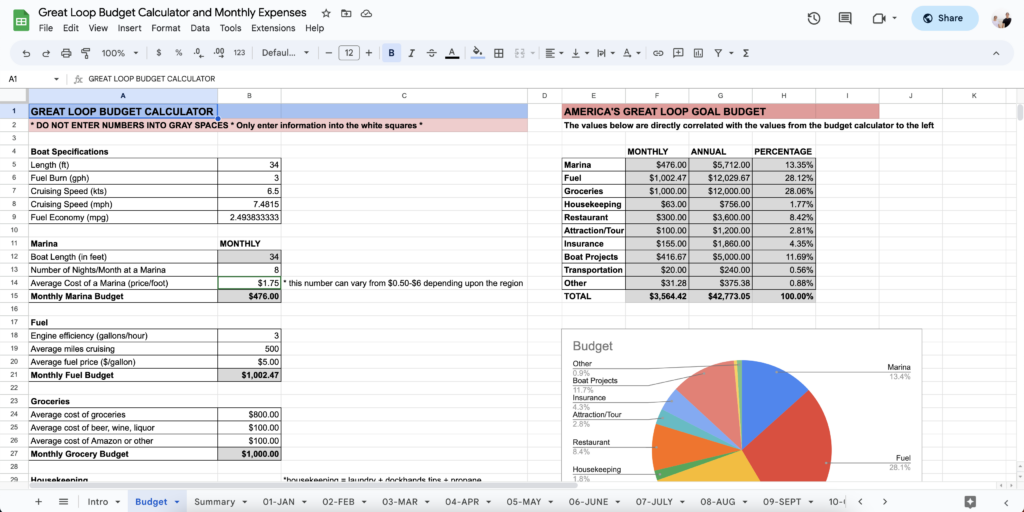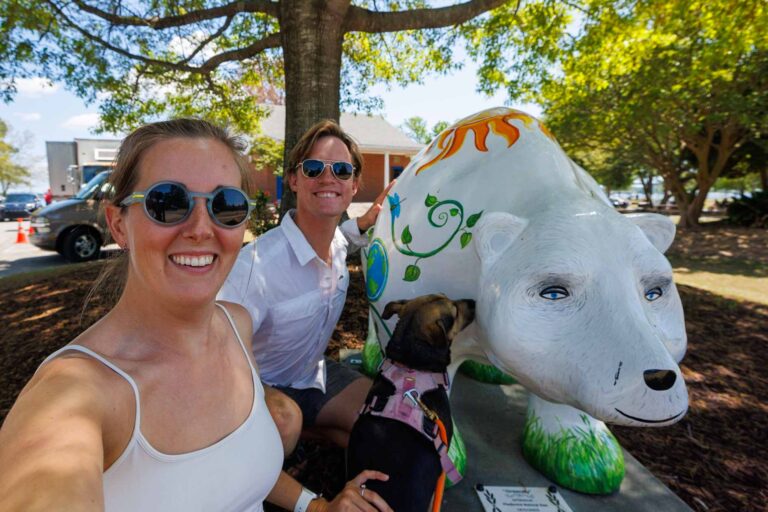 We hope this post provided you with some insightful information on how much it costs to do the loop on a budget. We will continue to make these monthly expense reports as long as they continue to be helpful to our viewers. If there is something you would like us to include in our May Great Loop Expenses that we missed this month, let us know in the comments below!
The ups, downs, and everything in between, we share it all. If you like what you see, there are lots of ways to show your support and say thanks!
Comments
Love following your adventure ! Blog is fun and methodical (as you would expect from IB kids 🙂 – The Heinton's

Thanks for following along, Connor! Hope all is well.

Love you're itemized list and truthful discussion's.
How refreshing is truth and full disclosure
In your post's.
Failing in some projects is the future legs to a higher success in your journey.

For annual expenses, do you have boat insurance? Or are you self insured?

We don't have insurance under our annual expenses because we pay for it monthly. It's listed under Geico, Insurance.

We are getting ready to start our great loop adventure on our Meridian 408 At Last II, from Wilmington NC and expect to start April 3, 2023. Your web information has been as invaluable resource for us as we begin the final stages and your ability to PIVOT has been very encouraging. We will have many PIVOT moments I'm sure and seeing your resourcefulness has been inspiring! Thank you for all the work you have done! I'm following your recipes too and definitely plan on the smoked gouda mac and cheese! Others have been great too…you make it all look so easy!