MONTHLY EXPENSES ON AMERICA'S GREAT LOOP - MAY 2022
Traveling around America's Great Loop doesn't have to break the bank. This article explains the detailed monthly expenses in of our journey around the Great Loop. By sharing our Great Loop monthly expenses with you, we hope to inspire other people that you can do the Loop on a budget at any age.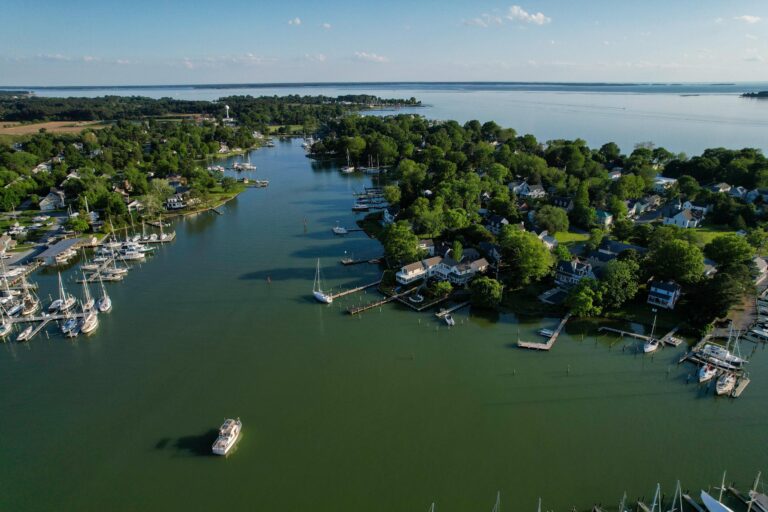 NOT ALL GREAT LOOPS AND BUDGETS ARE THE SAME
Completing the Great Loop is a unique experience as it varies from person to person. The Great Loop is full of a variety of people with varying-sized boats, budgets, and lifestyles. This article is to help show the various expenses of a young couple with a dog on a budget who are balancing working full time, traveling to new places, and learning how to cruise. This is by no means the only way to do the loop, but it's how we are doing our loop. Just as the Great Loop experience is completely customizable, so is each person or couple's budget. We have chosen to anchor as much as possible on our loop to maximize our time away from marinas that tend to be rather pricey. Our time at marinas is typically very focused on getting convenient boat tasks done like washing the boat, filling up our water tanks, grocery shopping, boat work, projects, etc. We find that spending the money to have a reliable and trustworthy anchor setup was valuable to our overall budget because it helps us limit our time at marinas which can be rather pricy. With this being said, marina expenses will vary from person to person depending upon their preference and budget to anchor or visit marinas more often.
WHAT KIND OF EXPENSES ARE ON THE GREAT LOOP
Traveling on the Great Loop has many of the same expenses as on land, however, there are a few specific to life on the water. We divided up our Great Loop expenses into a few categories including marina, fuel, groceries, housekeeping, restaurants, attraction/tours, insurance, boat projects, and others. Here are how we made these categories and what is included in each of them:
Marina. This category is for all services rendered at a marina, minus fuel. That includes mooring balls, docking, pump-outs, water, and tips to dockhands. Marinas typically range from $1/foot to $8/foot depending on your location (see more below in our April travel summary). In our experience, the ICW in Georgia, South Carolina, and North Carolina has been moderately priced between $1.50 to $2.25/foot. Some marinas also charge $5-30/day for electricity The cost of electricity depends on the boat; we have 30 amp shore power while other boats might have 50 amp shore power. Depending upon the marina, location, and amp shore power depends on the cost of how much the price of electricity is. When available, we try to get a mooring ball as they are a fixed price and provide many of the same amenities as a marina, just without the convenience of a dock. We've found mooring balls to be about $20-30 a night, which is significantly cheaper than a dock could cost us. Pump-outs can range from free to $10, however, we usually see pump-outs costing $5. Usually, water is free with diesel to fill up or overnight dock stay. Each time we visit a dock, there are usually people there to help catch lines and assist you when docking. We tip each person about $5/person.
Fuel. This category is just diesel fuel. Our engine and generator take diesel so we have two large diesel tanks that hold about 300 gallons total. When our tanks are getting low, we begin to shop around for diesel before making a large fill-up. We made a video on Tips for Saving Diesel on an Old Trawler which includes searching for the best diesel prices on Waterway Guide and Cruisers Net. When researching fuel prices, be sure to look at whether tax is included or not. That can affect your overall fuel prices by several cents when filling up hundreds of gallons. By doing our homework and searching around ahead of time, we can avoid high fuel prices and can rest assured that we're getting the best price available.
Groceries. This category includes groceries, pantry items, large provisioning hauls from Walmart or Amazon, and alcohol. While we lived on land, we would shop around at various grocery stores for deals. Now that we live on a boat, we're at the mercy of whatever is most convenient to our boat and shopping at whatever grocery store is available. There might only be one grocery store in town in some cities or towns, while other locations might have several options available.
Housekeeping. This category includes things like laundry and propane refills. We primarily wash our clothes in marina laundry facilities. Each load can cost between $1-4 per load, with the average load costing $2 for a total of $4 to wash and dry one load of laundry. Our galley uses two primary fuel sources for cooking: electricity and propane. We have two propane tanks for our stovetop and grill cooking on our boat. Fill-ups usually cost around $5.
Restaurants. Part of the fun of traveling is tasting the delicious food that's popular in a specific region. This category includes everything from bars, restaurants, desserts, coffee shops, etc. Anytime we ate out whether it was taken out or dining in, it went in this category.
Attractions/Tours. The other part of traveling is seeing various sights and taking tours to learn more about a place. This is category will vary significantly from place to place, but is something we value to make the most of our Great Loop experience.
Insurance. Part of owning a boat includes boat insurance. It's just part of doing business.
Boat Projects. This category is for all hardware, maintenance items, or engine pieces that are completed on the loop. This can range from boat improvements to maintenance items. Anything related to our boat goes here.
Other. This category is for any miscellaneous items that don't fit into the previously mentioned categories.
TRAVEL SUMMARY - MAY 2022
Before we dive into our May expenses, it's important to understand where we traveled, how far we cruised, and some peculiarities in our particular loop experience. We began our travels in Portsmouth, Virginia and cruised all throughout the Chesapeake Bay to Kent Island, Maryland for a total of 214 nautical miles. During the month of May, we were held up in Norfolk, Virginia for 5 days for the AGLCA Spring Rendezvous, and then Hampton, Virginia for 8 days while we waited out some nasty weather. Here is our Nebo travel summary for May: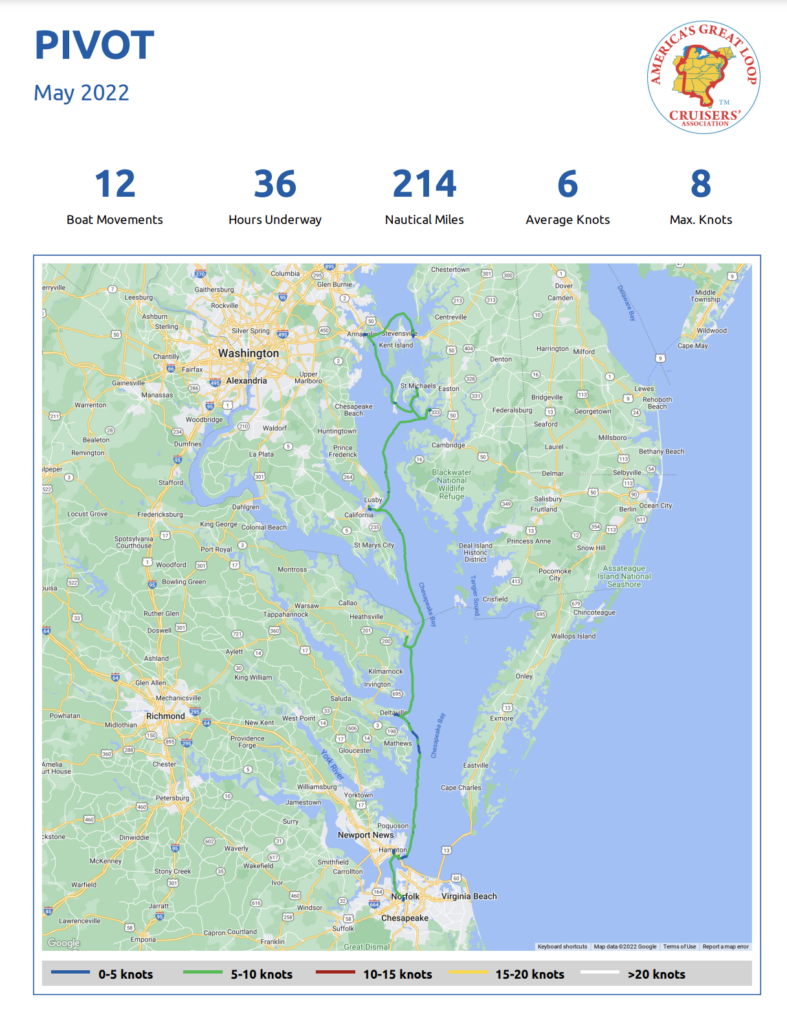 Nights at a marina dock: 4
Nights on a mooring ball: 0
Nights on a free dock: 11
Nights at anchor: 15
As you can see, we spent most nights on anchor for a total of 15 nights. We spent 11 nights at a marina and 5 nights on a mooring ball. We went to two marinas this month. The first marina was in Norfolk, Virginia for $1.50/foot plus $30 for electric. Although there is an anchorage in Norfolk, we wanted to be at the same marina as the other loopers for the AGLCA Spring Rendezvous. It was one less thing we would have to worry about as we'd be off the boat for most of the day in various informational sessions and wanted to leave Ollie on the boat safely. We choose to pay with the cost of the marina for five nights but were thankful that we had the reduced marina group rate for the event. The next marina was east of Annapolis on Kent Island at the Kent Island Yacht Club which we stayed at for 6 days (7 total, but one of those days was in the month of June). We stayed at this marina/yacht club because we had a wedding to attend during Memorial Day weekend. Our initial 4 night stay turned into 5 nights when our original arrival coincided with some strong wind, which we made the decision to arrive a day earlier so we wouldn't have to dock in 30 knots of wind. Once we returned from the wedding, the 5 night stay got extended to 7 nights due to a heat wave that was passing through. We knew we'd be much more comfortable with air conditioning, which we can only run on shore power. Besides that, we were fortunate to find safe, dog-friendly anchorages throughout the month.
Some anomalies about the month of May that are important to consider are our trips off the boat. We didn't include the expenses in our Great Loop Monthly Expense report because they vary from person to person. The first trip was for Jen to fly home to Florida for a doctor's appointment while we were in Hampton, Virginia waiting out some weather. Some expenses we incurred were Uber to and from the airport, the flight home, as well as medical expenses. Our second trip off the boat during this time was for a family wedding in Knoxville, Tennessee. Expenses for the wedding included the marina (included as it was related to the boat), rental car, gas, food and drinks, hotel, and wedding gift.
GREAT LOOP MONTHLY EXPENSES - MAY 2022
We spent a total of $3,973.43 on our Great Loop expenses for May 2022. This list does not include our healthcare, phone bills, personal subscriptions, and business expenses as those all vary from one person to another.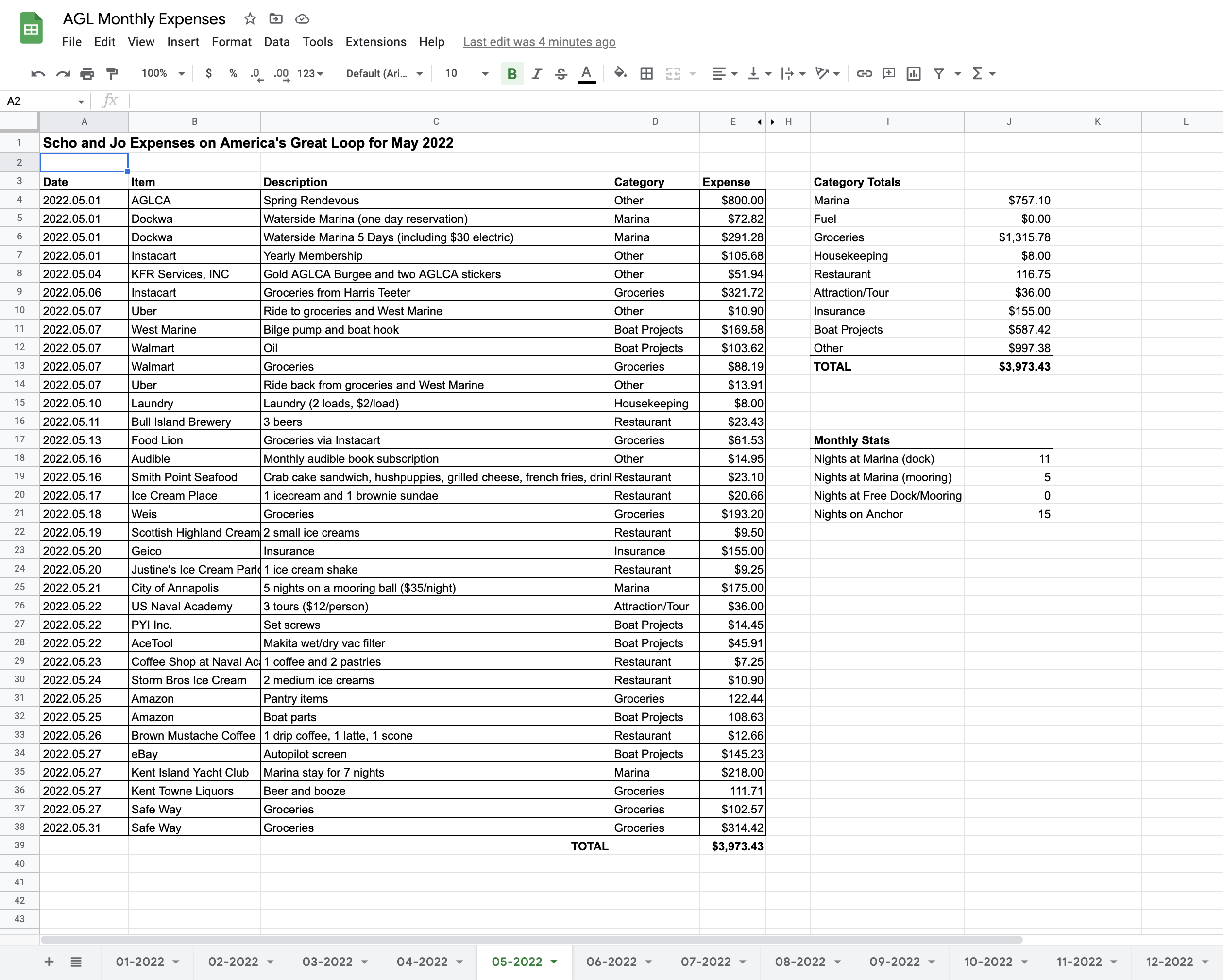 Our greatest expense was groceries for a total of $1,315.78. This month was particularly high as we bought a lot of pantry items on Amazon while we had access to marinas and were preparing for upcoming travels to Canada. Most of the meals we eat are cooked on our boat, making this a particularly high category for us. The cost of eating isn't an expense anyone can escape, however, we try to cook more meals than going out to eat at restaurants, which helps us overall save money.
Our second greatest expense this month was other for a total of $997.38. A lot of the other category was spent on the America's Great Loop Cruisers Association Spring Rendezvous. Tickets were $400 per person and we went ahead and bout a few things at the ship store for a total of $851.94. The remainder of this category was spent on Ubers and our Audible subscription.
Our third greatest expense was marinas for $757.10. We spent a lot more than what we typically spend at marinas this month! Two events guided these decisions to stay at a marina: the AGLCA Spring Rendezvous and a family wedding in Knoxville, Tennessee over Memorial Day weekend. Our goal is to spent no more than 4 days at a marina in a month, so the fact that we spent 11 days at a marina was a LOT for us. This was an anomaly and we hope to reduce this number in the future.
Our fourth greatest expense was boat projects for a total of $587.42. This was a combination of maintenance items like purchasing oil for our next oil change to getting spare parts or replacement parts to things that need to be replaced.
You'll notice that we didn't spend any money on fuel this month. That's because we bought fuel twice in April and haven't traveled that many miles in the month of May. This was an anomaly for us as we usually expect to pay for diesel at least once a month.
The remaining categories were pretty nominal. We tried to keep our exploring, touring, or sightseeing to free or inexpensive activities. We visited more restaurants this month because we had a few places we wanted to stop and heard great reviews. We enjoyed the food we did eat out as well as the tours we went on.
As we've spoken with other loopers, their two highest categories for expenses along the great loop are marinas and restaurants, which you can see varies among our two greatest expenses on the loop. That's why not all Great Loops and budgets are the same. Overall, this was a more typical month's budget for us on America's Great Loop.
There were a few boat expenses that we pay for on an annual basis. These items did not make our March Expenses because we paid for them earlier in the year, but felt it was important to include them in this monthly budget analysis:
US Coast Guard Vessel Renewal $26.00
Garmin Navionics Yearly Subscription for the US and Canada $21.99
AquaMaps US and Canada Maps $29.99
Boat US Annual Gold Unlimited Towing $169.00
This totals $221.98 of previous expenses paid that will last us for the upcoming year. It's part of the cost of doing business in completing the Great Loop.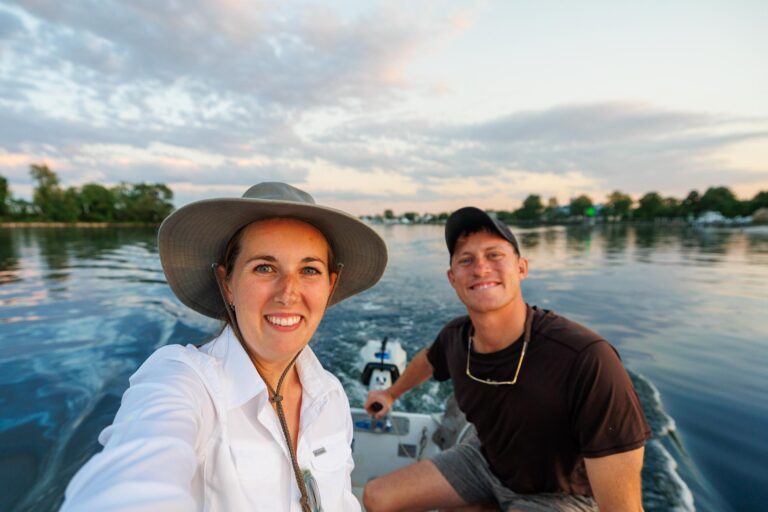 We hope this post provided you with some insightful information on how much it costs to do the loop on a budget. We will continue to make these monthly expense reports as long as they continue to be helpful to our viewers. If there is something you would like us to include in our June Great Loop Expenses that we missed this month, let us know in the comments below!
The ups, downs, and everything in between, we share it all. If you like what you see, there are lots of ways to show your support and say thanks!