MONTHLY EXPENSES ON AMERICA'S GREAT LOOP – MAY 2022
Our third month on the Great Loop was more expensive than we would have hoped. Attending the America's Great Loop Cruisier's Association Spring Rendezvous in Norfolk, VA put us about $1,000 off budget, but the information we gained was well worth the budget detour. Traveling around America's Great Loop doesn't have to break the bank. This article explains the detailed monthly expenses in of our journey around the Great Loop. By sharing our Great Loop monthly expenses with you, we hope to inspire other people that you can do the Loop on a budget at any age.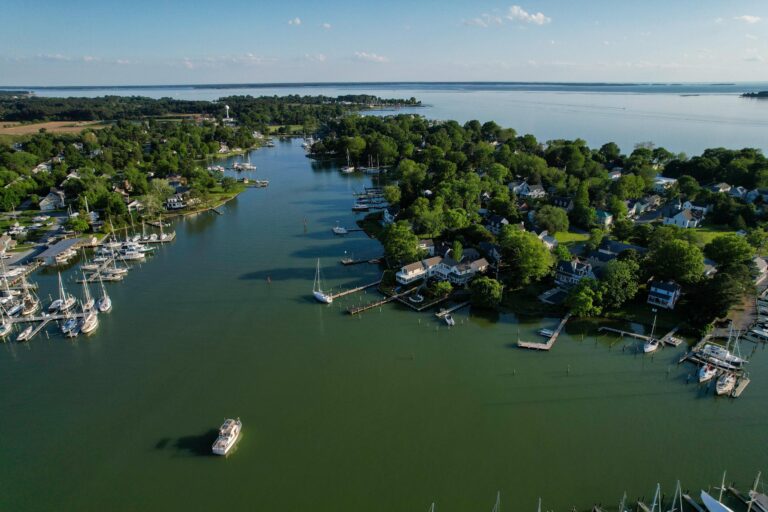 TRAVEL SUMMARY – MAY 2022
Before we dive into our May expenses, it's important to understand where we traveled, how far we cruised, and some peculiarities in our particular loop experience. We began our travels in Portsmouth, Virginia and cruised all throughout the Chesapeake Bay to Kent Island, Maryland for a total of 214 nautical miles. During the month of May, we were held up in Norfolk, Virginia for 5 days for the AGLCA Spring Rendezvous, and then Hampton, Virginia for 8 days while we waited out some nasty weather. Here is our Nebo travel summary for May: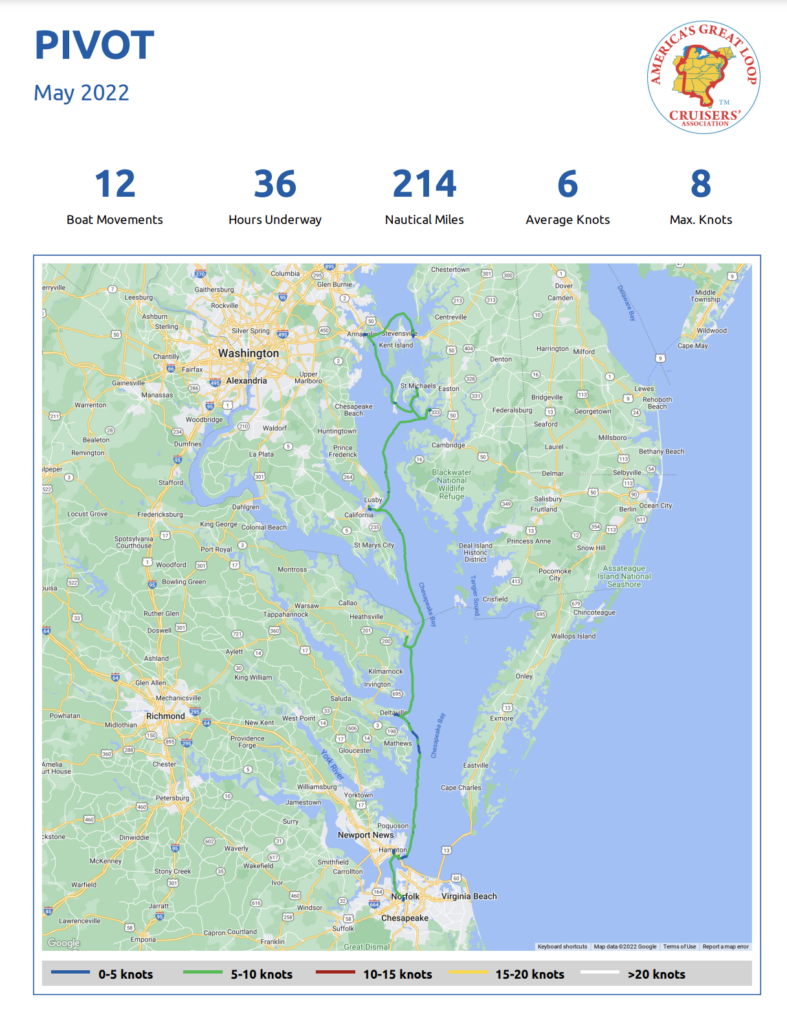 Nights at a marina dock: 4
Nights on a mooring ball: 0
Nights on a free dock: 11
Nights at anchor: 15
As you can see, we spent most nights on anchor for a total of 15 nights. We spent 11 nights at a marina and 5 nights on a mooring ball. We went to two marinas this month. The first marina was in Norfolk, Virginia for $1.50/foot plus $30 for electric. Although there is an anchorage in Norfolk, we wanted to be at the same marina as the other loopers for the AGLCA Spring Rendezvous. It was one less thing we would have to worry about as we'd be off the boat for most of the day in various informational sessions and wanted to leave Ollie on the boat safely. We choose to pay with the cost of the marina for five nights but were thankful that we had the reduced marina group rate for the event. The next marina was east of Annapolis on Kent Island at the Kent Island Yacht Club which we stayed at for 6 days (7 total, but one of those days was in the month of June). We stayed at this marina/yacht club because we had a wedding to attend during Memorial Day weekend. Our initial 4 night stay turned into 5 nights when our original arrival coincided with some strong wind, which we made the decision to arrive a day earlier so we wouldn't have to dock in 30 knots of wind. Once we returned from the wedding, the 5 night stay got extended to 7 nights due to a heat wave that was passing through. We knew we'd be much more comfortable with air conditioning, which we can only run on shore power. Besides that, we were fortunate to find safe, dog-friendly anchorages throughout the month.
Some anomalies about the month of May that are important to consider are our trips off the boat. We didn't include the expenses in our Great Loop Monthly Expense report because they vary from person to person. The first trip was for Jen to fly home to Florida for a doctor's appointment while we were in Hampton, Virginia waiting out some weather. Some expenses we incurred were Uber to and from the airport, the flight home, as well as medical expenses. Our second trip off the boat during this time was for a family wedding in Knoxville, Tennessee. Expenses for the wedding included the marina (included as it was related to the boat), rental car, gas, food and drinks, hotel, and wedding gift.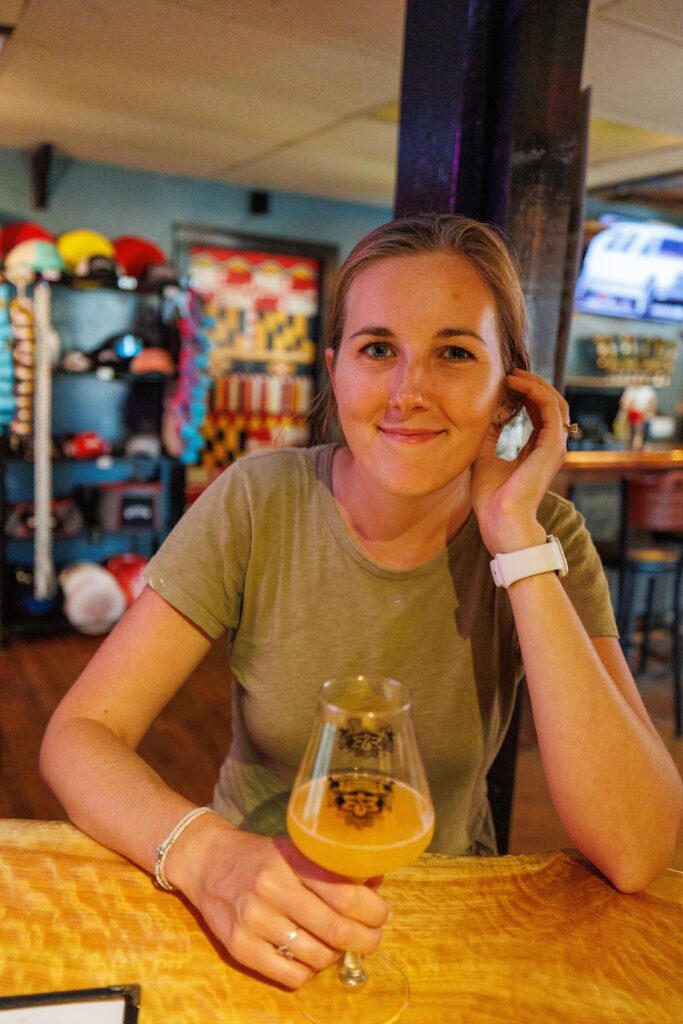 GREAT LOOP MONTHLY EXPENSES – MAY 2022
We spent a total of $3,973.43 on our Great Loop expenses for May 2022. This list does not include our healthcare, phone bills, personal subscriptions, and business expenses as those all vary from one person to another.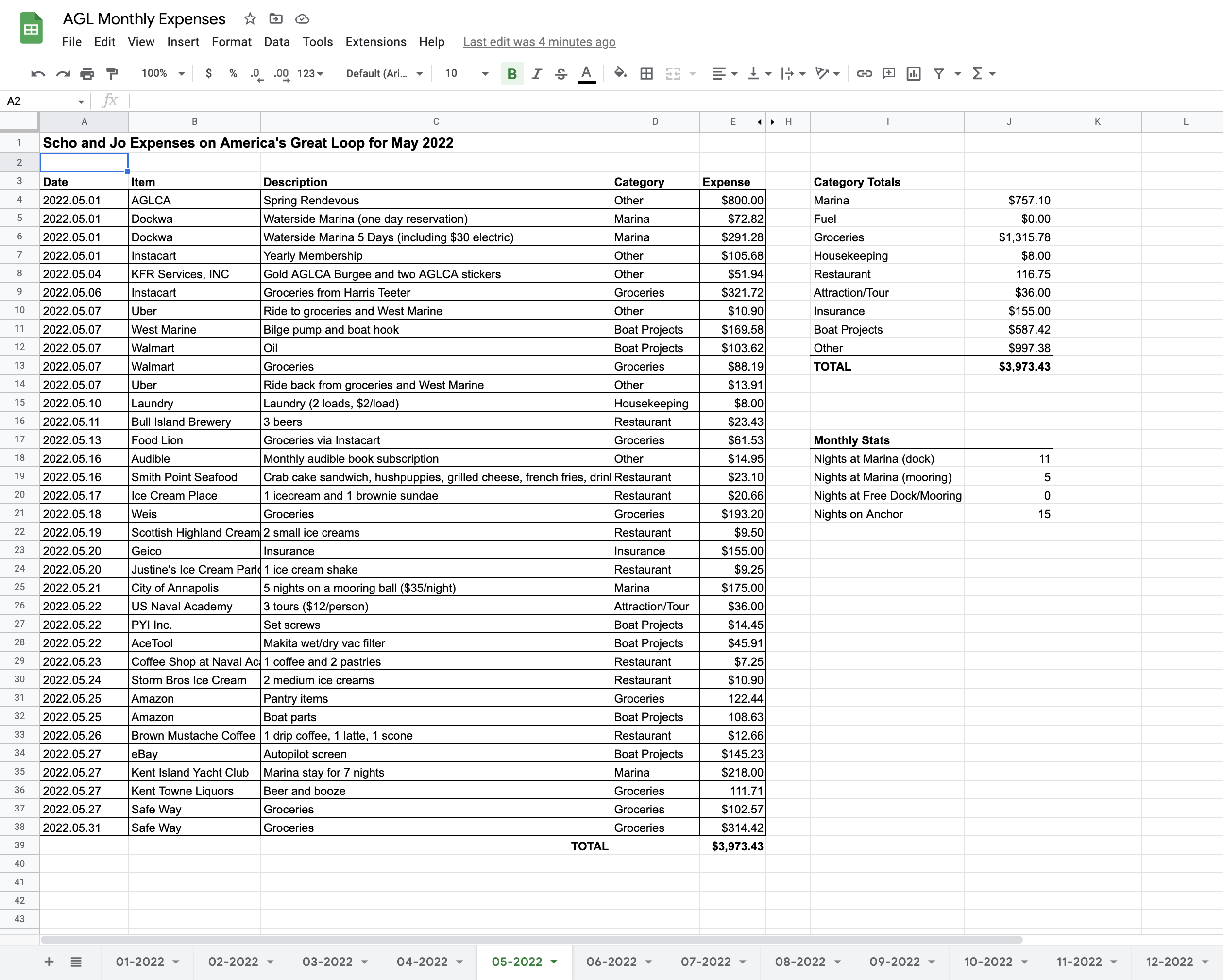 Our greatest expense was groceries for a total of $1,315.78. This month was particularly high as we bought a lot of pantry items on Amazon while we had access to marinas and were preparing for upcoming travels to Canada. Most of the meals we eat are cooked on our boat, making this a particularly high category for us. The cost of eating isn't an expense anyone can escape, however, we try to cook more meals than going out to eat at restaurants, which helps us overall save money.
Our second greatest expense this month was other for a total of $997.38. A lot of the other category was spent on the America's Great Loop Cruisers Association Spring Rendezvous. Tickets were $400 per person and we went ahead and bout a few things at the ship store for a total of $851.94. The remainder of this category was spent on Ubers and our Audible subscription.
Our third greatest expense was marinas for $757.10. We spent a lot more than what we typically spend at marinas this month! Two events guided these decisions to stay at a marina: the AGLCA Spring Rendezvous and a family wedding in Knoxville, Tennessee over Memorial Day weekend. Our goal is to spent no more than 4 days at a marina in a month, so the fact that we spent 11 days at a marina was a LOT for us. This was an anomaly and we hope to reduce this number in the future.
Our fourth greatest expense was boat projects for a total of $587.42. This was a combination of maintenance items like purchasing oil for our next oil change to getting spare parts or replacement parts to things that need to be replaced.
You'll notice that we didn't spend any money on fuel this month. That's because we bought fuel twice in April and haven't traveled that many miles in the month of May. This was an anomaly for us as we usually expect to pay for diesel at least once a month.
The remaining categories were pretty nominal. We tried to keep our exploring, touring, or sightseeing to free or inexpensive activities. We visited more restaurants this month because we had a few places we wanted to stop and heard great reviews. We enjoyed the food we did eat out as well as the tours we went on.
As we've spoken with other loopers, their two highest categories for expenses along the great loop are marinas and restaurants, which you can see varies among our two greatest expenses on the loop. That's why not all Great Loops and budgets are the same. Overall, this was a more typical month's budget for us on America's Great Loop.
OUR GREAT LOOP BUDGET RESOURCES
If you're interested in our Great Loop Budget Calculator, check it out here!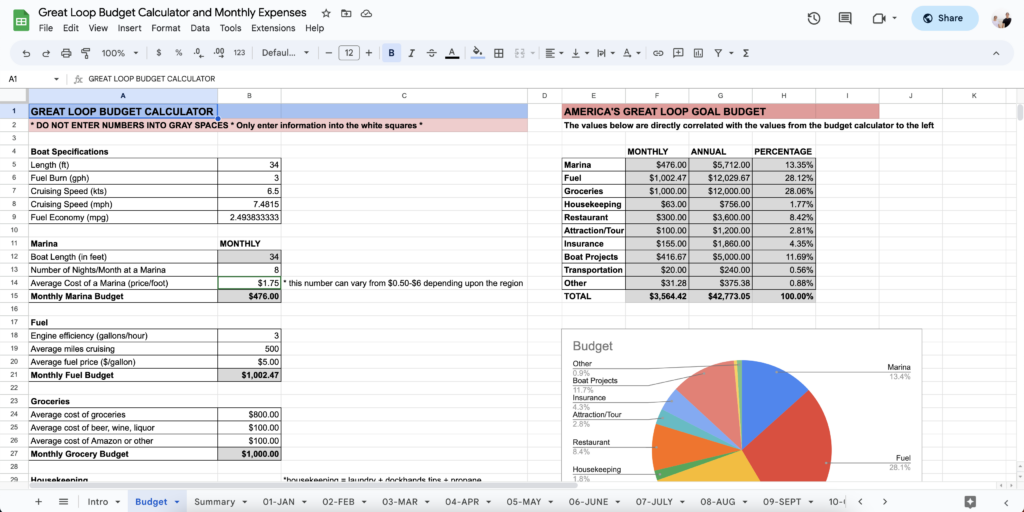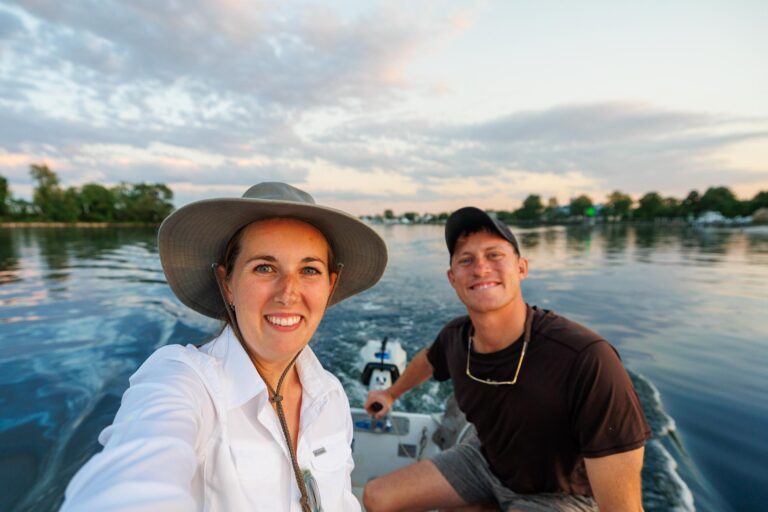 We hope this post provided you with some insightful information on how much it costs to do the loop on a budget. We will continue to make these monthly expense reports as long as they continue to be helpful to our viewers. If there is something you would like us to include in our June Great Loop Expenses that we missed this month, let us know in the comments below!
The ups, downs, and everything in between, we share it all. If you like what you see, there are lots of ways to show your support and say thanks!
Comments
Hello! Thank you for sharing your very comprehensive reporting on Great Looping expenses. I am Deanna and my husband is Bryan. My husband and I were introduced to The Great Loop while in Stock Island at The Perry Key West in February 2022. We met John and Kathy Schieler and toured Free Spirit, their 48' Kady Kroger. We are now HOOKED! My husband I came across your You Tube videos and we are learning from each episode. I do believe we may be classified as Pivot, Ollie and Looper groupies. (Giggle).
We have a sand home on the Jersey Shore in Seaside Heights, NJ. We've been watching many Loopers as the move north from Atlantic City or Cape May to Manasquan and Liberty Harbor. From shore we can see the boats with binoculars I think running about a mile off shore. We watch NEBO to see who's coming and wave like nuts. Y'all bring us joy. Just like "we bought the beach house", we hope to "buy the boat".
Safe travels to you both, Ollie and Pivot! Thank you for sharing your journey with the world!

Hi Deanna! What an exciting path that brought you to learn about the Great Loop! You may be the first and only Pivot and Ollie groupies 😉 Best of luck finding your loop boat and going on your own loop adventure.

Really like how you detail your expenses. ALong with your videos it give us the realism of what it will cost us. We have our boat and want to start cruising next year. Thanks for the detailed info. Hope we get to meet you out on the water sometime.

Thanks, Charles! Glad it helps 🙂 Definitely, we'd love to cross wakes in the future!