MONTHLY EXPENSES ON AMERICA'S GREAT LOOP - JUNE 2022
We've been traveling around America's Great Loop for four months this year and one of the first things people comment on when they meet us is our age. We are not the typically retired loopers. Following the comment about our age, we get asked if we're working while traveling, which is "yes, we are working." While age and our jobs differentiate us from most loopers, we believe that being on a budget is what puts us in a relatable category with a group of loopers. Traveling this past month, we've met more loopers on a budget who prioritize anchoring over marinas, being mindful when eating out at restaurants, and scouring out the free or low-cost activities to do in a town or city.
Traveling around America's Great Loop doesn't have to break the bank. This article explains the detailed monthly expenses of our journey around the Great Loop. By sharing our Great Loop monthly expenses with you, we hope to inspire other people that you can do the Loop on a budget at any age.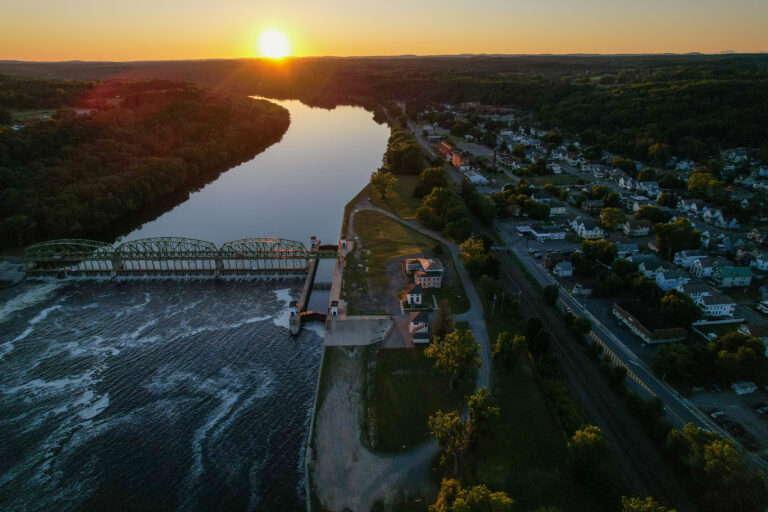 WHAT KIND OF EXPENSES ARE ON THE GREAT LOOP
Traveling on the Great Loop has many of the same expenses as on land, however, there are a few specific to life on the water. We divided our Great Loop expenses into a few categories: marina, fuel, groceries, housekeeping, restaurants, attraction/tours, insurance, boat projects, and others. Here are how we made these categories and what is included in each of them:
Marina

. This category is for all services rendered at a marina, minus fuel. That includes mooring balls and marina dockage. Marinas typically range from $1/foot up to $8/foot depending upon your location (see more below in our June travel summary). In our experience, New York has been fairly expensive with $2/foot as the 'reasonable' or cheaper option as we saw prices as high as $6/foot. Some marinas also charge $5-30/day for electricity The cost of electricity depends on the boat; we have 30 amp shore power while other boats might have 50 amp shore power. Depending upon the marina, location, and amp shore power depends on the cost of how much the price of electricity. When available, we try to get a mooring ball as they are a fixed price and provide many of the same amenities of a marina, just without the convenience of a dock. We've found mooring balls to be about $20-30 a night, which is significantly cheaper than a dock could cost us.
Fuel. This category is just diesel fuel. Our engine and generator take diesel so we have two large diesel tanks that hold about 300 gallons total. When our tanks are getting low, we begin to shop around for diesel before making a large fill-up. We made a video on Tips for Saving Diesel on an Old Trawler which includes searching for the best diesel prices on Waterway Guide and Cruisers Net. When researching fuel prices, be sure to look at whether tax is included or not. That can affect your overall fuel prices by several cents when filling up hundreds of gallons. By doing our homework and searching around ahead of time, we can avoid high fuel prices and can rest assured that we're getting the best price available.
Groceries. This category includes groceries, pantry items, large provisioning hauls from Walmart or Amazon, and alcohol. While we lived on land, we would shop around at various grocery stores for deals. Now that we live on a boat, we're at the mercy of whatever is most convenient to our boat and shopping at whatever grocery store is available. There might only be one grocery store in town in some cities or towns, while other locations might have several options available.
Housekeeping. This category includes things like laundry, propane refills, pump-outs, water refills, and tipping deck hands. We primarily wash our clothes in marina laundry facilities. Each load can cost between $1-4 per load, with the average load costing $2 for a total of $4 to wash and dry one load of laundry. Our galley uses two primary fuel sources for cooking: electricity and propane. We have two propane tanks on our boat for our stove top and grill cooking. Fill-ups usually cost around $5. Pump-outs can range from free to $10, however, we usually see pump-outs costing $5. We used to put pump-outs in the 'Marina' category. Still, since we visit marinas just to get pump-outs, we felt it was important to delineate the marina category as overnight stays so we can better show how much money is saved by anchoring out and not visiting a marina. We haven't had to pay for water until we got to the Florida Keys. Usually, water is free with a diesel fill-up or overnight dock stay. Each time we visit a dock, there are usually people there to help catch lines and assist you when docking. We tip each person about $5/person.
Restaurants. Part of the fun of traveling is tasting the delicious food that's popular in a specific region. This category includes everything from bars, restaurants, desserts, coffee shops, etc. Anytime we ate out whether it was taken out or dining in, it went in this category.
Attractions/Tours. The other part of traveling is seeing various sights and taking tours to learn more about a place. This category will vary significantly from place to place but is something we value to make the most of our Great Loop experience.
Insurance. Part of owning a boat includes boat insurance. It's just part of doing business.
Boat Projects. This category is for all hardware, maintenance items, or engine pieces that are completed on the loop. This can range from boat improvements to maintenance items. Anything related to our boat goes here.
Other. This category is for any miscellaneous items that don't fit into the previously mentioned categories.
TRAVEL SUMMARY - JUNE 2022
Before we dive into our June expenses, it's important to understand where we traveled, how far we cruised, and some peculiarities in our particular loop experience. We began our travels in Kent Island, Maryland and cruised through the northern part of the Chesapeake Bay, through the Delaware River and Delaware Bay, into New Jersey, up the Hudson River in New York and finished our month on the Erie Canal for a total of 465 nautical miles. During the month of June, we waited 4 days in Atlantic City, New Jersey for a good weather window to make our final Atlantic crossing. Here is our Nebo travel summary for June: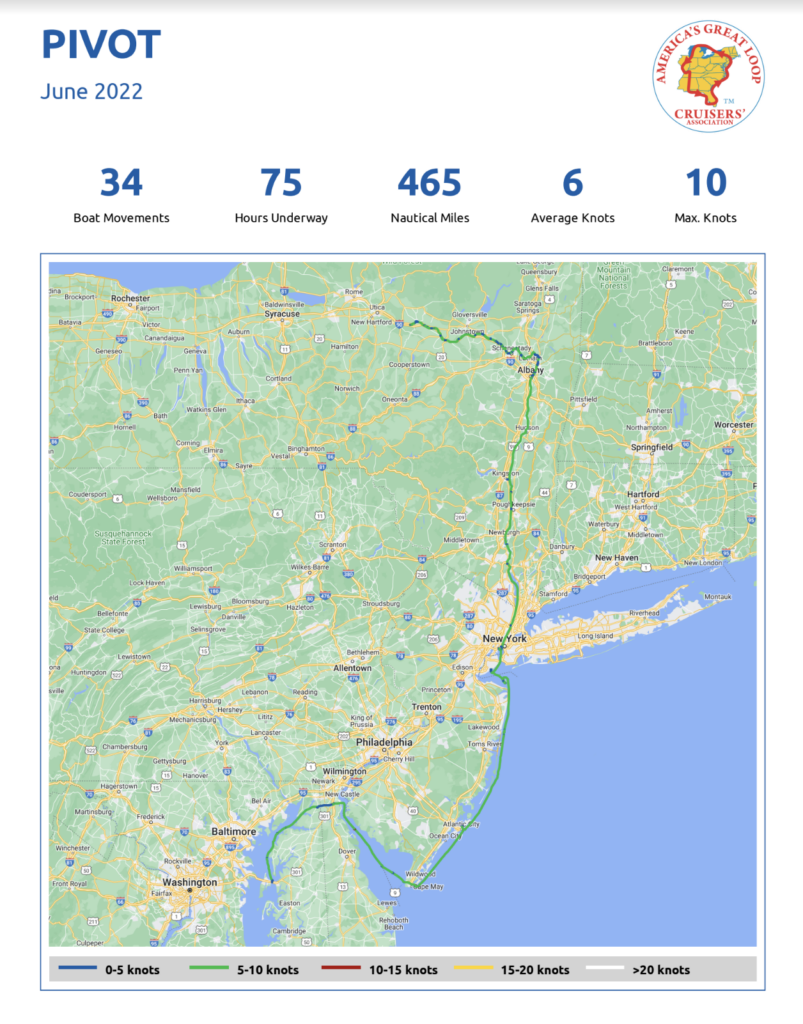 Nights at a marina dock: 7
Nights on a mooring ball: 0
Nights on a free dock: 5
Nights at anchor: 18
As you can see, we spent most nights on anchor for a total of 18 nights. We spent 7 nights at three marinas. The first marina was the remainder of our stay in Kent Island, Maryland when we waited out a heat wave and wanted to use our air conditioning which requires shore power. The next marina was in Staten Island, New York, at the Great Kills Yacht Club for 3 days at $2/foot. They also have mooring balls for $55/day which is a special rate for loopers. We stayed here to catch up on a few boat projects which required a dock and primarily for ease of access as we knew we wanted to invite family aboard to see PIVOT. Our last dockage was at Troy Downtown Marina in Troy, New York for $2/foot plus electricity. We knew we wanted to visit Troy for their Saturday farmers market and had planned to go to the free wall in Waterford and take an Uber to Troy. Due to a heat wave that was moving across the country, we booked the marina for ease of access to Downtown Troy and for shore power so we could run our air conditioner. Besides that, we were fortunate to find anchorages throughout the month, abet a bit more challenging in New York and on the Hudson River.
GREAT LOOP MONTHLY EXPENSES - JUNE 2022
We spent a total of $2,640.70 on our Great Loop expenses for June 2022. This list does not include our healthcare, phone bills, personal subscriptions, and business expenses as those all vary from one person to another.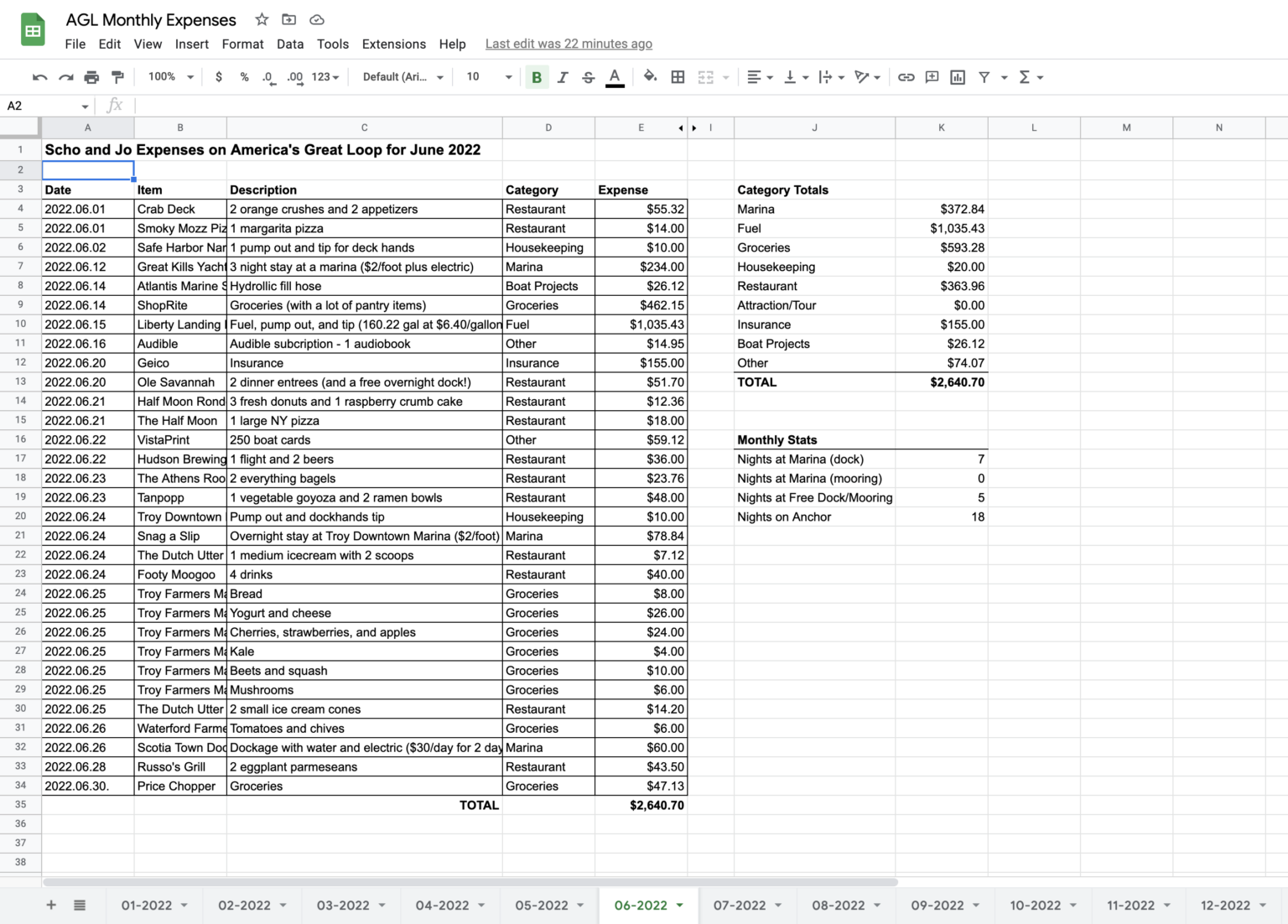 Our greatest expense this month was fuel for a total of $1,035.43. This month was pretty average for the current fuel prices as we typically have one large diesel fill-up a month. We bought 160 gallons of diesel at $6.40/gallon. After searching around for the best fuel prices, we had to make the conscious decision to not get the cheapest fuel we could find because it would require us to travel 12 miles out of our way. We did find the cheapest fuel available in our direction of travel though. Diesel is something we're not able to escape as we're in a motorboat, so we've tried to save money on other areas of expense.
Our second greatest expense this month was groceries for a total of $593.28. This month's grocery bill was pretty low compared to previous months. We went to a grocery store in Staten Island, NY for a big grocery haul. Afterward, we tried to use what we had and get just what we need at the farmer's market in Troy, NY, and a local grocery store in Little Falls, NY. Most of the meals we eat are cooked on our boat, making this a reoccurring high category for us. The cost of eating isn't an expense anyone can escape, however, we try to cook more meals than going out to eat at restaurants, which helps us overall save money.
Our third greatest expense was marinas for $372.84. Our goal is to spend no more than 4 days at a marina in a month to keep our expenses low. This month we spent a total of 6 days, 3 of which were more than our typical 'get boat jobs done and get out' approach as we knew we wanted to invite family aboard. Overall, we were happy to have found affordable dockage given it was New York!
The remaining categories were pretty nominal. We tried to keep our exploring, touring, or sightseeing to free or inexpensive activities. We visited more restaurants this month because we had several food items on our Great Loop food bucket list including New York pizza, bagels with lox, and ice cream. We thoroughly enjoyed the food we did eat out!
As we've spoken with other loopers, their two highest categories for expenses along the great loop are marinas and restaurants, which you can see varies among our two greatest expenses on the loop. That's why not all Great Loops and budgets are the same. Overall, this was a lower expense month for us on America's Great Loop.
There were a few boat expenses that we pay for on an annual basis. These items did not make our June Expenses because we paid for them earlier in the year, but felt it was important to include them in this monthly budget analysis:
US Coast Guard Vessel Renewal $26.00
Garmin Navionics Yearly Subscription for the US and Canada $21.99
AquaMaps US and Canada Maps $29.99
Boat US Annual Gold Unlimited Towing $169.00
This totals $221.98 of previous expenses paid that will last us for the upcoming year. It's part of the cost of doing business in completing the Great Loop.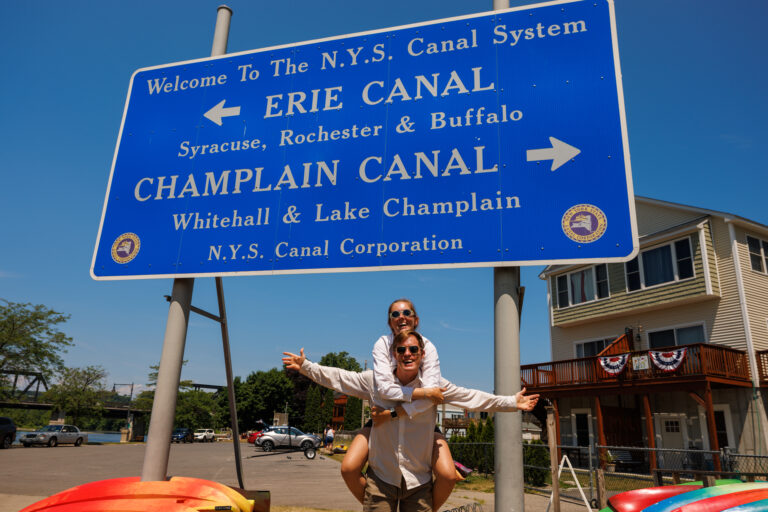 We hope this post provided you with some insightful information on how much it costs to do the loop on a budget. We will continue to make these monthly expense reports as long as they continue to be helpful to our viewers. If there is something you would like us to include in our July Great Loop Expenses that we missed this month, let us know in the comments below!
The ups, downs, and everything in between, we share it all. If you like what you see, there are lots of ways to show your support and say thanks!