MONTHLY EXPENSES ON AMERICA'S GREAT LOOP - JULY 2022
You don't have to be retired or be a millionaire to travel around America's Great Loop. As a young couple who are working as we cruise around the Great Loop, our budget is strict yet flexible with the approach of saving money where we can, such as anchoring, and spending money on unique experiences such as our time in Canada. The Great Loop is full of a variety of people with varying-sized boats, budgets, and lifestyles. This article is to help show the various expenses of a young couple with a dog on a budget who are balancing working full time, traveling to new places, and learning how to cruise. This is by no means the only way to do the loop, but it's how we are doing our loop. Just as the Great Loop experience is completely customizable, so is each person or couple's budget. This article explains the detailed monthly expenses of our journey around the Great Loop. By sharing our Great Loop monthly expenses with you, we hope to inspire other people that you can do the Loop on a budget at any age.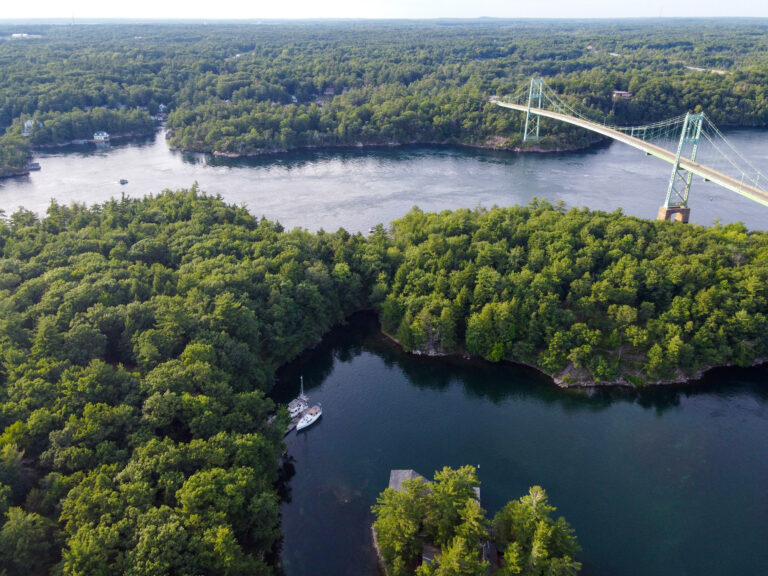 TRAVEL SUMMARY - JULY 2022
Before we dive into our July expenses, it's important to understand where we traveled, how far we cruised, and some peculiarities in our particular loop experience. We began our travels on the Erie Canal at Lock 18 and completed the eastern part of the Erie Canal, up the Oswego Canal, crossed Lake Ontario, through the Thousand Islands into Canada, and began our time on the Trent Severn Waterway for a total of 425.9 nautical miles. Going through the canals is much different than typical cruising on the loop because our cruising hours were limited to the hours the locks were open. Throughout the loop, we've left as early as 3:45 am and have arrived after dark at 8:00 pm, but since the locks are only open 7 am-5 pm or 9 am-6:30 pm, we're limited to when we can travel. Our travels are also slower given the time it takes to pass through a lock. We may only travel 20 miles in one day but have traveled for 8 hours. Our Nebo Travel summary for July only shows our US travel because we don't have an international roaming SIM card in our Nebo Link device (we have the older version). Here is our Nebo travel summary: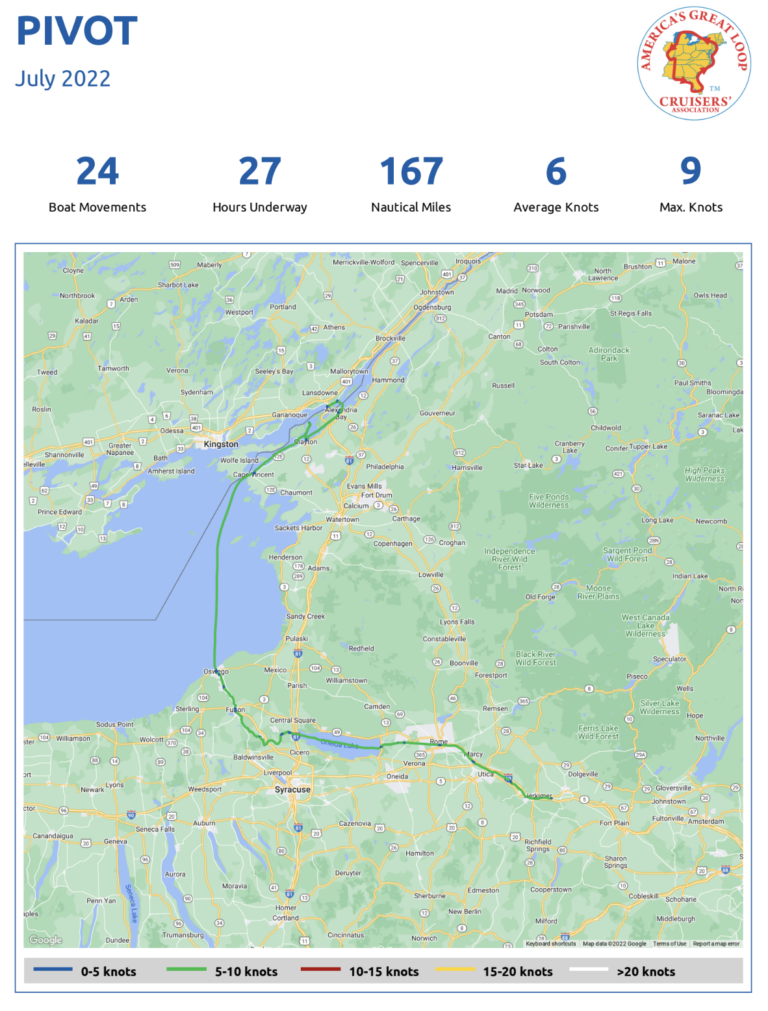 Nights at a marina dock: 10
Nights on a marina mooring ball: 0
Nights on a free dock: 8
Nights on a paid dock: 4
Nights on a free lock wall: 1
Nights on a paid lock wall: 7
Nights at anchor: 1
We spent most nights at a marina for a total of 10 nights, which is really unusual for us. The first marina was in Clayton, New York where we had several packages delivered and got a slew of boat tasks completed. The next marina was in Kingston, Ontario, at the Confederation Basin Marina for 3 days at CA$1.90/foot. We stayed here to explore Kingston, catch up on some work, and wait out some weather. Our third dockage was at Campbellford which was CA$2/foot to also see the city, use their internet, and wait out some weather. Looking back on our time at Campbellford, we could have stayed on the lock wall for CA$1/foot and used the wifi at a local coffee shop. Our last dockage was at Port of Orillia for CA$1.89/foot. Outside of these marinas, we stayed at many lock walls. Lock walls were CA$1/foot in Canada, whereas they were free in the US because they were the most convenient option given the lack of anchorages with land access on the Trent Severn waterway.
GREAT LOOP MONTHLY EXPENSES - JULY 2022
We spent a total of $3,924.08 on our Great Loop expenses for July 2022. This was by far our most expensive month on the loop given all of the dockage fees. This list does not include our healthcare, phone bills, personal subscriptions, and business expenses as those all vary from one person to another.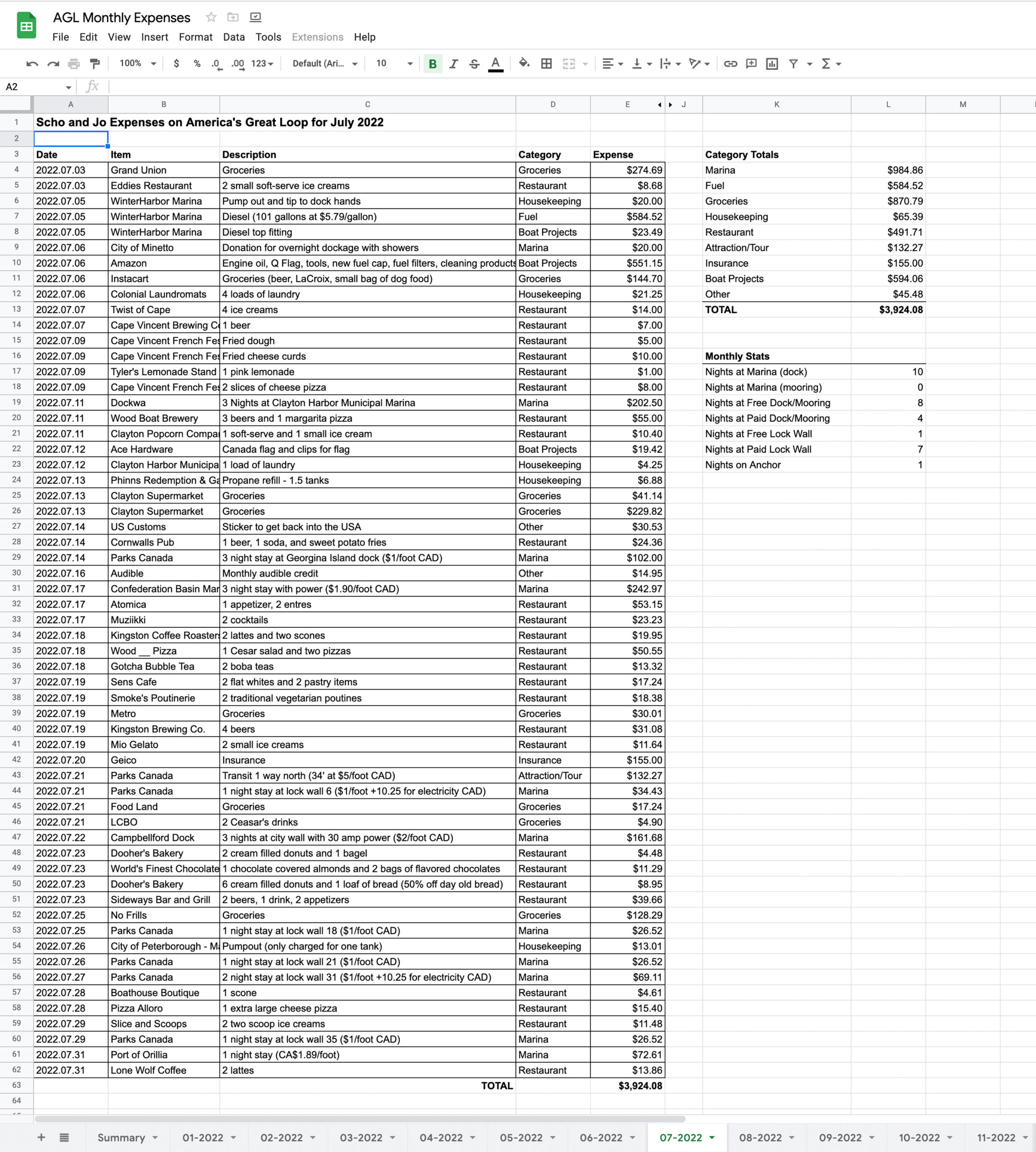 Our greatest expense was marinas for a total of $984.86. This month was abnormal for the amount of time we spent at marinas. We are looking forward to the month ahead where we'll be traveling in the Georgian Bay with more anchorages and spots to go to shore. Our goal is to spend no more than 4 days at a marina in a month to keep our expenses low, but this month we spent 10 days at a marina and 11 nights at a paid dock or lock wall, making it a very expensive month for overnight dockage!
Our second greatest expense this month was groceries for a total of $870.79. This month's grocery bill was average compared to other months. Most of the meals we eat are cooked on our boat, making this a reoccurring high category for us. The cost of eating isn't an expense anyone can escape, however, we try to cook more meals than going out to eat at restaurants, which helps us overall save money.
Our third greatest expense was boat projects for $594.06. We bought a slew of items and had them delivered to the Clayton Marina where we did a major boat clean, boat projects, and bought oil for our next engine oil change. Most of the items were just part of doing business on a boat and cruising full time.
The remaining categories were pretty nominal. We tried to keep our exploring, touring, or sightseeing to free or inexpensive activities. We visited more restaurants this month because we visited Kingston which was a mecca of restaurants and of course we had to try the local brews and ice cream as we traveled about. We thoroughly enjoyed the food we did eat out!
OUR GREAT LOOP BUDGET RESOURCES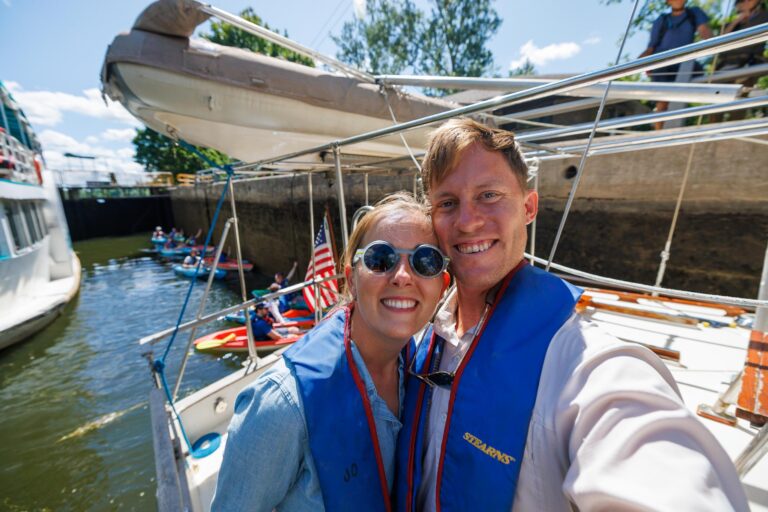 We hope this post provided you with some insightful information on how much it costs to do the loop on a budget. We will continue to make these monthly expense reports as long as they continue to be helpful to our viewers. If there is something you would like us to include in our August Great Loop Expenses that we missed this month, let us know in the comments below!
The ups, downs, and everything in between, we share it all. If you like what you see, there are lots of ways to show your support and say thanks!
MORE GREAT LOOP EXPENSE REPORTS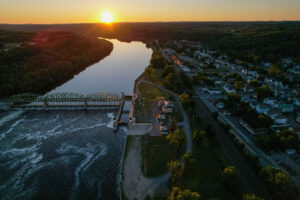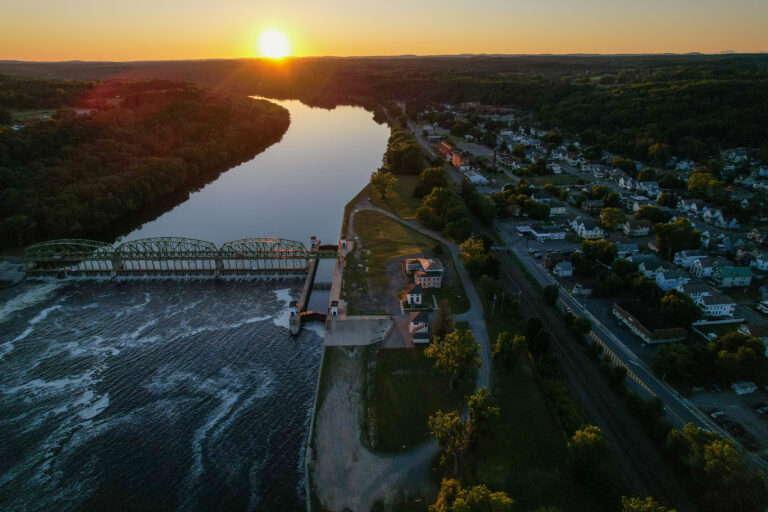 MONTHLY EXPENSES ON AMERICA'S GREAT LOOP – JUNE 2022 We've been traveling around America's Great Loop for four months this year and one of the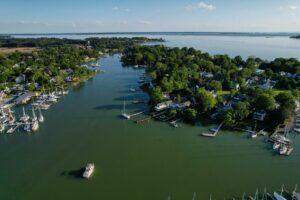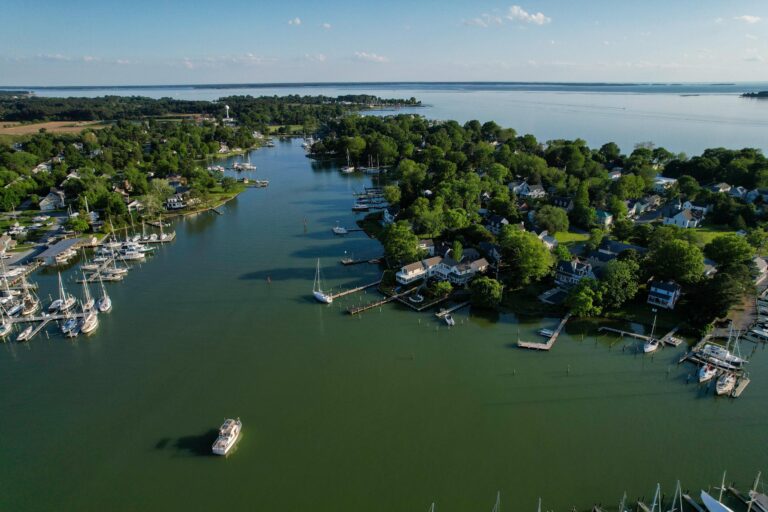 MONTHLY EXPENSES ON AMERICA'S GREAT LOOP – MAY 2022 Our third month on the Great Loop was more expensive than we would have hoped. Attending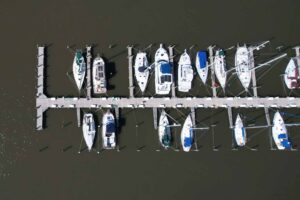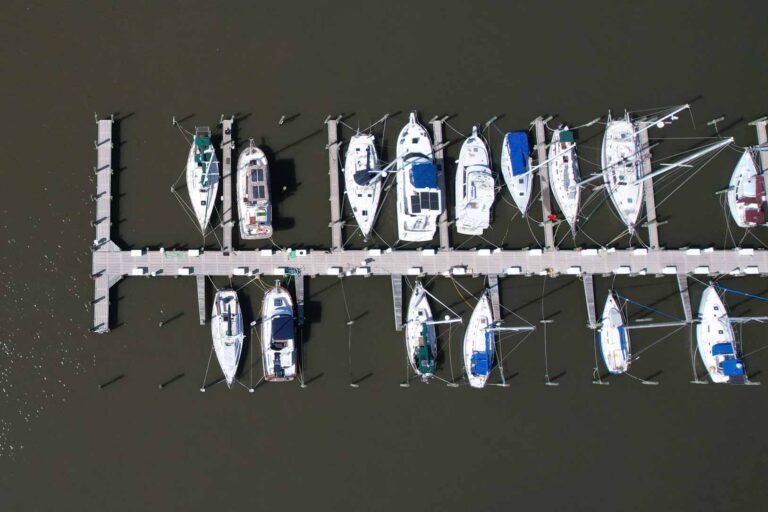 MONTHLY EXPENSES ON AMERICA'S GREAT LOOP – APRIL 2022 Traveling around America's Great Loop doesn't have to break the bank. This article explains the detailed