MONTHLY EXPENSES ON AMERICA'S GREAT LOOP – DECEMBER 2022
December was a great month for us regarding our Great Loop Budget! From affordable marinas to getting a free boost of speed going down the Tenn-Tom thanks to some recent rain, we were able to stay fairly close to our monthly goal budget. Little did we know that the cold would follow us until the very end of the month. We hope by sharing our monthly expenses, you're able to better plan and prepare for your Great Loop experience. Included in this report is what expenses to expect on the Great Loop to how much we spent exactly in one month.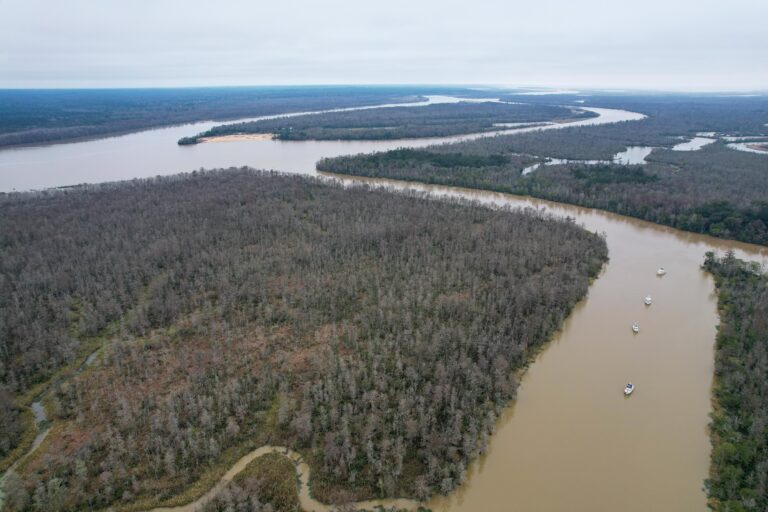 TRAVEL SUMMARY – DECEMBER 2022
Before I dive into our December expenses, it's important to understand where we traveled, how far we cruised, and some specifics in our particular loop experience. We began our travels at Goosepond Colony Marina in Alabama and traveled 627 miles to Navarre Beach, Florida. We packed in long cruising days, celebrating holidays on the boat, and a quick but short trip home for some doctor's appointments. Here's our Nebo travel summary: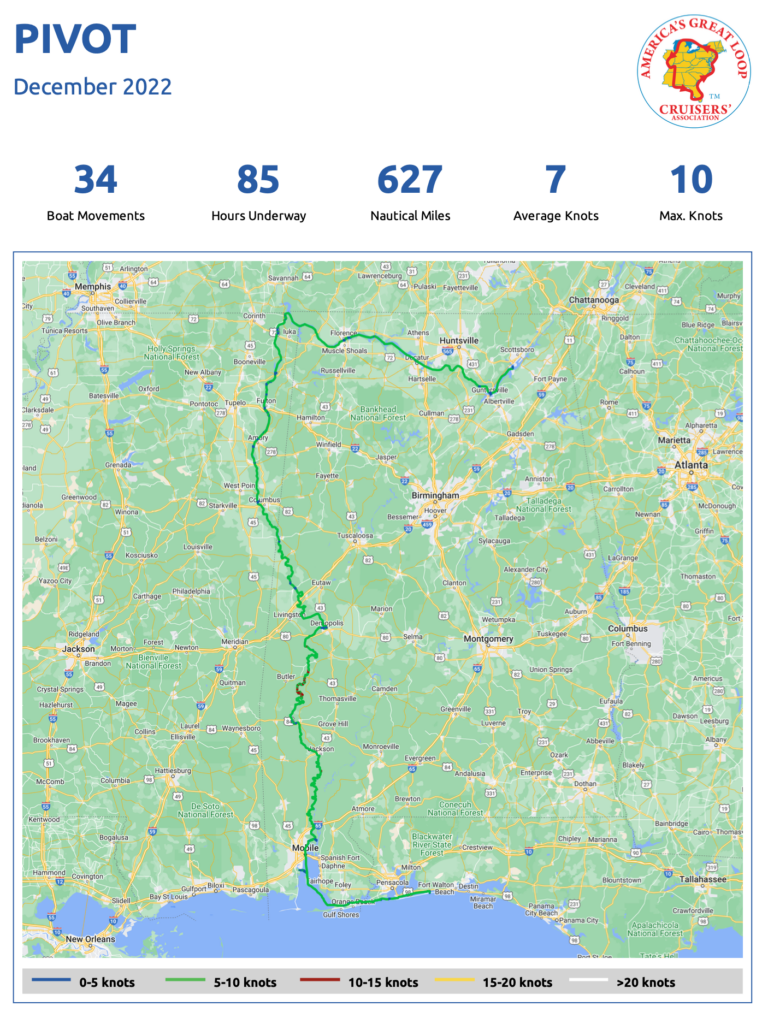 Nights at a marina dock: 13
Nights on a marina mooring ball: 0
Nights on a free dock: 9
Nights on a paid dock: 0
Nights on a free lock wall: 0
Nights on a paid lock wall: 0
Nights at anchor: 9
We spent most nights at a marina this month, but thankfully they were all affordable. We would have liked to anchor out more, however, we didn't find many great anchorages on the Tenn-Tom Waterway and due to the freezing temperatures over the holidays, we knew we wanted to prioritize being on a dock for heat and ease of taking Ollie out in less than freezing temperatures. It was a small price to pay, but it was all worth it thanks to the affordable dockage.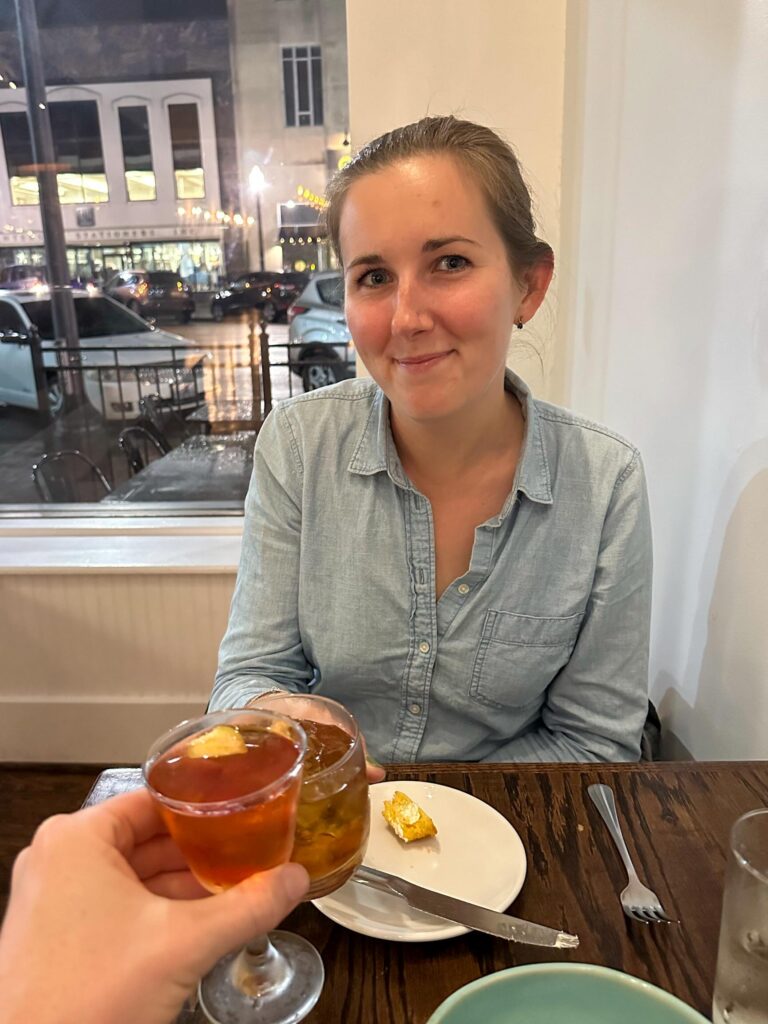 GREAT LOOP MONTHLY EXPENSES – DECEMBER 2022
We spent a total of $3,092.44 on our Great Loop expenses for December 2022. Prior to starting our loop, we set a rough goal for about $3,000 per month, so each month we get close to $3,000, we're pretty pleased. This list does not include our healthcare, phone bills, personal subscriptions, and business expenses as those all vary from one person to another. All expenses are in USD.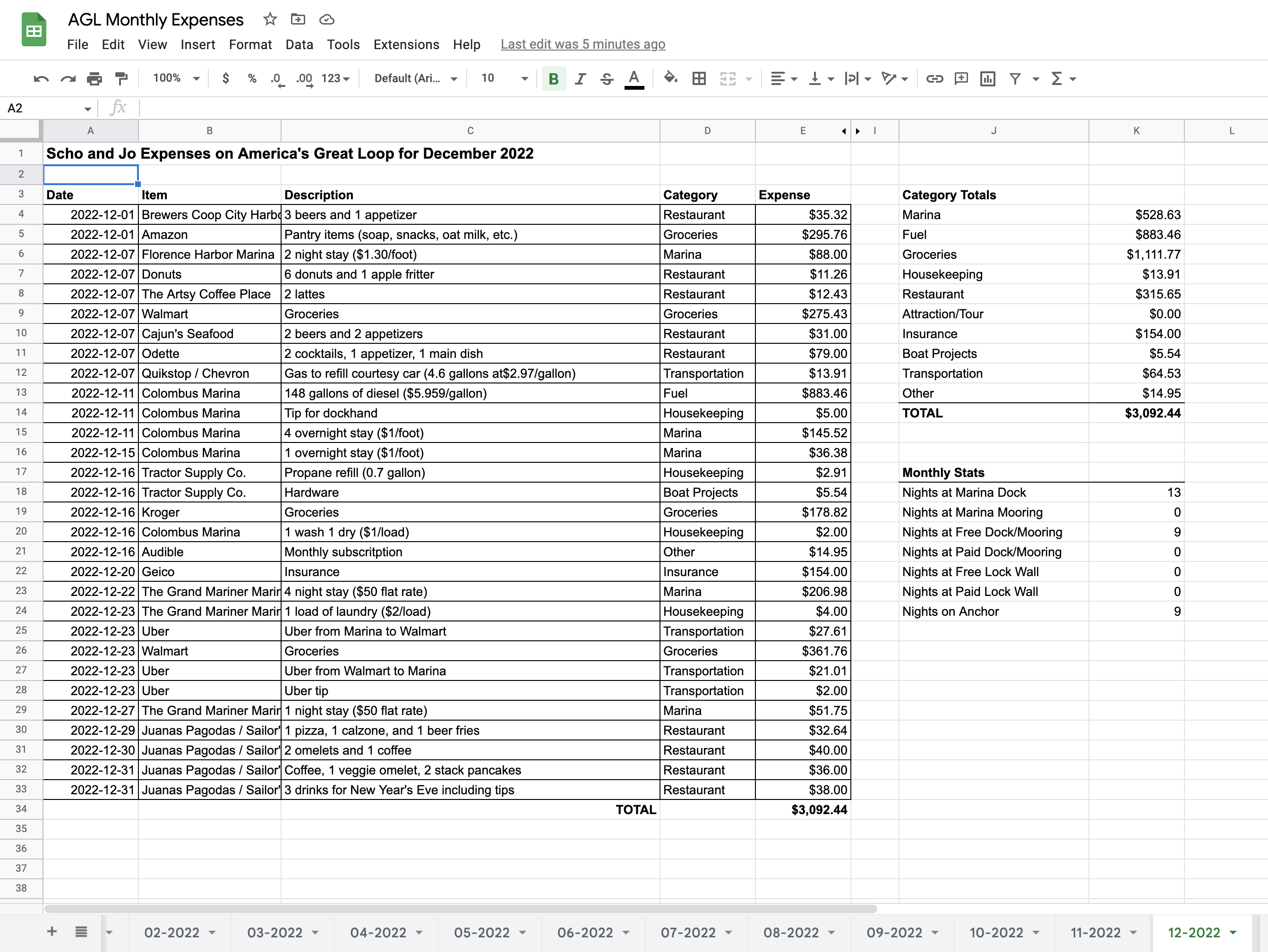 Our greatest expense this month was groceries for a total of $1,111.77. Most of the meals we eat are cooked on our boat, making this a reoccurring high category for us.
Our second greatest expense was fuel for a total of $883.46. We fueled up once at Colombus Marina, which was priced at $5.95/gallon for diesel.
Our third greatest expense was marinas or dockage for $528.63. We had some fairly inexpensive marinas in the month of December thanks to the weekly rate at Colombus Marina since we needed to leave the boat for doctor appointments and a flat rate at the Grand Mariner Marina.
A few of the remaining categories were pretty close to what we had hoped for. In many of our past monthly expenditures, we haven't been as close to our ideal budget as we would have hoped. This month we were pretty close! Considering we celebrated Jen's birthday, Hanukkah, Christmas, and New Year's Eve this month, we are pretty pleased with how much we spent. It's all part of being flexible. Our budget was meant to be flexible just as things come up, delays happen, and we all just need to pivot sometimes.
OUR GREAT LOOP BUDGET RESOURCES
If you're interested in our Great Loop Budget Calculator, check it out here!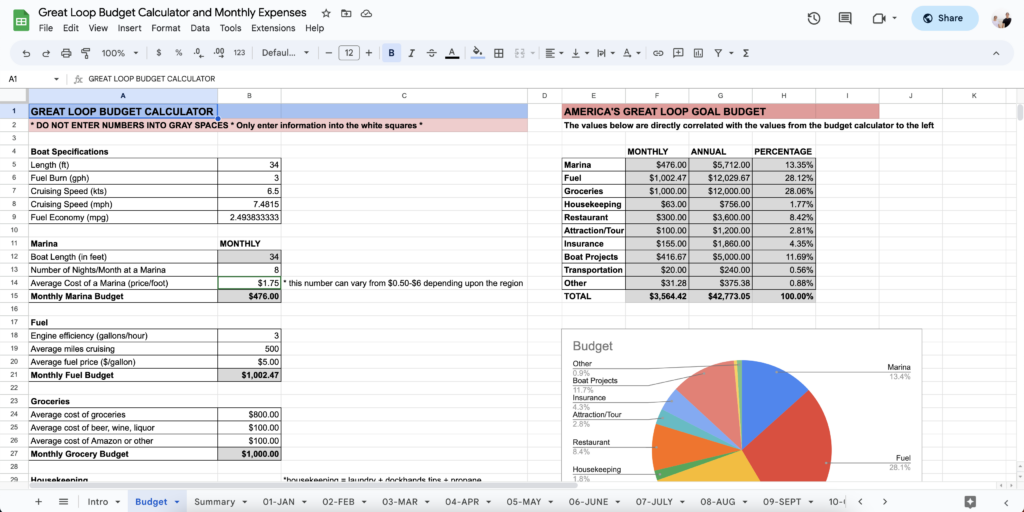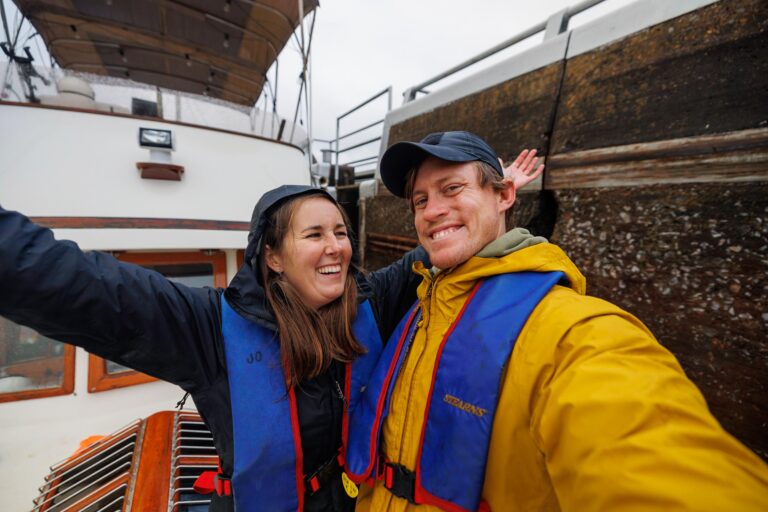 We hope this post provided you with some insightful information on how much it costs to do the loop on a budget. Share this post with a friend if you think someone else might find this information useful. If there is something you would like us to include in our January Great Loop Expenses that we missed this month, let us know in the comments below!
The ups, downs, and everything in between, we share it all. If you like what you see, there are lots of ways to show your support and say thanks!
MORE GREAT LOOP EXPENSE REPORTS
Comments
I love your videos and your courage. Boating always drew me in because of the people and peaceful mornings on the water. We boat in TN on a TVA lake and spend many nights at anchor, but not as much travel. The info you both share is so cool. I feel like we are there with you on the trips and that is wonderful. Thank you ! Living your life for us to see is brave, and fantastic. I enjoy seeing how you cook most meals. We spend a lot weekends on our boat, but this summer I will spend a few months. The lessons you share are helping me understand what is needed on the boat for weeks on end.

Thank you for all you share !
-Scott

Thank you, Scott! We appreciate you for watching and following along on our journey. Your kind words mean a lot to us and don't go without deep appreciation from us. Thank you!

Looking forward to getting caught up. Let's get those videos edited so we can get down the Tenn Tom Waterway! Love the videos.

As we're finishing our Great Loop in the next few weeks, we recently came to the realization that we need to enjoy these moments and take them in. As a result, we'll be a bit slower posting on YouTube so we can focus on being in the present moment and filming our experience. We don't want to look back and think about how we spent the last few cruises inside editing and not taking appreciating these unique experiences. Ultimately we believe this decision will create better videos in the long run although the downside is that we'll be temporarily releasing fewer videos. With that being said, we appreciate your patience in waiting and understanding!

Ah, I snoozed and y'all stayed four nights in my town at the Grand Mariner. Hope it was a great Christmas and look forward to the videos!! My kiddo and I would have loved to run into you on the dock and give Ollie a scratch and a pat or two. And it's usually not that cold here. Brrr!

Thanks for creating this level of detail. We met you two at the Oct AGLCA. Great presentation on the topic of anchoring as well.

My question is whether you have a running total that adds your costs or provides a running average. Cost per hour or Cost per mile after 10 months should be a pretty accurate proxy for your entire trip.

BTW. We've been planning now for over a year and frankly your detail is the best I've seen anywhere. Demonstrates your organization and discipline.

If I can help by building a summation sheet, I'd be happy to do so (Just send the sheets and I can pencil whip this stuff up really quickly – although I suspect Elliot could do so, or has already done so).

This is wonderful information. Thank you for taking the time and effort to out this together!

Very detailed analysis. I suspect that you would be spending more if you were living on land somewhere with 2 cars (and insurance), rent, food, etc. So in reality this loop is free.

I'm planning on a loop now and I didn't bother to add food into my budget because I was planning to eat anyway. My loop will be somewhat more expensive because I'll still have a house, cars, etc. Since I'm going solo, I probably will dock more at marinas as part of my "social life".