25 MUST HAVE ITEMS FOR BOAT LIFE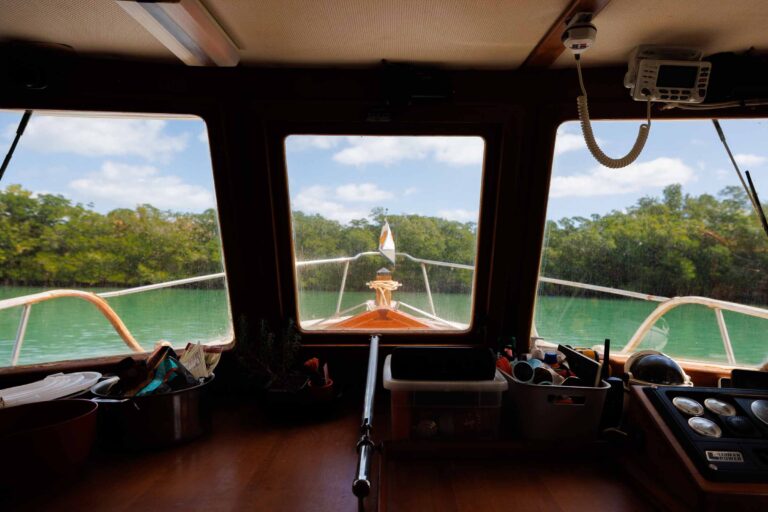 We've been cruising full-time on a trawler for the past year. During that time, we've found several items that really improved our life on the water. These items are things we use daily or weekly. The items in our boat were carefully selected and tested for their use and durability. If they didn't pass our test, we removed them from the boat to ensure we only have things we use and enjoy aboard PIVOT. The items we listed are outside of a reliable dinghy motor or a solid anchor system, which we love and also use daily. This article is full of the smaller must-have boat items that make our life on our boat much more enjoyable.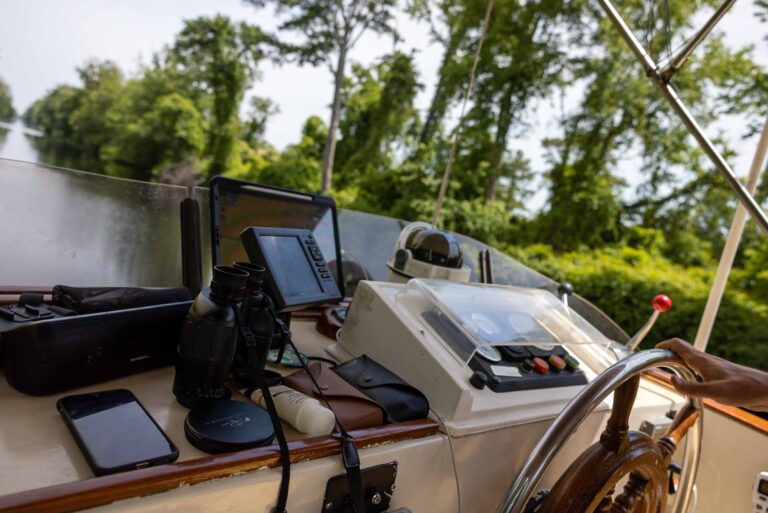 We bought a few items to transition to boat life specifically. These items are kept at our help station so we have easy access to them as we're cruising. Here are a few items we invested in to make our life on the water safe and enjoyable at the helm and on the water.
Binoculars. We use binoculars as we're cruising to see markers, read signage, and look at wildlife. We received our binoculars as a hammy-down gift, but we do recommend finding waterproof and marine-rated if possible. In our research on binoculars, we found that they range in price and you get what you pay for. We received our binoculars as a gift, so the ones we've listed are not the exact ones we have.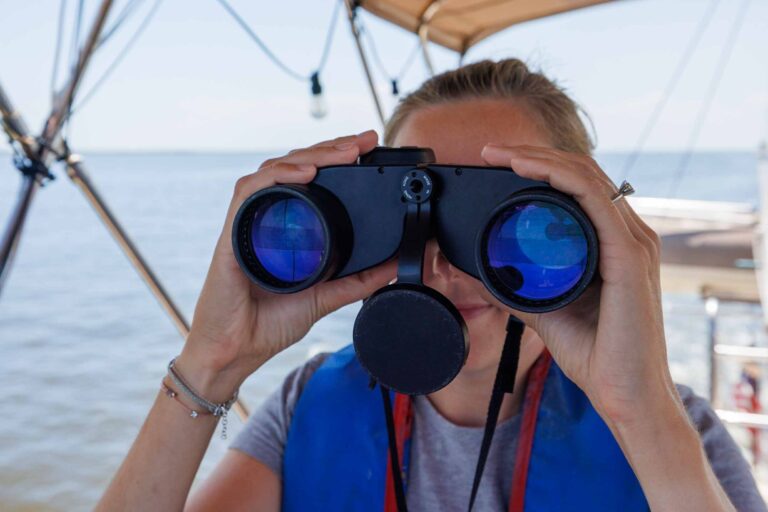 Rechargeable LED Spotlight. We use this light when we're cruising at night to give us additional light for navigation. We've also used this at night to look for things in the water. The fact that we can recharge it and don't have to keep extra batteries on board is a huge plus for us.
Rechargeable Portable Handheld VHF Radio. We use our radio when we're on land and want to keep listening to the VHF channel 16/13 or when one of us is on the dinghy and another person is on our boat. It's an additional safety measure that allows us to communicate when we're separated and don't have to worry about cell service. It also allows the person traveling on the dinghy to contact other boats in the area if need be. We were given a used portable handheld VHF radio, so this is not the exact radio we have, however, it is very similar.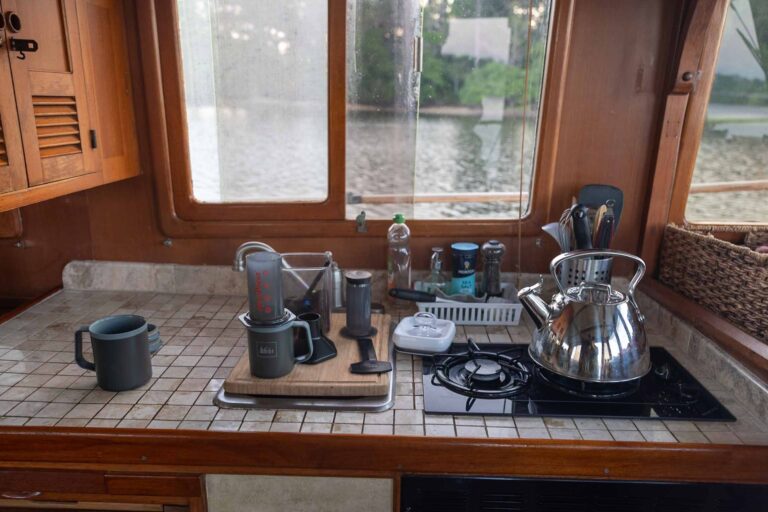 There are a few key components to our galley that we use daily! Having a small kitchen with us as we travel is such an amazing asset. Enjoying this tiny home life on the road also means that we have items in our galley that are power or space-efficient.
Stainless Steel French Press. When choosing a coffee maker, it was important that it didn't use electricity. Our french press makes about 3 cups of coffee and is great for Elliot's first-morning brew. The stainless steel filters mean we don't have to replace filters frequently which reduces our waste on the boat. It isn't the neatest with clean-up as the grounds are pressed into the bottom which then has to be dumped into the trash.
AeroPress. Our second option for making coffee is the AeroPress which is perfect for one cup of coffee in the afternoons. This is a little bit easier with clean-up as it has a filter and you're able to press the ground straight into the trash. The AeroPress also allows us to make a variety of types of coffee including Americanos and Espresso.
Collapsable Drying Rack. We do not have a dishwasher aboard our boat, which means we hand wash all of our dishes. Adding a drying rack to our galley has helped reduce fewer dishtowels and keep our dishes in one place while they dry by our window. We like that it's collapsable so we can store it away when we're not using it.
Instapot. This is our one large appliance aboard our boat and we absolutely love it! It is important to know your electric capacity as it relates to your inverter and battery capacity (find more information on our boat and electricity specs here). We make sure to be very intentional with the means we cook in it. For example, when cooking dried beans like garbanzo beans, we make sure to presoak the beans because the cooking time is dramatically reduced with a presoak. Instead of cooking beans for 50 minutes, we cook for 8 minutes. We cook a variety of meals in our instant pot including oatmeal, rehydrating beans, pasta, soups, and stews.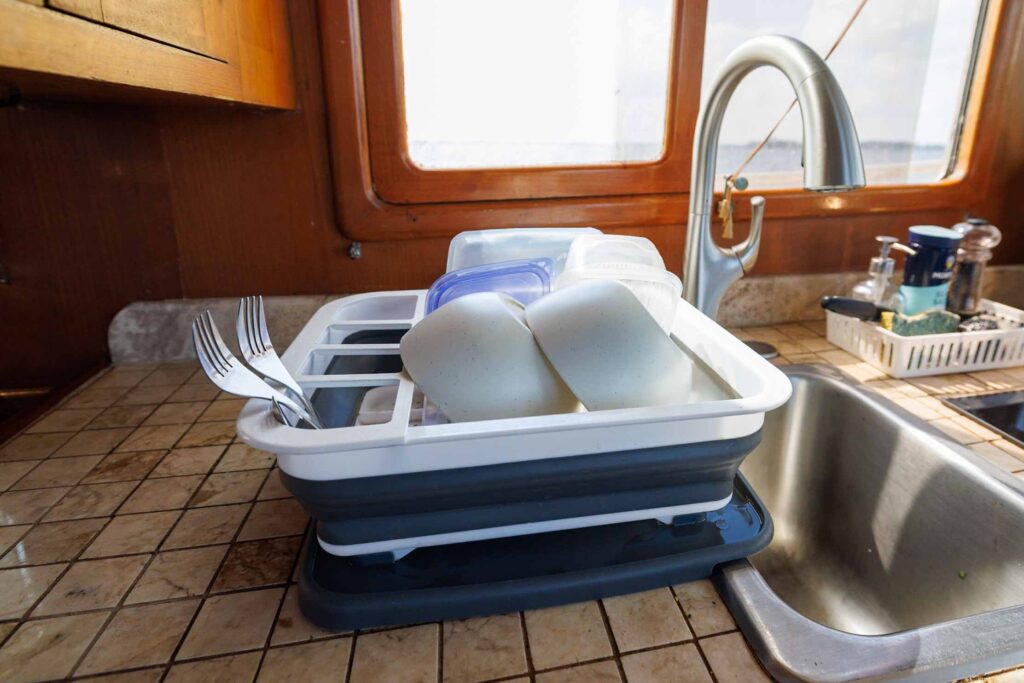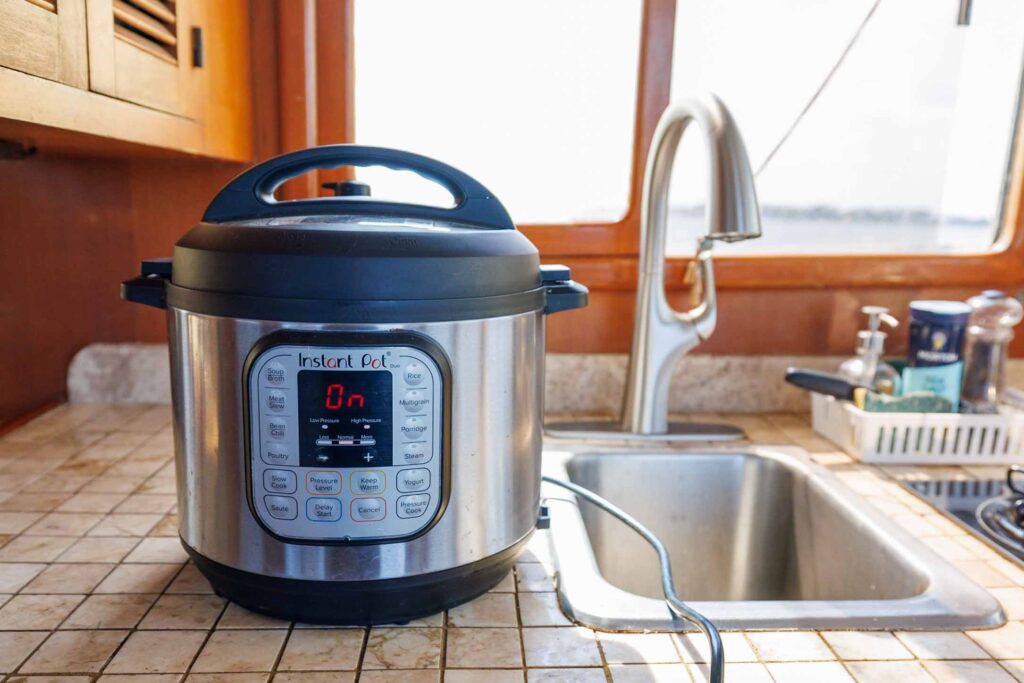 Berkey Water Filter. We use our Berkey Water Filter for all of our drinking water. It's two carbon filters that clean the water we get from random hoses and spickets. The washable filters mean we're not constantly buying replacement filters; instead, we maintain the filters by washing them once every month or two.
Cast Iron Skillet. We can use a cast-iron skillet for just about every meal except pasta aboard our boat. This skillet is incredibly versatile and is our go-to pan to cook most meals. It is so easy to clean as food doesn't stick to it like some of our other pans. If you've never cleaned a cast iron skillet, we'd recommend researching it before you do so you don't lose the seasoning effect.
Knife sharper. We cook a lot in our galley, so sharp knives are a must! This tool allows us to sharpen our knives as frequently as we'd like without the need for electricity. We sharpen our knives with this non-electric, compact tool about once a month.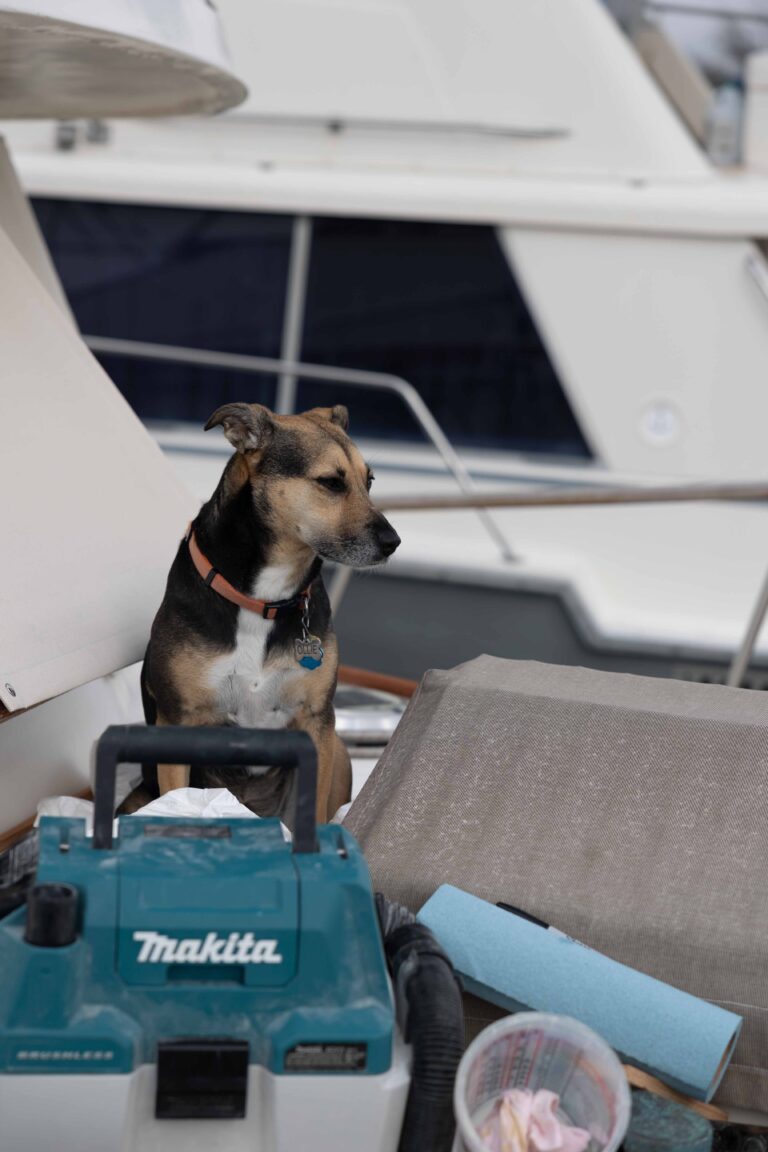 Living in a tiny home means our home gets dirty quicker. Between living on the water and having a variety of dirt and debris we bring in from shore to our dog's fur, we're constantly cleaning PIVOT.
Battery Powered Wet/Dry Vacuum. We chose this wet/dry vacuum because it's versatile for both boat projects and general cleaning. We're huge on multipurpose tools, and this vacuum fits the bill for just that. We use this to clean up messes around the boat, and vacuum the floors, cushions, and helm station.
Dust Pan. Living in a humid climate and dragging in dirt, sand, and debris, keeping our floors clean is a challenge. Having both a vacuum and a dustpan is crucial to keeping our floors clean. Sometimes a vacuum just doesn't quite get all of the dirt and sand in the corners and crevasses in our boat, so using a dustpan to help remove the dirt in these spots prior to vacuuming means we can really clean our floors.
Laundry Bags. Carrying laundry from your boat to the marina laundry facilities can vary in travel distance. To make sure we don't lose any socks or garments along the way, we use laundry bags with a string tie so none get lost in transit.
Laundry Pods. Using laundry pods over laundry liquid detergent means you have less to carry with you to the laundry facilities in a marina. It's one small change that has made things easier in our life on our boat.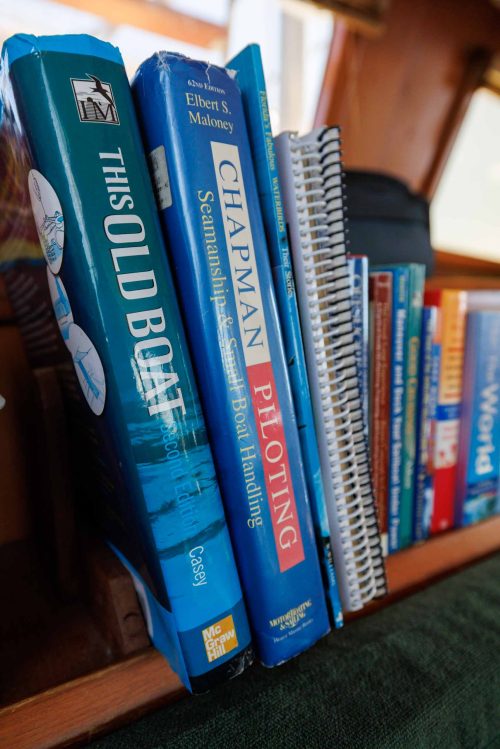 We are both avid readers and love to take in books in a variety of ways including physical books, digital books, and audiobooks. Although we try to limit the amount of physical books we carry with us on PIVOT due to the extra weight, we have a few books that we keep on board.
Chapman Piloting. The boating bible of sorts, this book is our go-to when answering all of our boating questions. Our copy was handed down to us and is referenced whenever we need a time-tested answer to a boating question.
This Old Boat. This book has provided us with insight and understanding of so many of our boat projects. It's our go-to reference when solving an issue with our old boat. Any boat owner with an old boat should have this book.
Kindle. As I said, we're avid readers. We love reading a variety of books genres, but keeping all those books on our boat would add a lot of extra weight that we don't want to carry with us all the time. Having a Kindle is a great way to keep up our reading habit without the extra stuff. It was a valued item in our suitcases when we traveled abroad internationally and continues to be a valued item on our boat. Try Audible and get a free trial and two free audiobooks.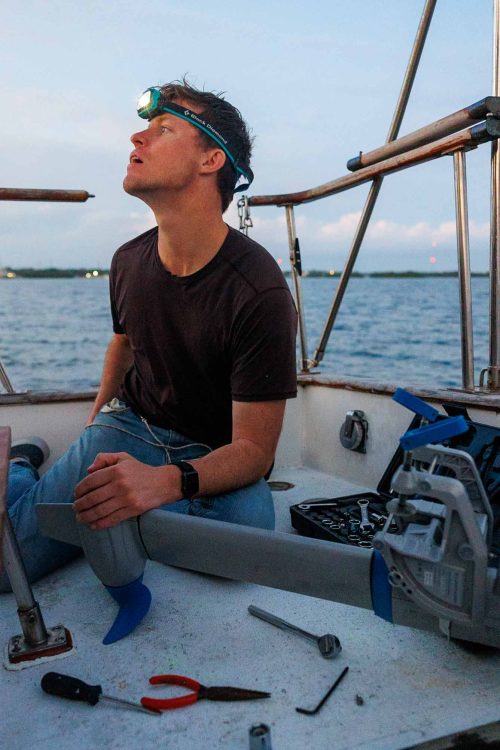 The last remaining items are items that are found around our boat and have improved our quality of life or have made boat life more enjoyable.
Rechargeable Headlamps. Our headlamps are a key component of our life on the boat. Elliot uses his light every morning when he does engine checks before our cruise. We also use them going to take Ollie to shore at night. These headlights are rechargeable so we don't have to worry about keeping extra batteries on board. We each have a headlight so we can keep our hands free when doing tasks around the boat.
Fan. As we anchor about 90% of the time, we're dealing with whatever the weather is, hot or cold. Since we don't have any 12-volt fans on our boat (it's on our very long boat projects list), this fan keeps us cool in the meantime.
Rechargeable, Waterproof Speaker. As we cruise, we're usually listening to music or audiobooks. This speaker allows us to move the music to wherever we are on or off the boat. We're able to carry it with us in our backpacks when we go to shore or keep it at the helm while we're cruising. It's rechargeable so we don't have to worry about keeping extra batteries on board and it's waterproof so we're not worried about it getting a little wet.
REI Chairs. We have these chairs for additional seating on our flybridge when we have guests on board or when we want an alternative seating option. They are super lightweight which means we've carried them with us in our backpacks to Looper events, the beach, and evenings onshore. These chairs are collapsable, so we can store them easily. They lay back slightly, so they give us a second seating style, which is more casual than our helm chairs. When we're at anchor, the style of them provides a gentle swaying motion, which can lull you right to sleep. These chairs have pockets that can hold our kindle, phone, or headphones. The one downside is that they're so lightweight that if it is windy, we have to make sure to turn them upside down, weigh them down, or collapse them and put them away. We'd prefer for them to be lightweight so we can easily carry them over having them heavy so the wind doesn't pick them up. All personal preference though!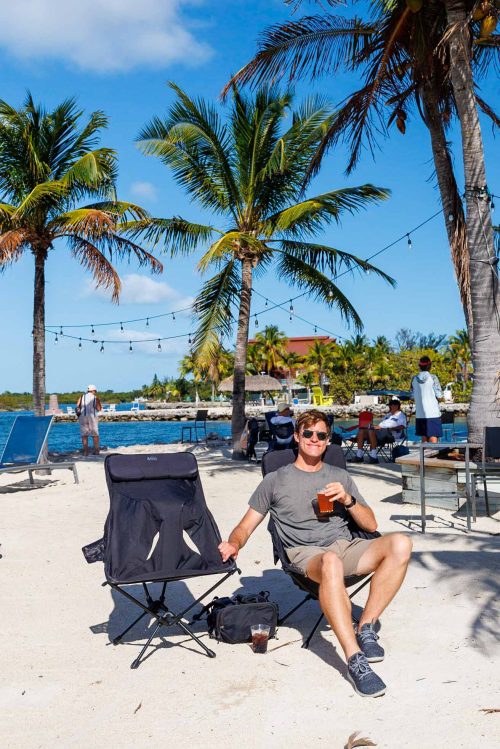 Rechargeable Bug Zapper. Bugs are a constant battle while living on the water. In various regions along the coastlines, we experience different bugs. If you saw our video on Cumberland Island, you saw us on a killing spree of no-see-ums. This bug zapper allows us to kill the bugs or pesky no-seems that come into the boat.
We Boost Cell and Data Booster. We use this to boost our phone's connectivity. This will help us go from one bar to two or three bars of service, which is helpful when you're running a small business or just want to watch YouTube videos at night.
Wifi Router. We use this device to connect to other networks and have a wifi network on our boat. We also use this with our Google Chrome Cast to watch YouTube or shows on our TV. This device is hooked up to our hot spot, giving us wifi on the boat.
Stand Up Paddle-boards. We went two months without our SUPs and bought them so we could explore the Chesapeake Bay more. Little did we know, we wouldn't use them for 8 more months until we were in the Florida Keys for the winter. We're so glad we bought these stand-up paddle boards because they really make living on the water fun! There are many spots we can't get to on our boat, but having a reliable dinghy and a fun water activity like SUPs or kayaks make living on the water that much more fun. We particularly enjoyed them in Islamorada or in Curry Hammock State Park on their kayak trail through the mangroves. We would have otherwise had to rent the kayaks they had at the park, but instead got to use our own. Having some sort of water toy whether it is a SUP or a kayak really elevates life on the water and adds to this unique lifestyle.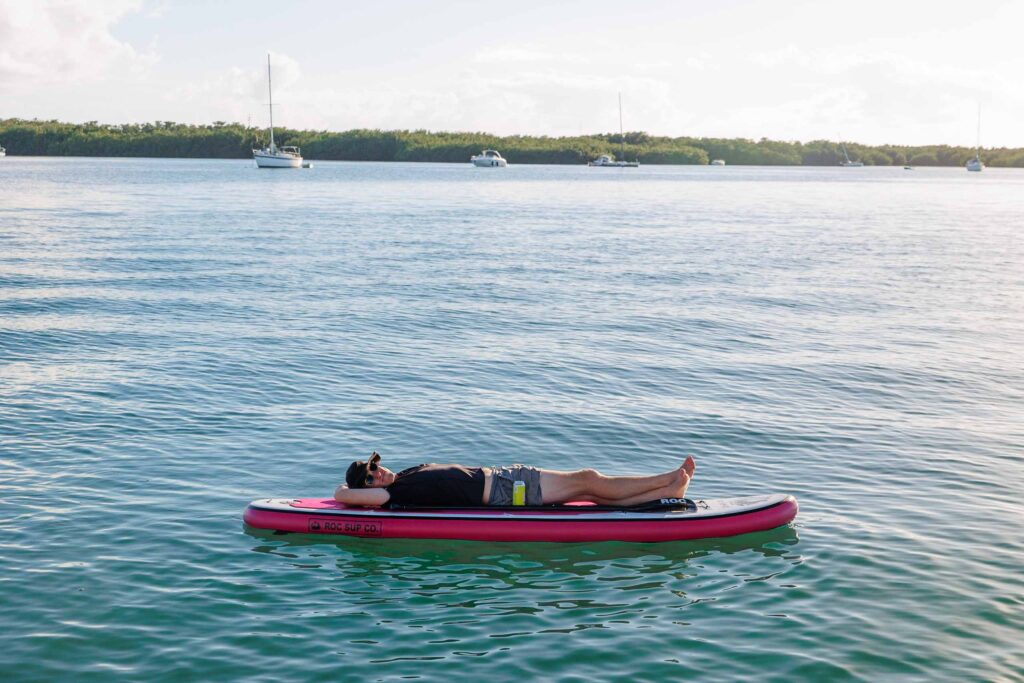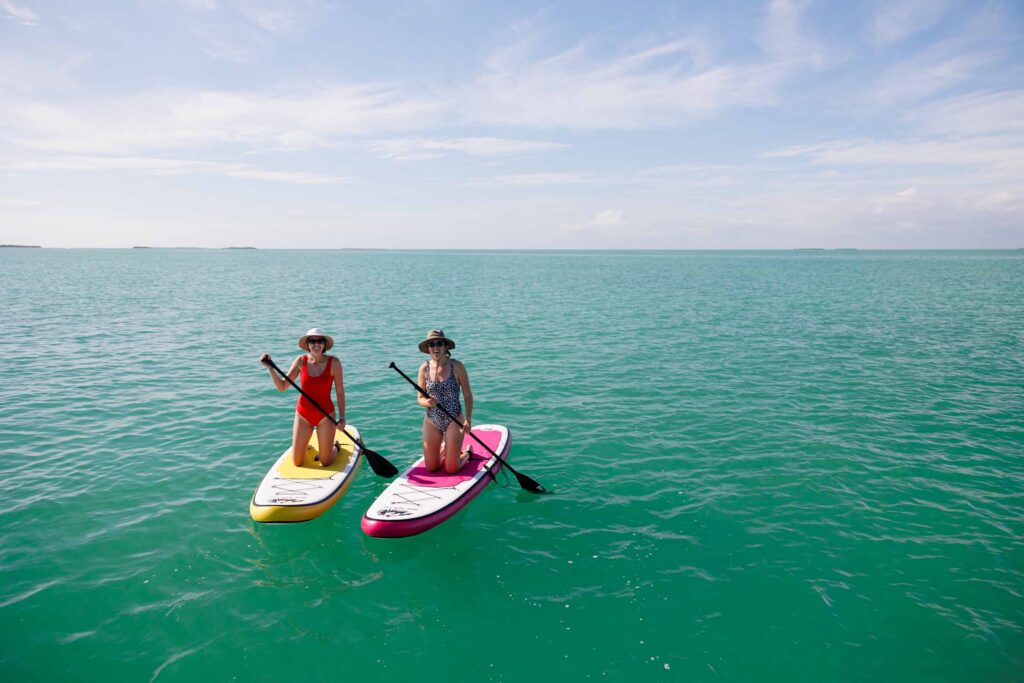 Balancing working full time and cruising full time on America's Great Loop is challenging, but also incredibly rewarding. We're all about taking out some of the challenges in boat life to make it easier and more enjoyable. We hope this list gave you some insight into what items we use daily and wouldn't live without. If you're interested in more boat-specific items, check out our boat page where we share all the details and specifications for our boat and various appliances aboard. If you have any questions or items that you can't live without on your boat, please let us know in the comments below!
The ups, downs, and everything in between, we share it all. If you like what you see, there are lots of ways to show your support and say thanks!