Boating Florida's Gulf Crossing vs. Big Bend
Post Summary: Boating Florida's Gulf Crossing or Big Bend
The Gulf Crossing is an open water section of the Great Loop that all boaters must complete. The Great Loop is known for being a boating adventure that goes around the Eastern portion of the United States in protected waterways, with a few exceptions of open water cruising, including the Florida Gulf Crossing. There's a lot of concern, worry, and anxiety about this part of the loop. This part of the loop really puts your boating skills and mental fortitude to the test.
In this post, we're sharing everything from travel details behind the Gulf Crossing and the Big Bend, the pros and cons of the Gulf Crossing and the Big Bend, how to choose your weather, and sample itineraries for both the Gulf Crossing and the Big Bend.
Gulf Crossing vs Big Bend Map
There are two routes a boater can take from the protected waters of the Gulf ICW at the Panhandle of Florida to Florida's West Coast called the Gulf Crossing and the Big Bend. The Gulf Crossing, as the name implies, crosses the Gulf of Mexico from the panhandle to the west coast of Florida. The Big Bend, on the other hand, breaks up the journey into a few jumps. The Gulf Crossing and the Big Bend are in a section of the Great Loop that is unprotected boating, unlike most of the 6,000-mile journey. For detailed boat maps, see the sample itineraries below.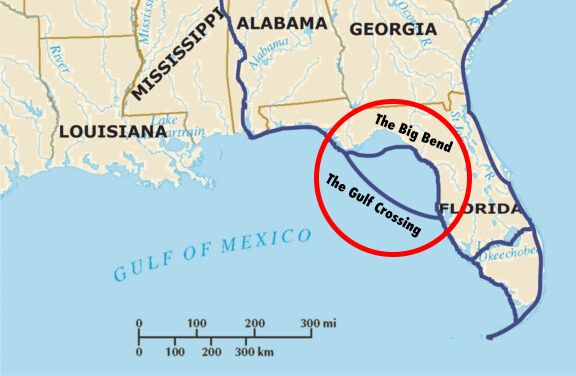 What are the Gulf Crossing and Big Bend?
The Gulf Crossing and the Big Bend have several differences. Here is a side-by-side comparison of each route:
Boating Florida's Gulf Crossing
How long does it take?
It takes approximately 18-20 hours for a boat going 7-8 knots.
How many miles is it?
Approximately 150 nautical miles. You'll need ample fuel to go from Carrabelle to Clearwater it is about 154 nautical miles.
Where does it start or stop?
This route typically starts in Apalachicola, Carabelle, or Dog Island and ends in Tarpon Springs.
How many stops does it have?
Zero besides the start and stop locations.
What are the main concerns with this route?
You're going to be 65+ miles offshore with no sight of land, without cell phone service, and limited VHF radio accessibility so it requires boaters to be well prepared and really hone in on their boating skills and weather reading abilities.
Boating Florida's Big Bend
How long does it take?
It takes approximately 3-4 days of 8-10 hours of cruising for a boat going 7-8 knots.
How many miles is it?
It's approximately 224 nautical miles, with fuel available in Steinhatchee and Crystal River.
Where does it start or stop?
This route typically starts in Apalachicola, Carabelle, or Dog Island and ends in Tarpon Springs.
How many stops does it have?
This route stops in Steinhatchee, Cedar Key, and Crystal River.
What are the main concerns with this route?
You need 3 days of good weather, however, they don't all have to be consecutive good weather days. This route also requires you to anchor for at least one night in Cedar Key as there are no marinas. Lastly, this route can be shallow, so large boats or boats with a deep draft might not clear several of these areas.
Why Planning Your Gulf Crossing is so Important
If you're on a small boat, a boat that does go fast, or you don't like to be tossed around in waves, then it's important to plan your crossing for optimal conditions. The Gulf of Mexico is a large body of water that deserves respect as it can get rough. Boats larger than 50 feet or boats with a deep draft, might prefer to do the Gulf Crossing because of the shallow waters or tight maneuverability found on the Big Bend route.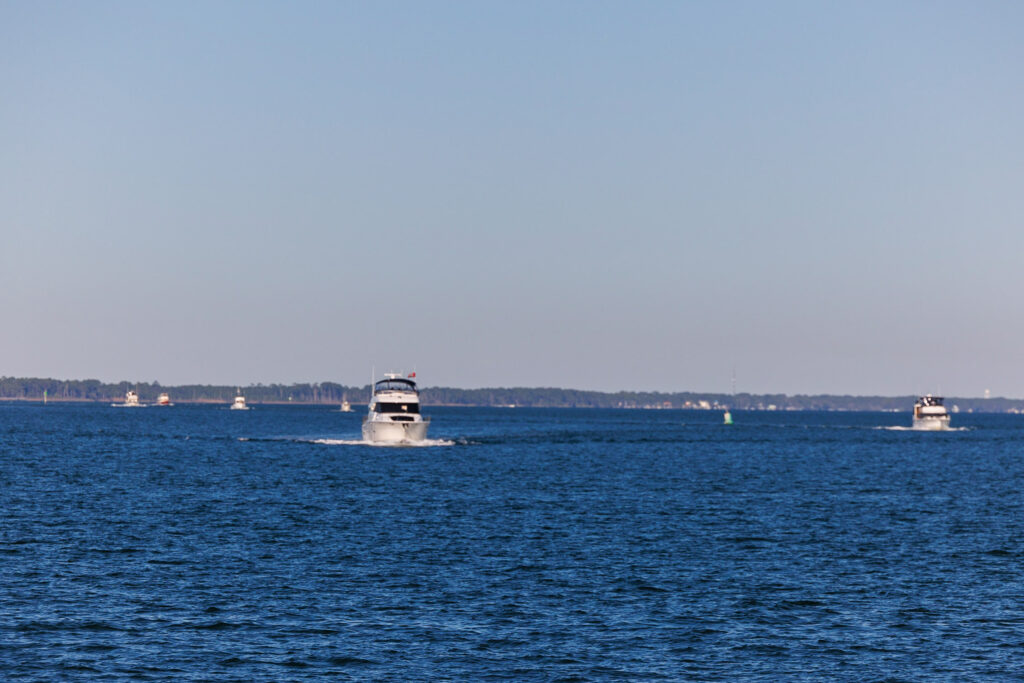 Pros and Cons of the Gulf Crossing vs the Big Bend
Each route has its pros and cons, which should all be considered by the captain and crew. There is no "right" decision but instead a choice that works best for that boat and crew. Here are several pros and cons of each route:
Pros of Boating Florida's Gulf Crossing
It gets it over and done with. It's the rip-the-bandaid-off method.
It's an opportunity to test your boating problem-solving skills.
Depending upon what time you leave, you can enjoy a dark sky and see the stars.
You don't need as many days of good weather before you're in protected waters again.
Cons of Boating Florida's Gulf Crossing
The are no backup plans once you're out there.
You're out of reach of a VHF radio signal for most of the trip which can be unsettling for some boaters.
It's typically (for loopers at least) done during the night so you can arrive in daylight which is important to see the crab pot buoys.
Pros of Boating Florida's Big Bend
There are 3 destinations you get to visit and check out (Steinhatchee, Cedar Key, and Crystal River).
Crystal River is beautiful! It has some of the best Florida scenery and was a highlight of our time in Florida.
You're usually within sight of land and have points of safety.
You don't need as many consecutive hours of good weather to do one section.
It can be done in daylight hours.
Cons of Boating Florida's Big Bend
The route is shallow and can have shoals.
The route is over 3 days, so you'll need 3 days of good weather before you're in protected waters again.
For boaters who don't like anchoring, it requires you to anchor, at least one night in Cedar Key.
When is the Gulf Crossing or Big Bend typically done?
For most loopers, the crossing typically takes place between November through February. For most boater's insurance, it's important to stay out of the hurricane zone, which includes the Gulf of Mexico, throughout hurricane season which ends in the beginning of November. Loopers make their way to Florida for the winter before continuing north on the East Coast in late winter or early spring. This route can be done at any time of the year, but November through February is typically when boaters on the Great Loop complete this section.
How fast can it be completed?
The time it takes to complete the Gulf Crossing or the Big Bend depends on the speed of your boat. Trawlers traveling at 7-8 knots usually take about 18 hours to complete the Gulf Crossing. Due to the length of travel, loopers will typically leave at 3 pm from Carrabelle and arrive at 10 am in Tarpon Springs (see below for a sample itinerary). The reason for cruising at night is so you can arrive in daylight. Considering the amount of crab pots, you will want to see them when you are around 20 miles off shore. If you have a fast boat, the Gulf Crossing can be completed sooner, however, most boaters are conscious about fuel consumption and travel around 8-10 knots. To figure out how quickly your boat can do the Gulf Crossing, put the trip into Navionics or Aqua Maps that is pre-set to your boat speed, and see how long the trip takes.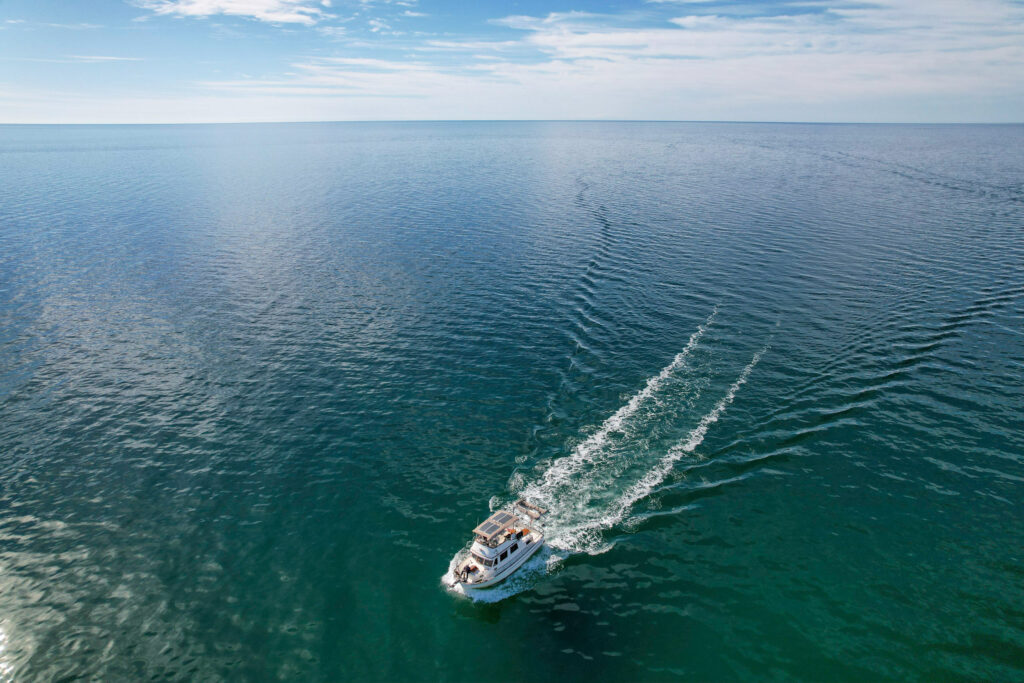 How to prepare for a Gulf Crossing?
Making sure your boat is in tip-top shape before the Gulf Crossing is crucial. Simply put, it's being a responsible boater. That doesn't mean unexpected things can't happen while you're in the Gulf of Mexico, but it's important to prepare ahead of time to the best of your ability. Prior to making the Gulf Crossing, it's important to replace fuel filters, do any necessary engine maintenance, and do thorough weather planning. We'd recommend filling up on fuel a day or two before your crossing so that way in the odd chance you get bad fuel, you won't be figuring that out as you're in the Gulf of Mexico.
It's also wise to make food ahead of time in the chance that someone is seasick and can't cook, the conditions aren't as planned, and to make things easier. Whether that's sandwiches or a whole pre-cooked meal that just requires to be warmed up, it's best to have some snacks and meals planned and ready ahead of time.
For some boaters, this will be their first open-water experience. It might be smart to purchase sea sickness remedies ahead of time just in case a crew member feels unwell. Options include Dramamine, ginger pills, ginger gum, motion sickness wristbands, motion sickness patches, and more!
Lastly, it's important to secure all loose items before departing. Make sure any loose items are put away just in case you hit less-than-ideal waters, your belongings aren't breaking or rolling around making a stressful situation more stressful. It's better to prepare for the worst and hope for the best.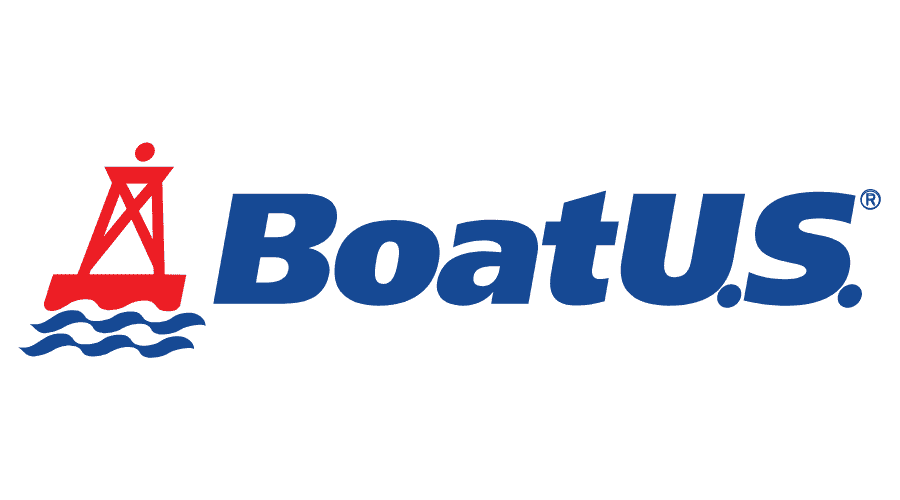 We used BoatUS to have peace of mind while cruising, knowing help was only a radio call away. Sign up for BoatUS here!
What to look for when choosing your weather window?
There are a few factors to look at when choosing your weather window. The first is wave height and wave period. The wave height refers to the wave crest (the top of the wave) to the wave trough (the lowest part of the wave) and is usually measured in feet or meters. The wave period refers to the distance between one wave crest to the next wave crest and is usually measured in seconds.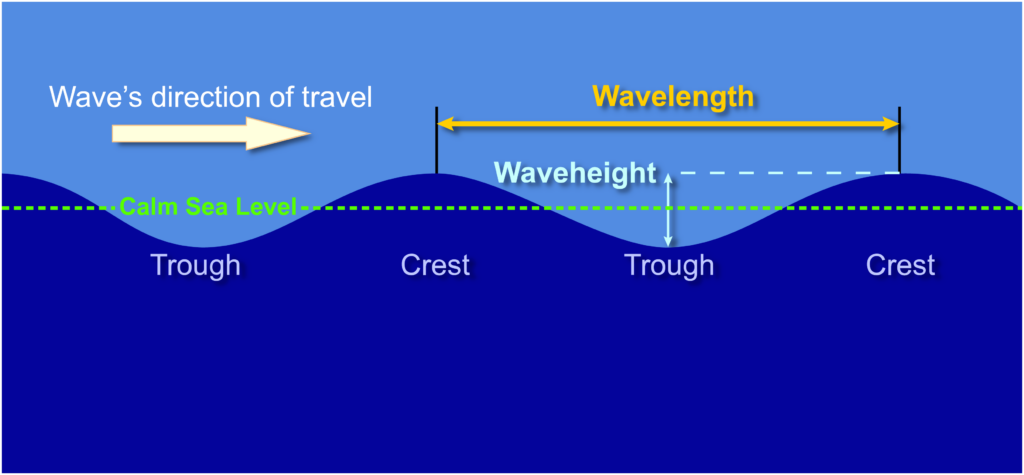 Aboard PIVOT, we typically look for the wave period to be 2x the wave height, or ideally more. We avoid square waves which are 1 foot period x 1 foot height or more, keeping at that 1×1 ratio. This makes for a super uncomfortable cruise. We also look for waves under 2 feet, ideally 1 feet or lower. Next, we take into account wave direction, aka what direction are the waves going to hit our boat. We hate waves on the beam and rarely travel when that's the forecast. That's what makes the PIVOT crew comfortable and happy. Each boat and crew is different and should know what they can handle aboard their boat.
Look at weather forecasts for your departure location, arrival location, and any buoys in between. It's important to look at weather forecasts for both the departure location and arrival location because it will give you a holistic view of what to expect. The National Data Buoy Center has information on buoys placed at various locations that send real-time wave information. The weather station buoy 42036 has wave information close to the direction of travel for the Gulf Crossing. Scroll down to Detailed Wave Summary to see the wave period and height metrics.
How far ahead should I look for a weather window?
We recommend looking at the weather forecast for the Gulf Crossing or Big Bend about 1-2 weeks before you expect to make your trip. This gives you time to stage your crossing in Appalachia or Carabelle. Sometimes you'll have to wait 2 weeks for a weather window to open and for the wind and waves to settle down for a calm crossing. It's worth it to wait for a comfortable weather window!
We started looking for a weather window about a week to ten days in advance. We were in Panama City Beach with several other loopers when the weather forecast started to look promising. Several loopers, us included, started to make our way to Carabelle and Dog Island before crossing the following day.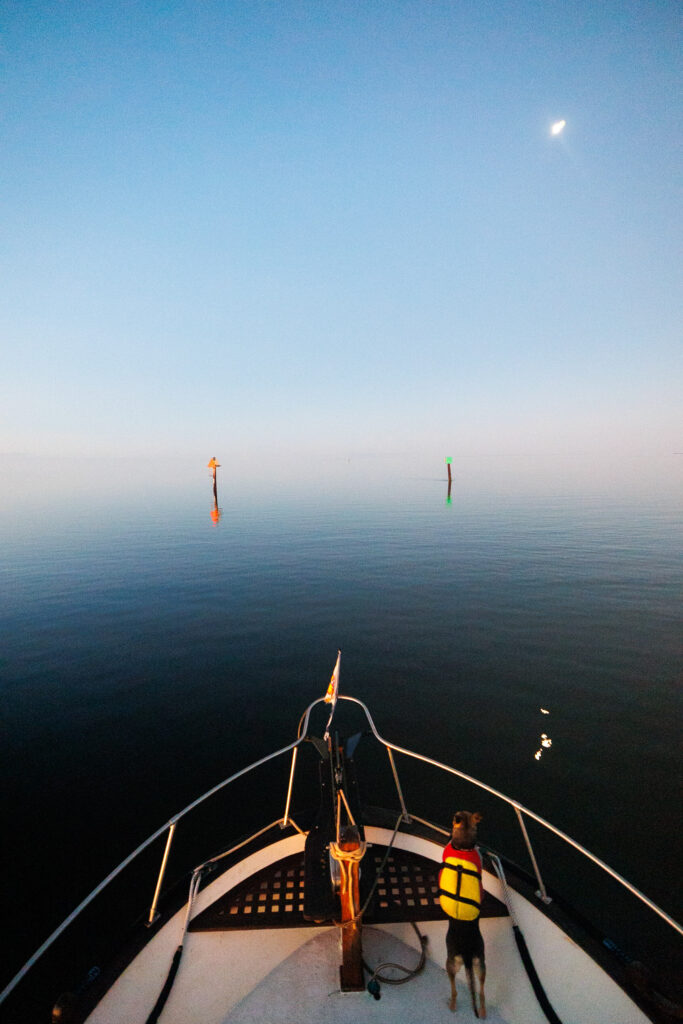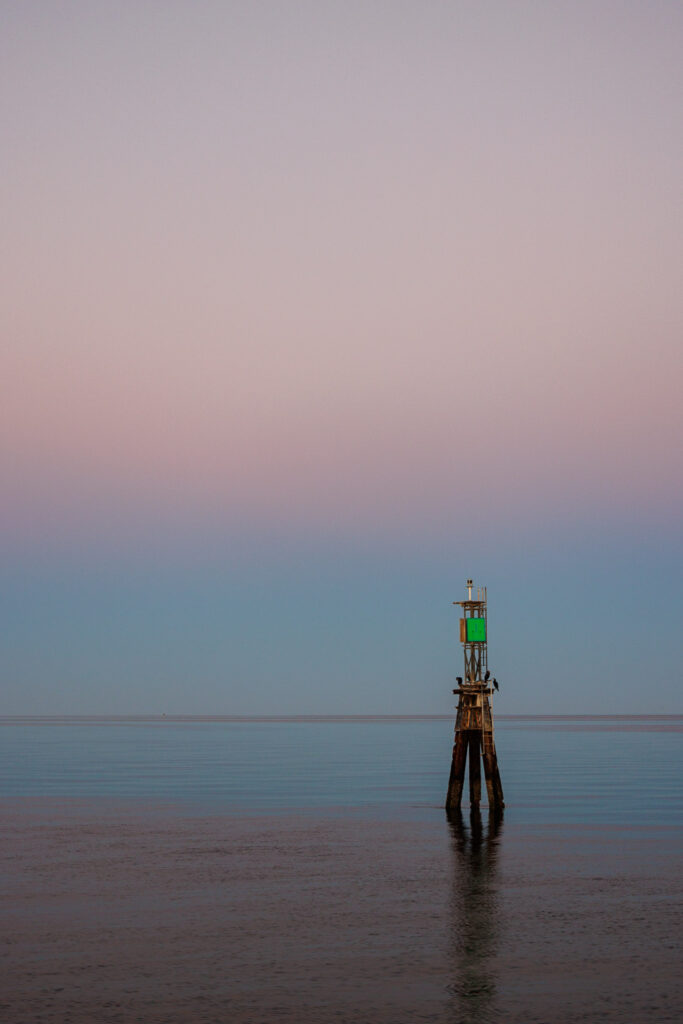 Choosing Your Weather Window
Choosing your weather window will be the most important planning decision, and optimal weather is different for both options.
How to find the weather forecast
There are a few methods for determining the weather forecast for your trip.
There are a few keys to reading the weather forecasts, but the most important information is to expect the weather to worsen. If the weather forecast is OK, expect it to get BAD. This is why we searched for GOOD or GREAT weather, allowing it to degrade to OK, an enjoyable experience. Along these lines, you will want to use the gusts as the wind speed, not the consistent wind speeds. Stay far away if the forecast is 5 knots consistent, gusting 30 knots.
Also, if the weather models don't match up, we typically don't trust any of the weather forecasts. It's important to remember that if one weather model shows an ideal day with your ideal conditions, that doesn't mean it's right. Don't shop for weather.
Weather Window for the Gulf Crossing
The best weather for the Gulf crossing is very light winds, less than 12 knots gusting, and preferably winds out of the East or West. North Winds can be okay, but South Winds you will want to stay away. West winds are the best because they will create following seas, which is a very comfortable cruise, under light winds. East winds will be a headwind, but as you will be hitting any swell dead on, this is also very acceptable. North winds are mostly protected by the mainland, so you shouldn't have too much swell, however, it will be on the beam. South winds are the least preferred because they will be on the beam, and it has many miles of Gulf to gain speed and swell. Please note that this weather analysis is for power boats, not for sailboats.
Since the gulf crossing is so long and exposed, we also look for good weather before and after the crossing. We want good weather before the crossing because we don't want any residual swell. For example, if it was blowing 25 kts for a week, and its the first day of 8 kts, you will still see swell from that week of 25 kts. We want good weather after the crossing because if that weather comes earlier, we don't want it to hit us when we are in the middle of the crossing, past the turnaround point. This means that we not only need good weather for the crossing but also a minimum of 12 hours before and 12 hours afterward.
Weather Windows for the Big Bend
The most important day of your Big Bend trip will be the first day. You will be similarly exposed to the Gulf Crossing but for a much shorter amount of time. On this trip, you are heading northeast to Steinhatchee. You will still want light winds, but now we want wind out of the southwest, northeast, or west. You will want to stay away from winds out of the southeast because it has the largest amount of fetch in that direction.
From then on out, you will want winds out of the north, east, or southeast as you travel down the length of the state of Florida. In each of those directions, we have land protecting us, meaning we will have less fetch. In these situations, we can have winds gusting as high as 12 knots and it will be an enjoyable cruise. If winds are out of the East, the coast you will hug as you travel south could even be slightly more. This is why, although you need more days of good weather for the Big Bend, your margins of acceptable weather are slightly increased. Just stay away from winds out of the West.
Keep in mind that you do not need 4 days of good weather in a row to accomplish the big bend, you can wait out good weather in each of the destinations. This being said, if you have only one good day, and a week or poor days, you may want to wait unless you would like to be held up in Steinhatchee for a week. This will be a personal decision for you, depending on how long you would like to stay in each location. We do recommend staying in Crystal River for more than one night if possible as that location has many things to do off-boat.
Here is the weather forecast we had for our Big Bend: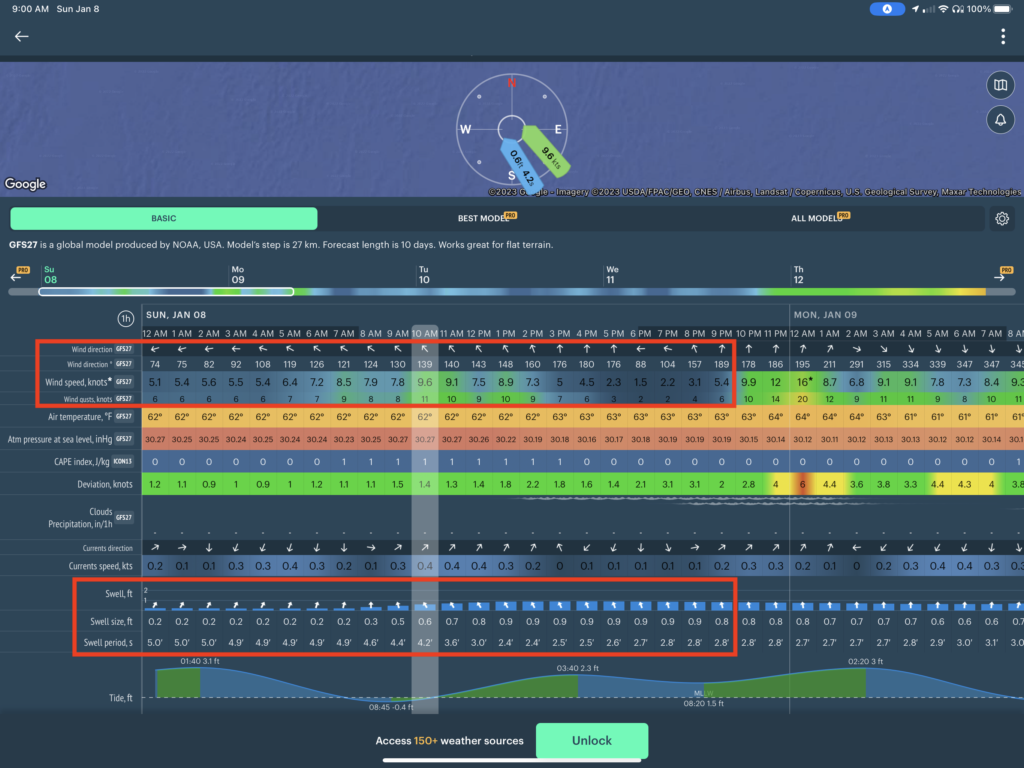 How long should I expect to wait?
The short answer is: however long it takes. We have a saying aboard our boat: the weather is. That's it. The weather is. Understanding the things we can't control, like the weather, is important to finding the inner peace and patience to wait for good conditions for both the Gulf Crossing and the Big Bend.
You'll need to time your departure from Carrabelle, which means you can also time your arrival to Carrabelle and stay longer in the Florida Panhandle. This gives you time to explore various destinations more thoroughly before you get to Carrabelle. Some boaters rush to Carrabelle but don't look at the weather forecasts and are stuck there waiting. It's better to look ahead at the weather forecasts so you can plan your timing appropriately.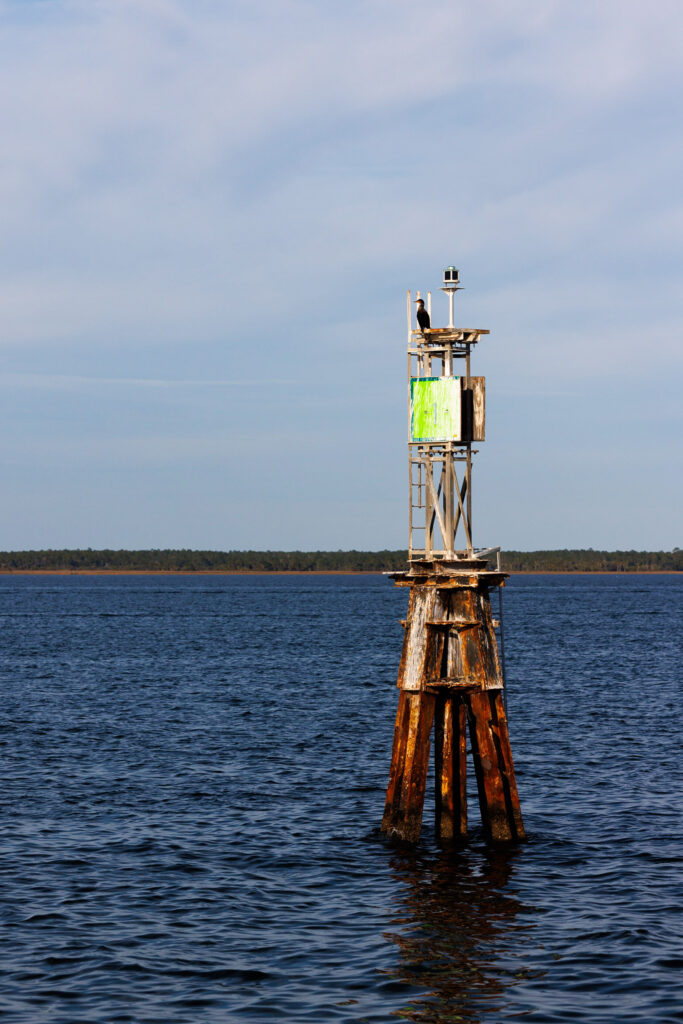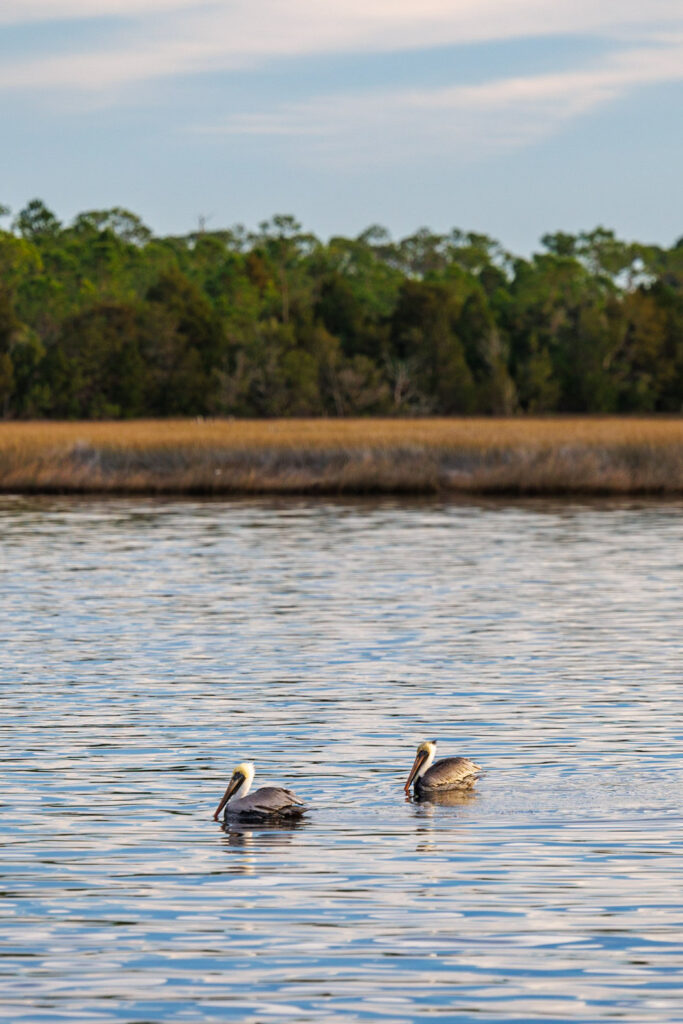 Safety Considerations
Safe boating is every boater's responsibility. While all boats are required to have a VHF Radio onboard, VHF radios have about a 20-mile range. So while the US Coast Guard on channels 16 and 22A is available for some of the trip, using your radio to call the US Coast Guard in an emergency for most of the trip is not feasible. Here are some safety considerations to have in place before completing your Gulf Crossing:
Have a buddy boat. Buddy boats are typically other boaters whom you enjoy spending time with, have similar cruising styles such as go-or-no-go criteria, and travel at a similar speed as your boat. Having a buddy boat allows you to communicate over VHF, bounce ideas off of, and problem-solve if emergencies arise.
Have an EPIRB onboard. An Epirb stands for an Emergency Positioning Indicating a Radio Beacon. It's a device that's used to alert search and rescue teams of your exact location should you need assistance. It's an expensive piece of emergency equipment to have onboard, but highly valuable should an emergency arise especially if taking on this trip alone or without a buddy boat. EPIRBs should be deployed when a vessel is sinking or there is a medical emergency. New EPIRBs can come with AIS which sends an emergency alert to all AIS-equipped vessels in the VHF range. Here are two Epirbs to consider before your trip: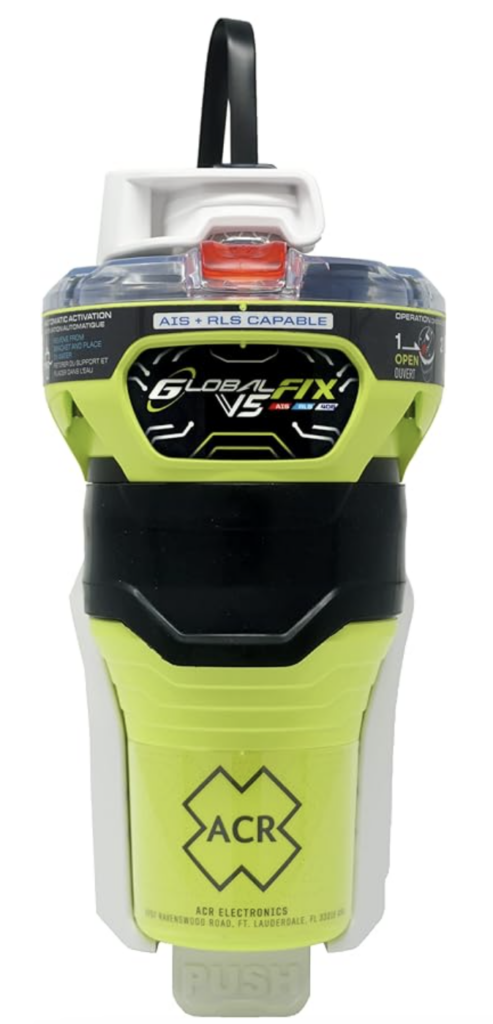 Make a Float Plan. Write down your plan including when you plan to leave, when you plan to arrive, where you're departing from, where you're arriving, how many crew are on board, the name and ages of all crew on board, boat name, USCG boat number or state registration number, and AIS information, if available. Give this information to a family member, friend, or trusted boater. If they haven't heard from you by a certain time, they should call the Coast Guard. Be sure to notify your Float Plan person when you arrive!
Have a Night Plan. Cruising at night leads to new difficulties and challenges. If you are cruising with crew, make a plan for who will be up certain hours, bathroom breaks, and think out emergency situations. For example, some cruisers will not cruise on the flybridge at night because the risk of falling overboard is too high. Please ensure the entire crew are wearing life jackets.
Sample Route Itineraries
Here are two sample itineraries for the Gulf Crossing and Big Bend. These itineraries are based on the setting for our boat, PIVOT. We set our Navionics to be slightly slower than our actual cruising speed, which is why some of the route predictions take longer than what is mentioned above.
Florida Gulf Crossing Sample Itinerary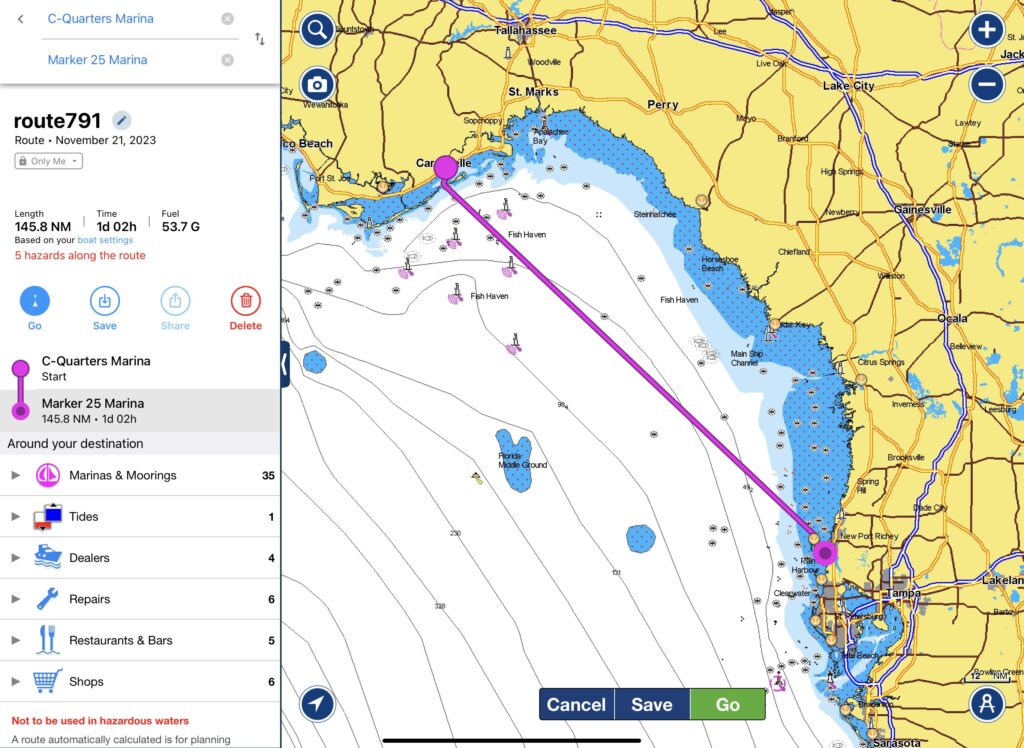 2:30 pm – Leave Carrabelle, Florida with a flotilla of other looper boats.
3 pm – Pass Marker R-2 as you head out into the Gulf of Mexico.
12:30 am – You should be halfway through the Gulf Crossing.
10 am – Pass Marker R-4 near Anclote Key no earlier than 10 am to ensure you're able to see the copious amount of crab pots scattered throughout the Gulf Shores.
11 am – Arrive in Tarpon Springs, Florida.
Florida Big Bend Sample Itinerary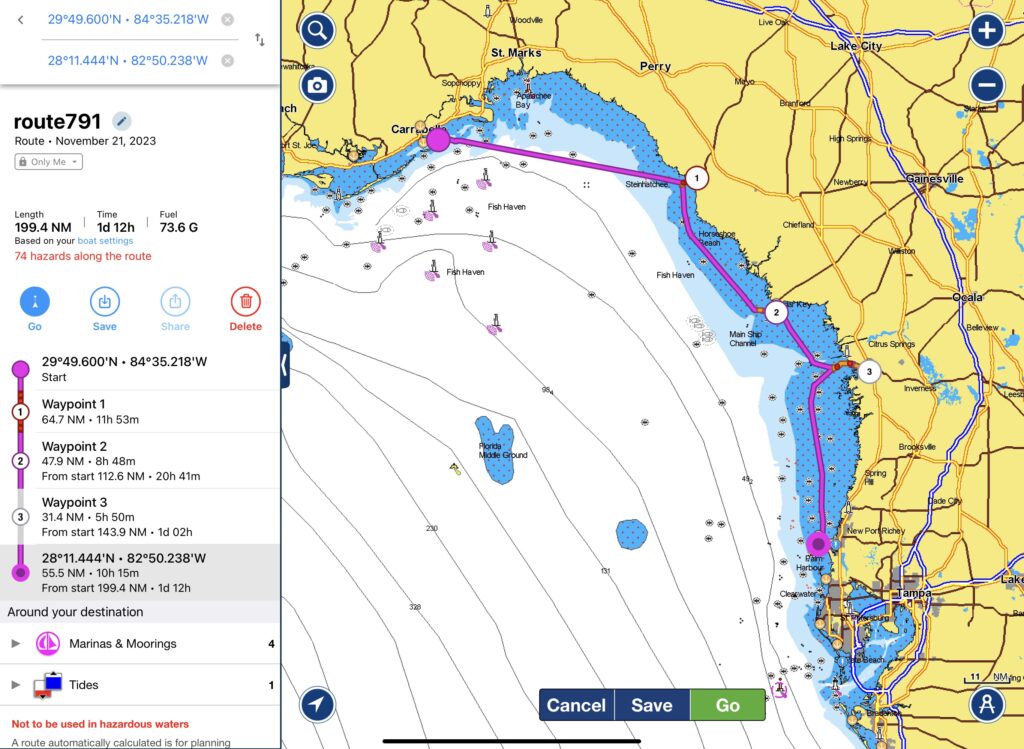 Day 1 – Leave Dog Island at first light (first light is about 30-45 minutes before sunrise). Arrive in Steinhatchee nine hours and fifteen minutes later after completing 65 nautical miles.
Day 2 – Leave Steinhatchee at first light and arrive in Cedar Key seven hours later after completing 48.5 nautical Miles.
Day 3 – Leave Cedar Key in the early morning for Crystal River. The trip should take five hours and be a total of 34.5 nautical miles. Crystal River can be shallow, so try to arrive or depart on a rising tide.
Day 4 – Leave Crystal River at sunrise or in the early morning for Anclote Key (or Tarpon Springs). The trip should take eight hours to Anclote Key (if traveling to Tarpon Springs, account for more time) and be a total of 55.5 nautical miles.
Note * Depending upon the weather forecast, you can combine Day 2 with Day 3 or Day 3 with Day 4 to reduce the amount of stops.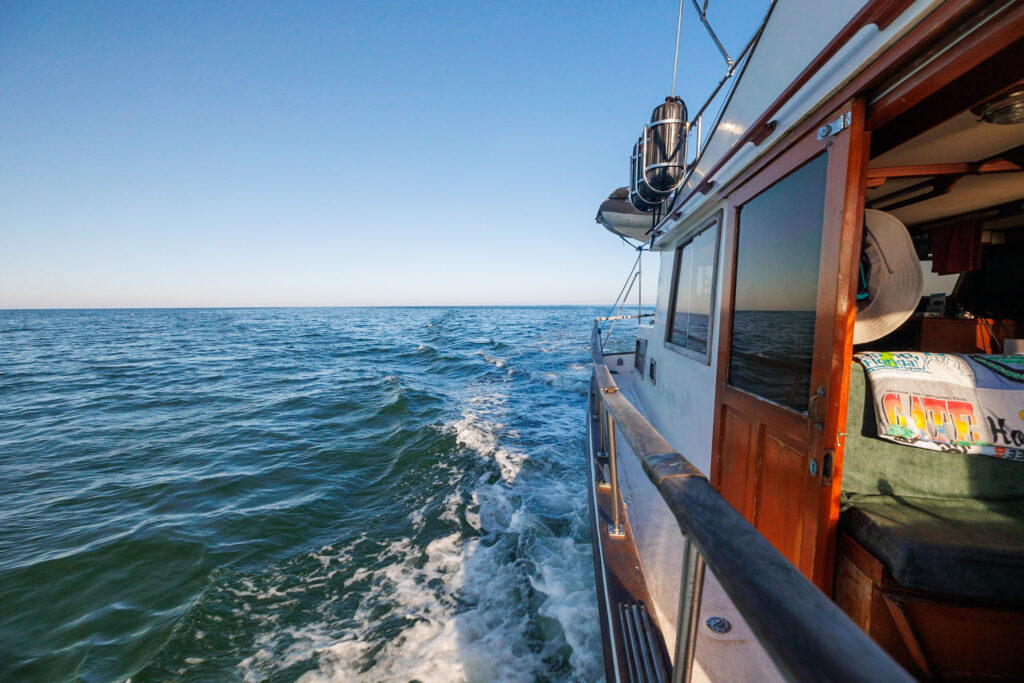 Final Thoughts
We hope this post helped you plan your Gulf Crossing or Big Bend. The worst thing to have on a boat is a schedule, so remember this "plan" is meant to be flexible, just like the crew.
The ups, downs, and everything in between, we share it all. If you like what you see, there are many ways to show your support and thank you! The simplest way to support our work is by commenting on this post, liking and sharing our content on Facebook, and pining our content on Pinterest. It's a small way to say thank you that goes a long way!
Comments
Another great post LOADED with valuable information. We are in Mobile and headed to the inevitable decision of which route to take. This helps a LOT. Thanks for continuing to add content, even though you're no longer Looping!

I'm so happy the information was helpful for you! Best of luck with your crossing and may the calm seas and "a boring day" out on the water be in your favor 😊

Sandra

We're shipping our trailerable boat to Biloxi from Newport Beach and plan to be in Dauphin Island first week of March
We're booked lodging in Crystal River Mid-March
Our wakes may cross!