Everything you need to know for Boating the Nashville Side Trip (with travel itinerary)
Discover scenic landscapes, charming small towns, and one of the best big cities while experiencing the beauty of the Cumberland River on a side trip to Nashville, Tennessee! One of the pieces of advice we received from a Gold Looper was to take all of the side trips along the Great Loop. We took that advice to heart as we began our Nashville side trip on the Great Loop. In this post, we've compiled all of the tips and tricks we learned during our Nashville side trip.
Note: We use affiliate links which provide us a little kickback each time you use one of our links and make a purchase, without any additional cost to you. We do not recommend products that we don't already love, so you can trust we're only suggesting great products to you.
Nashville Side Trip Quick Facts
How many miles is the Nashville side trip?
The Nashville side trip is a total of 166 nautical miles from the Barkley Lock to Nashville on the Cumberland River.
How many days should I plan for this trip?
It takes about 3-4 days to travel to Nashville on the Cumberland River from Lake Barkley, Kentucky. The trip typically lasts about 6-8 days in total. Scroll to the end of this post for a Nashville side trip sample itinerary.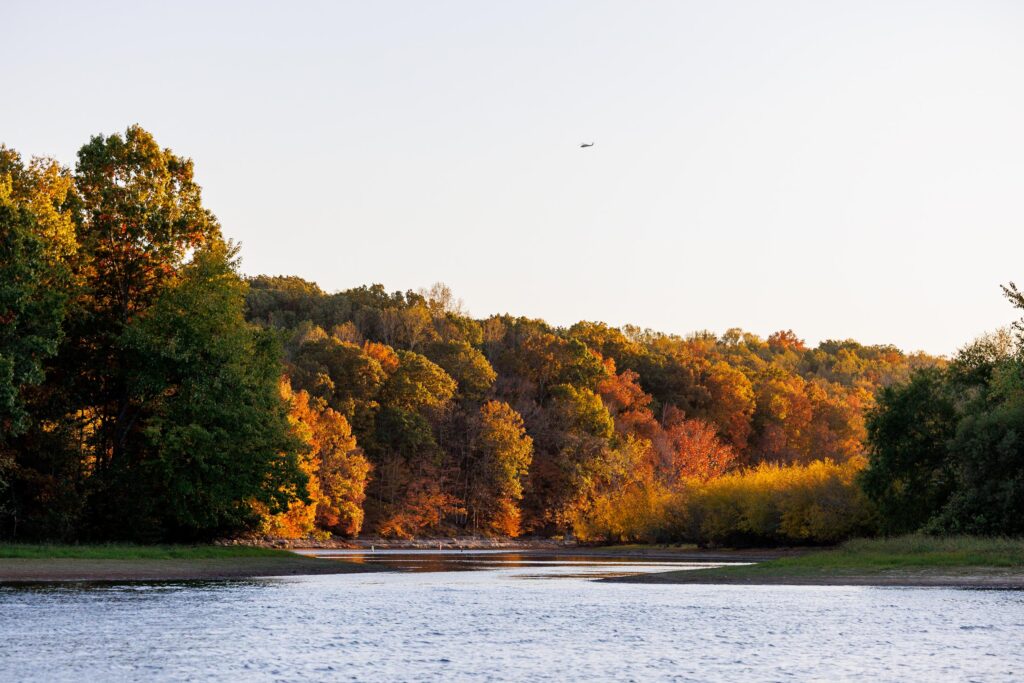 Navigating the Cumberland River to Nashville
Current
As with any river, the Cumberland River has current working for and against you. Depending upon recent rainfall and water levels, you can expect a 1-2 knot current. This current will be against you as you head East to Nashville, and will provide a boost on the way back.
Buoys
As you travel upstream towards Nashville, the buoys will be red on your right and green on your left. As you turn around to make the return trip back to the Great Loop route, the buoys will flip and red will be on your left and green on your right. You can remember this as "Red Right Upstream".
Barge Traffic
As expected on most of these midwest rivers, barges can also be found on the Cumberland River, although they are significantly reduced in size and quantity.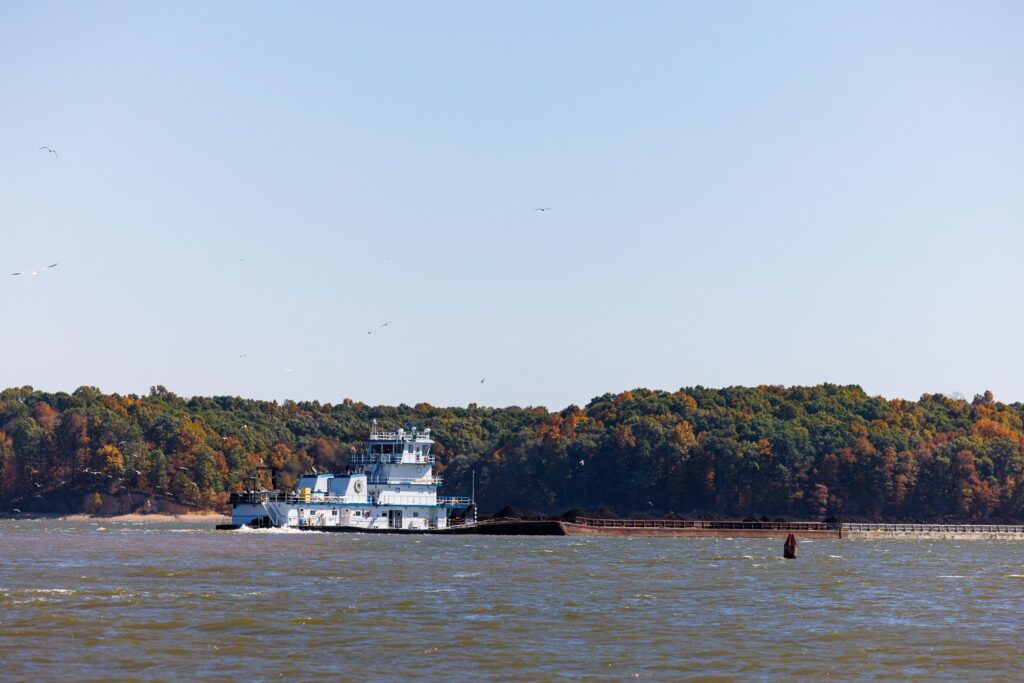 Cheatham Lock & Dam | MM 148
The Cheatham Lock is the only lock you will need to transit on the journey to Nasvhille. The lock is managed by the Tennessee Valley Authority, or TVA for short. It's located at mile marker 148 on the Cumberland River and can be reached by phone at (615) 792-4349 or VHF radio channels 16 or 14. This lock doesn't get as much commercial traffic as many of the other locks on the Great Loop route, but it is a good idea to call ahead to see what the wait time looks like before starting your cruise for the day. This lock is closed from 2 a.m. to 6 a.m.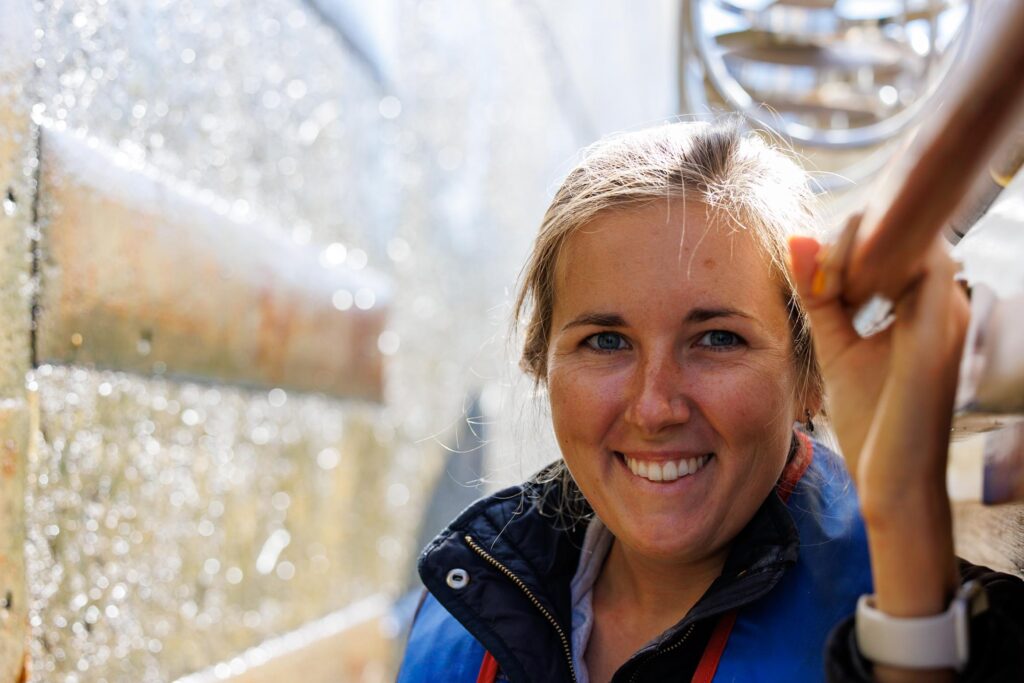 For our full list of boater tips and tricks, necessary gear, and checklists for navigating locks on the rivers and the Great Loop.
We made navigating the locks & dams on the Great Loop easier by organizing them all on one spreadsheet! It includes the names, mile markers, phone numbers, and any of our additional navigation notes.
Cumberland River Ferry | MM 104.2
The Cumberland River Ferry is located at mile marker 104.2 on the Cumberland River and operates on a regular schedule, running every 30 minutes. It's important to be mindful of the ferry as part of your navigation of the Cumberland River.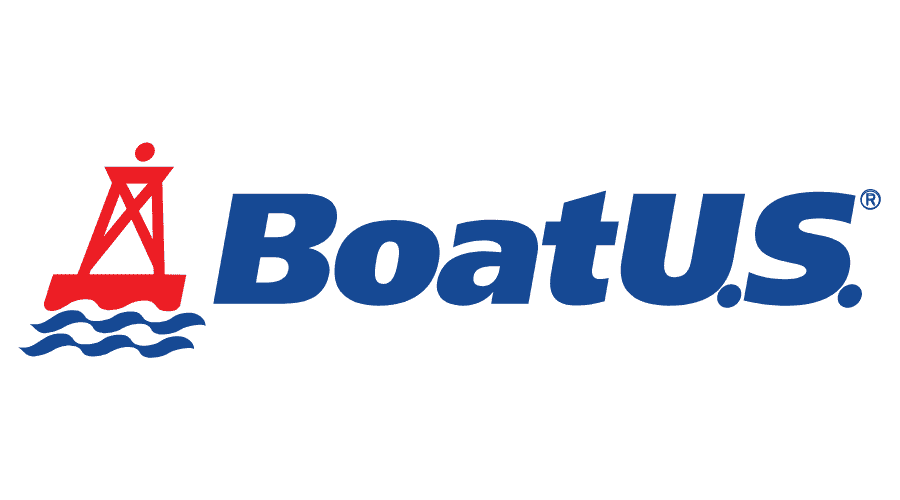 We used BoatUS to have peace of mind while cruising, knowing help was only a radio call away. Sign up for BoatUS here!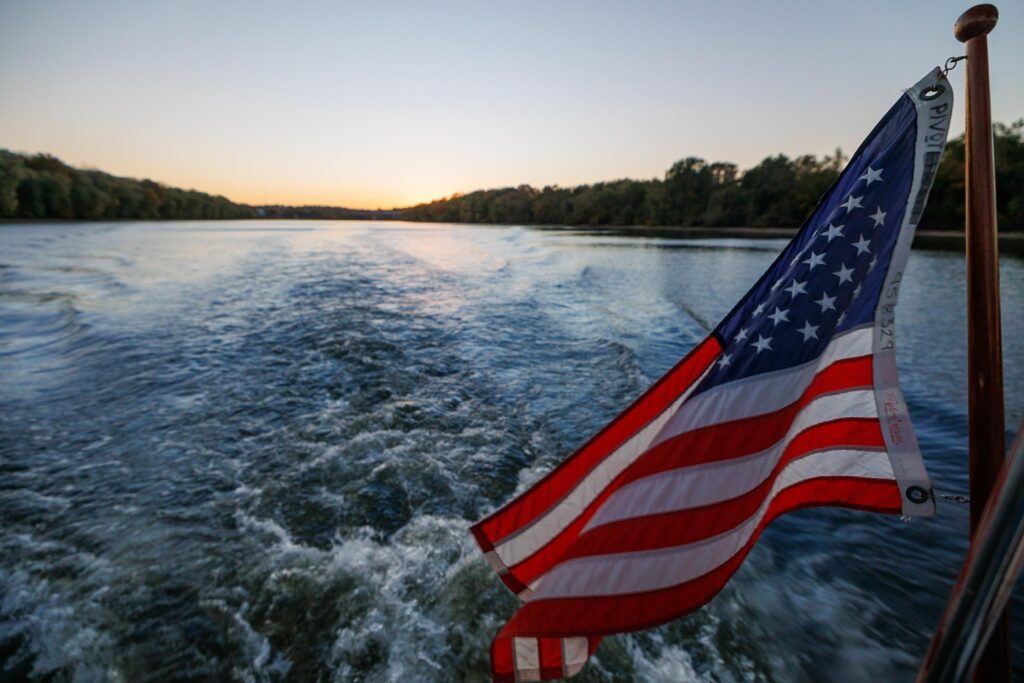 Marinas and Dockage on the Nashville Side Trip
Green Turtle Bay | MM 31.8
Green Turtle Bay Marina is located just south of Lake Barkley and is known for having a variety of resort amenities for boaters. If you want to take advantage of the marina's resort amenities including Jade and Earth Spa & Health Club, make sure to book this in advance. We'd recommend calling Green Turtle Bay when you enter the rivers from Chicago to see what the lead time at is at the spa facilities. When we called, it was a three week lead time at the tail end of the season. Reservations for dockage can be made ahead of time on Dockwa. We personally stayed at Green Turtle Bay Marina and had a positive experience. Green Turtle Bay has discounts for AGLCA members. The marina also has a courtesy car for boaters.
Website: https://www.greenturtlebay.com/main-harbor-marina Phone: 270-362-1043 or 800-498-0428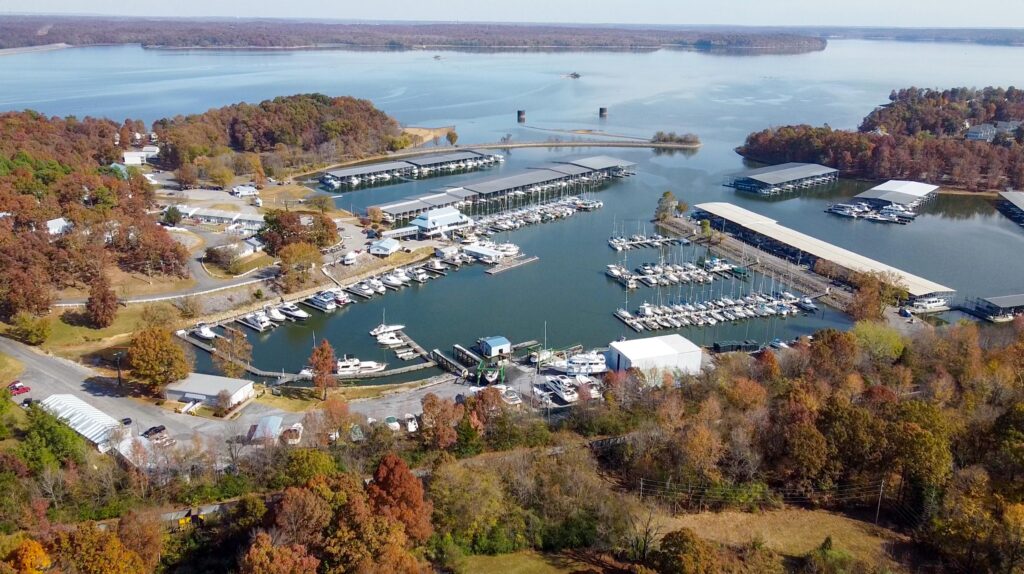 Buzzard Rock Resort & Marina | MM 39.5
The Buzzard Rock Resort & Marina has availability for boats of all sizes with power of twin 30 amp/125V to twin 50 amp/250V & smaller slips with 15 amp/110V. The marina is affordably priced at $0.75/foot (as of November 2023). This marina does have a courtesy car for boaters to use.
Website: www.buzzardrock.com/marina Phone 270-388-7925, 800-826-6238
Kuttawa Harbor Marina | MM 42
The Kuttawa Harbor Marina is located at the northern part of Lake Barkley.
Website: www.kuttawaharbormarina.com Phone: 270-388-9563
Clarksville's McGregor Park Courtesy Boat Dock | MM 126
The Clarksville Department of Parks and Recreation has a courtesy boat dock that is conveniently located to Downtown Clarksville with a pedestrian bridge. We stayed at the McGregor Park Boat Dock in Clarksville and loved it! The dock is located parallel to the river, so boat and barge that passed by did cause wakes making it not the most protected spot, however, due to it's affordable price and convenient location, we couldn't say no! There was one 30A outlet (where Pivot is Below) and a 50A outlet towards the middle of the Dock, and there was not any water available.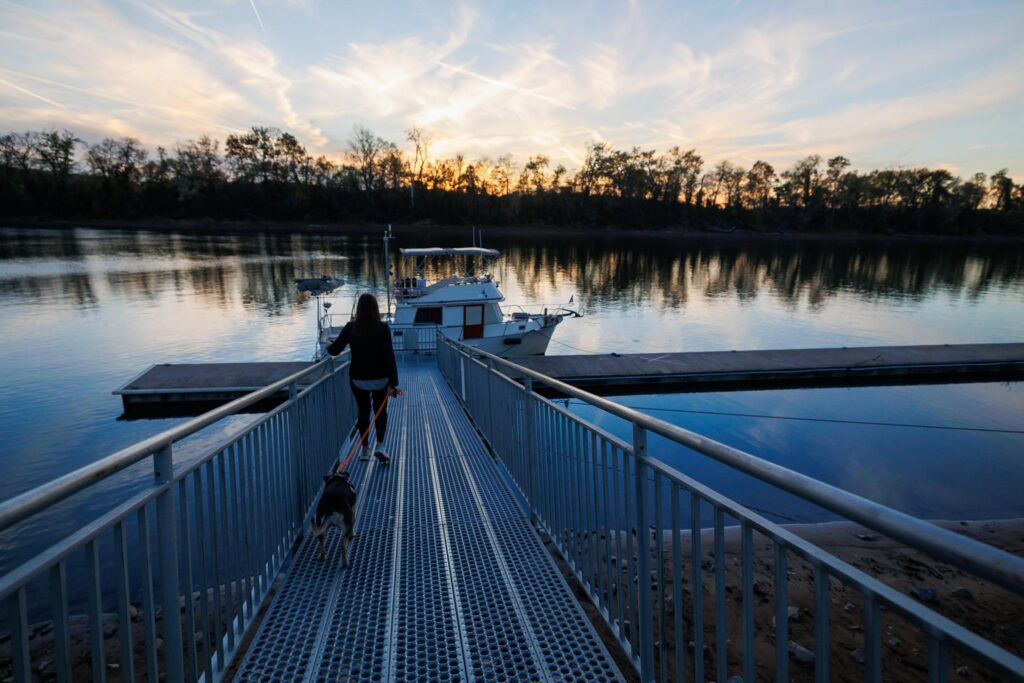 Clarksville Marina | MM 127.9
The Clarksville Marina is a popular destination on the Cumberland River. The marina offers amenities such as docking facilities, fuel services, and access to nearby shops and restaurants, making it an ideal stop for boaters exploring Clarksville, TN.
Website: www.clarksvillemarina.com Phone: 931-444-0646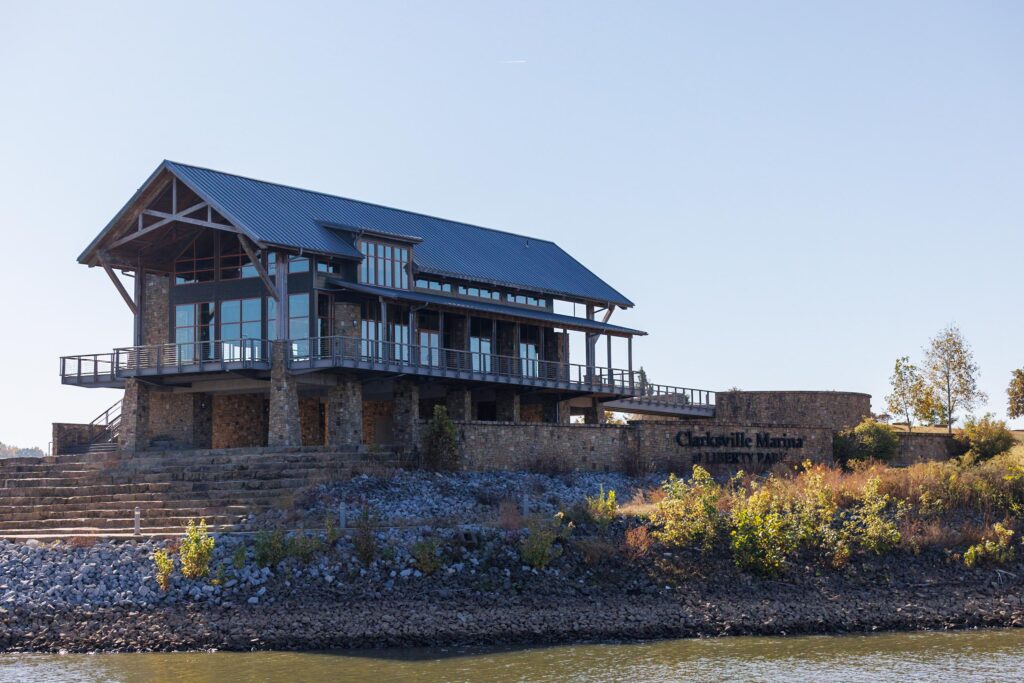 Harpeth Shoals Marina | MM 157.1
The Harpeth Shoals Marina has a few transient slips, gas, and diesel. Sparse information was found about this marina. Phone: 615-513-3228
Riverview Restaurant | MM 158
Riverview Marina and Restaurant has a dock onsite that can comfortably several boats. The dock is free with the purchase of a meal at the restaurant. We were the only boat at the dock when we visited Riverview Restaurant, however, you can call the restaurant if you're concerned about the availability on their dock. When we visited in 2022 there was not any power or water included in the dockage.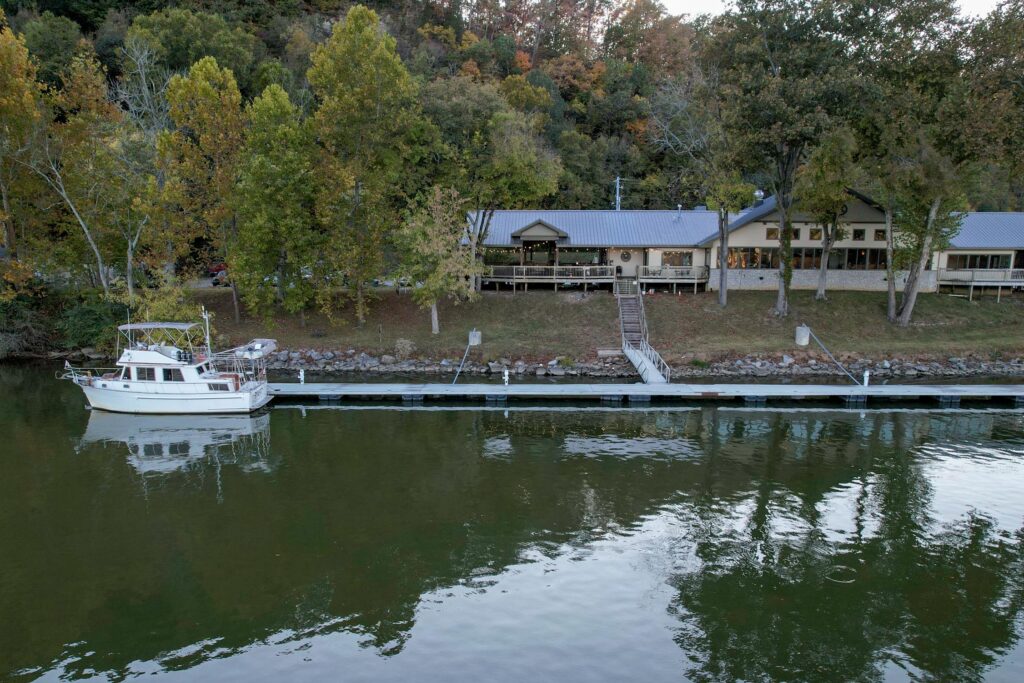 Commodore Yacht Club | MM 172.4
The Commodore Yacht Club is located 10 miles or 20-minute drive outside of Nashville. This is an option for boaters who are interested in staying further from Nashville or want to plan a longer stay in Nashville at a lower cost. Boaters can take Uber or Lyft into Nashville. BoatUS members can receive a discount. Website: www.commodoreyachtclub/services-marina.php Phone: 615-356-4110
Rock Harbor Marina | MM 175.5
Rock Harbor Marina is located 7.5 miles or a 17-minute drive outside of Nashville making it another option for boaters who want to visit Nashville but don't want to stay in Downtown. This is also a great option for boaters who want to leave their boat for an extended stay and use Nashville's airport for travel. Boaters can take Uber or Lyft into Nashville. The marina has fuel available 24/7, which is self-service, pay at the kiosk with a credit or debit card.
Website: www.rockharbormarine.com Phone: 615-356-1111, 800-542-7625
Nashville Municipal Riverfront Docks
With its prime location, boaters can easily explore the city's famous attractions as the location is right in the heart of Downtown, Nashville. We stayed at this dock and loved our time here! The dock has excellent views of Downtown and great access over a pedestrian bridge right into the heart of Downtown Nashville. The Nashville Marina is operated by Lock One Marina Services LLC and during our visit in 2022, was completely unmanned. They are best reached over Dockwa or by phone. For the current information, please refer to Active Captain. During our visit to the Nashville Municipal Riverfront Dock, we were warned of an obstruction underwater between the bridge pillings for boats with drafts greater than 3 feet. Make sure to read the latest Active Captain reviews before arriving to know the most recent conditions and recommendations. Reservations can be made ahead of time on Dockwa.
Website: https://www.facebook.com/NashvilleRiverfrontDocks Phone: (615) 669-0541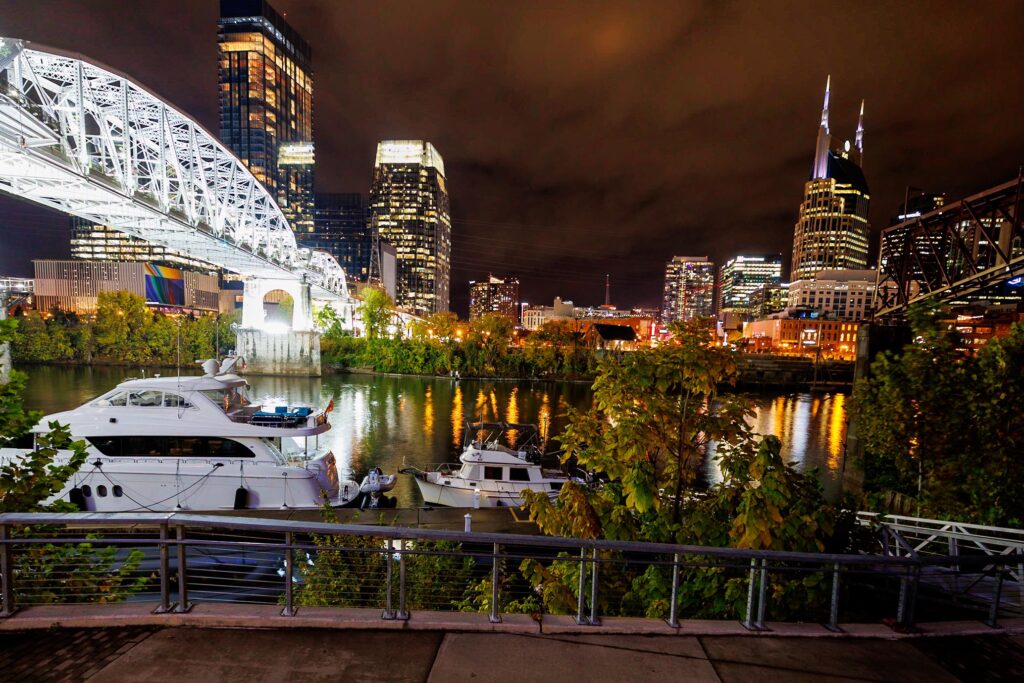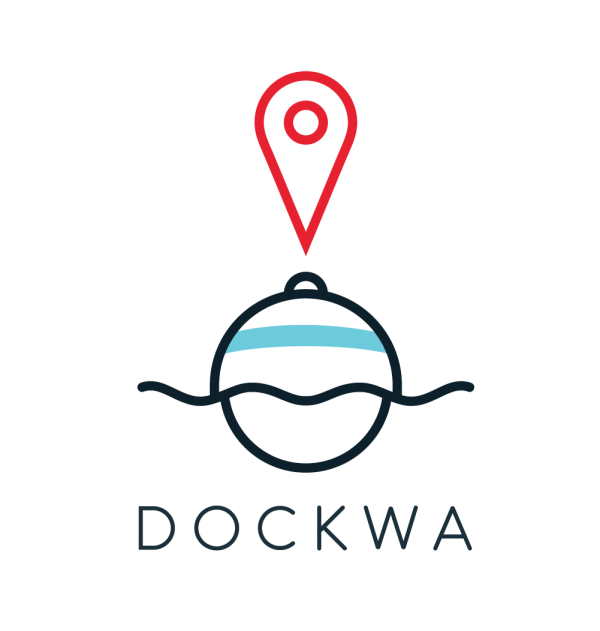 Use our Referral Code 450ZMS3 for a $15 discount on your Dockwa reservation!
Anchorages on the Nashville Side Trip
The Cumberland River on the Nashville side trip is filled with great anchorages! Anchoring on the rivers can be intimidating due to the barge traffic, but there were countless great protected anchorages, with plenty of depth for boaters on a budget or wanting greater variety in their overnight locations.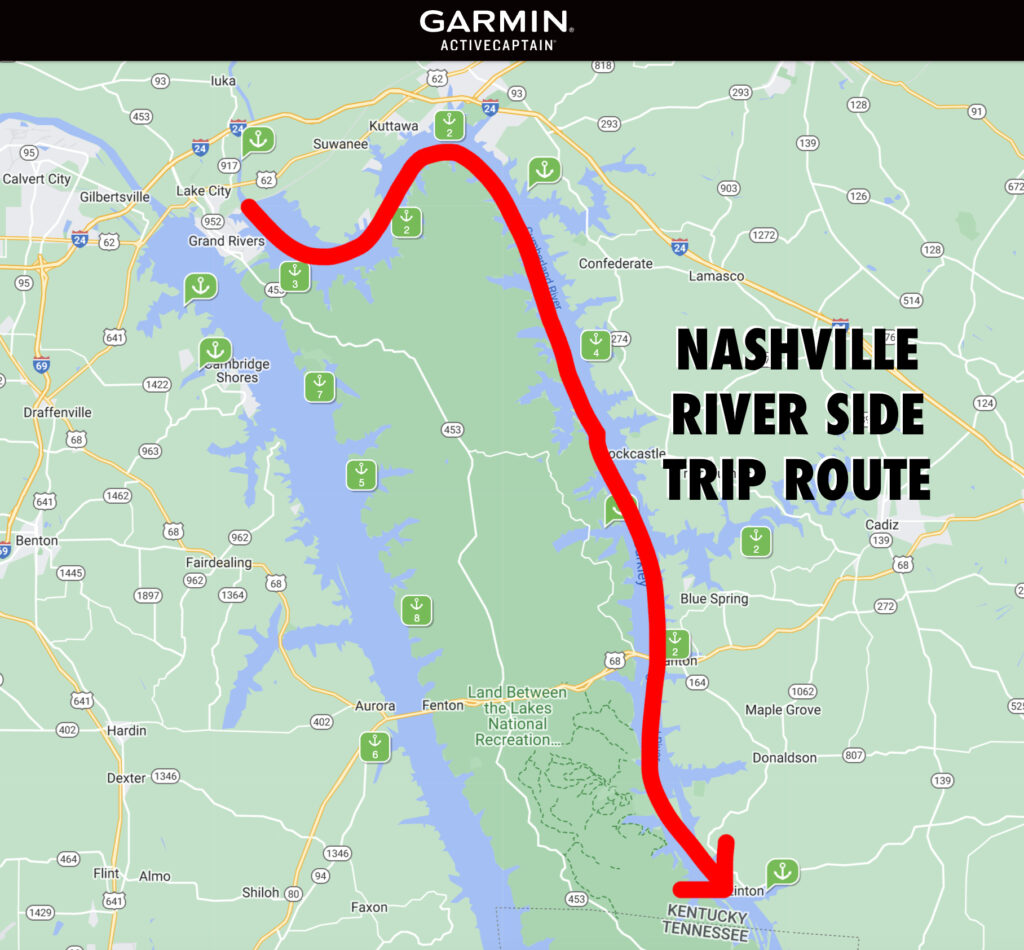 Here is a list of anchorages we stayed at:
Double Creek
We stayed at Double Creek as we left Barkley Lock. It's a great spot off the channel with a boat ramp to take our dinghy to shore for dog walks.
Dover Island Anchorage
Dover Island Anchorage is a great spot off the main channel. The water was deep with zero concerns about running aground. We took Ollie to shore along the shore of Dover Island. It was a bit muddy, but not terrible.
Harpeth River
The Harpeth River Anchorage was one of our favorite anchorages on the entire Great Loop! The limestone cliffs provided a colorful light show during sunset as the rocks changed colors. Theres a small dinghy dock further into the river near the Harpeth River Bridge Campsite which we used to take Ollie to shore.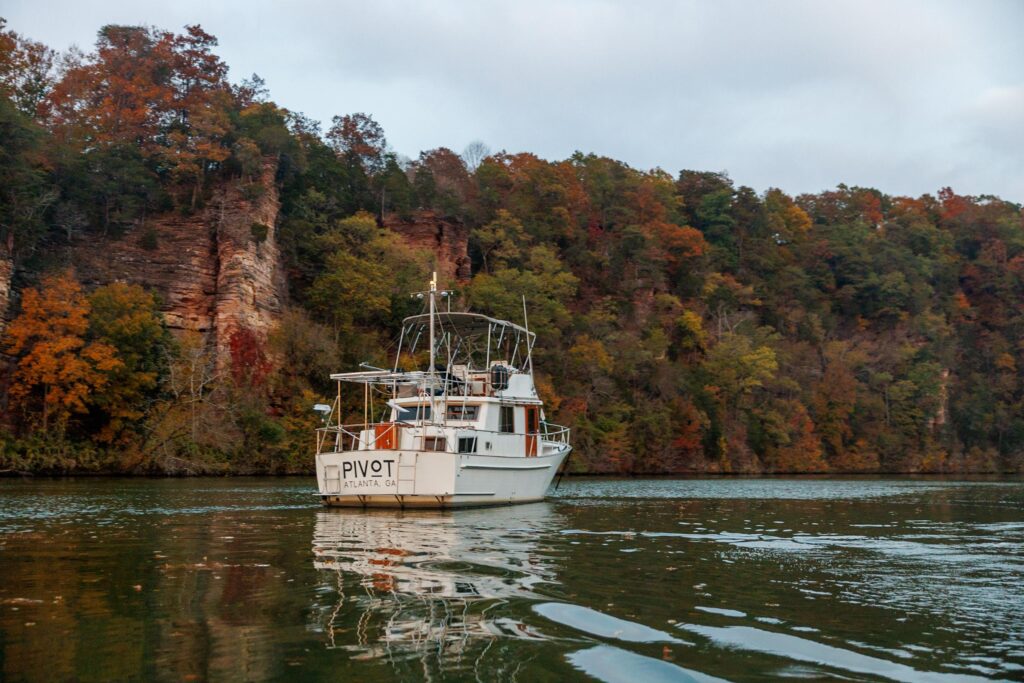 Most of the anchorages are located in Barkley Lake or closer to the start of this side trip. Once we got to Clarksville, there were fewer anchorages. Around the two destinations on the Nashville Side Trip (Clarksville and Nashville) there were no nearby anchorages, which resulted in us staying at marina docks.
Fuel on the Nashville Side Trip
Boaters traveling on the Cumberland River from the Barkley Lock and Dam to Downtown Nashville have several options for refueling along the way. Some of the places where boaters can refuel include the list of marinas listed above. We refueled at Rock Harbor Marina just outside of Nashville and again at Green Turtle Bay Resort and Marina. We recommended calling ahead to marinas to find out their most current fuel prices!
Provisioning on the Nashville Side Trip
The best spot to provision on the Cumberland River is at the beginning of the trip in the northern part of Lake Barkley and again near Nashville. We stayed at Green Turtle Bay in Grand Rivers Kentucky and used their courtesy car to reprovision. Another option would be to stay at Buzzard Rock Resort & Marina which is more affordable than Green Turtle Bay and use their courtesy car. We also reprovisioned in Nashville using an Uber or Lyft to drive us with our groceries back to our boat. Nashville has the most variety when it comes to grocery stores, where as the selection in Grand Rivers Kentucky was pretty limiting. There are no grocery stores within a 1-mile walking distance from any of the destinations on the Nashville side trip.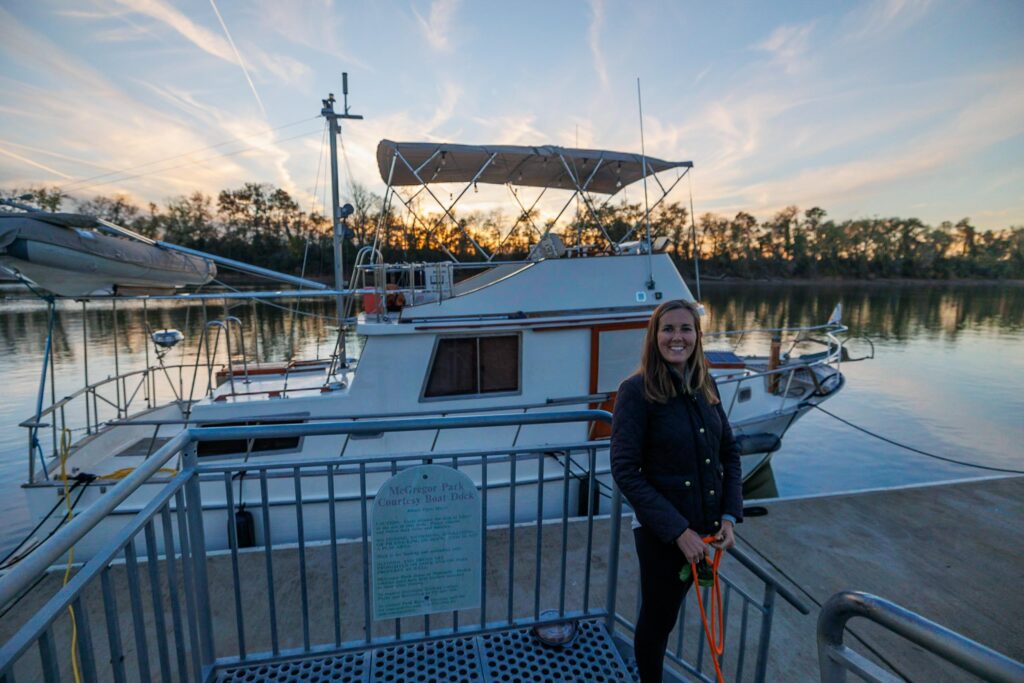 Attractions on the Nashville Side Trip
Boaters can enjoy a diverse range of scenic landscapes on the Cumberland River. From the tranquil beauty of the river's meandering waterways to the picturesque views of lush forests lining the riverbanks, the Cumberland River offers a captivating natural backdrop. Boaters may also encounter charming towns and cities along the way, each with its own unique charm and character.
Clarksville, Tennessee
This small town offers a variety of attractions and activities within a mile from the Cumberland River. Here are some of the best things to do in Clarksville:
Roxy Regional Theatre: Located in downtown Clarksville, the Roxy Regional Theatre is a historic landmark known for its live performances and classic movies. Catch a show or enjoy a film screening in this charming theater.
Customs House Museum and Cultural Center: Explore the rich history and vibrant arts scene of Clarksville at the Customs House Museum. This museum features rotating exhibits showcasing regional and national art, as well as local history and cultural artifacts.
Downtown Clarksville: Take a stroll through downtown Clarksville and explore its unique shops, boutiques, and art galleries. Enjoy the historic architecture and vibrant atmosphere of this charming area.
RiverWalk: McGregor Park: Just steps away from the Cumberland River, McGregor Park offers a scenic RiverWalk that stretches for miles. Take a leisurely walk or bike ride along the river, enjoying beautiful views and peaceful surroundings.
Downtown Commons in Clarksville, TN is a vibrant public space that offers a variety of attractions and activities for visitors. With its beautifully landscaped grounds and modern amenities, it serves as a gathering place for the community. The park features a performance stage, interactive fountains, and a spacious lawn for picnics and events. It also hosts concerts, festivals, and art exhibitions throughout the year, providing entertainment and cultural experiences for all.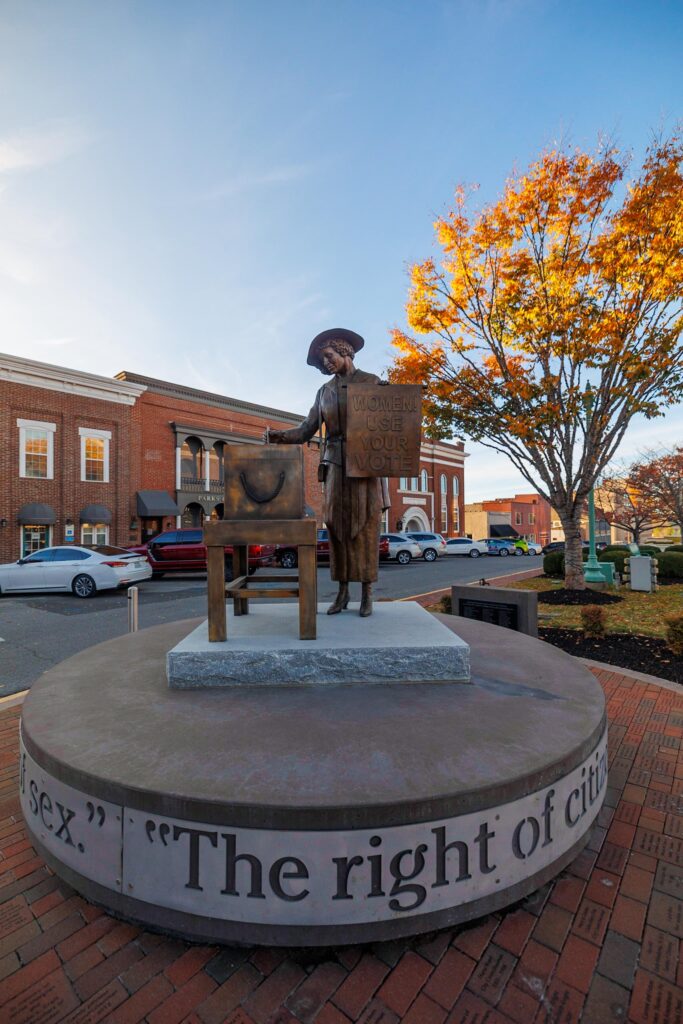 Nashville, Tennessee
This favorite big city on the Great Loop offers a plethora of exciting activities and attractions within a mile walking distance from the Cumberland River. Here are some of the best things to do in Nashville:
The Country Music Hall of Fame and Museum: Immerse yourself in the rich history and heritage of country music at this iconic museum. Explore exhibits showcasing legendary artists, artifacts, and interactive displays that celebrate the genre's impact on American culture. Tickets start at $27.95 for museum admission only and go up based on additional museum access. It's best to purchase tickets a day or two ahead of time to ensure the time you want to visit is available.
Ryman Auditorium: Known as the "Mother Church of Country Music," the Ryman Auditorium is a historic venue that has hosted countless legendary performances. Take a guided tour to learn about its fascinating history. Tickets start at $35 for a self-guided tour of the auditorium. Other tours include guided backstage tours and seasonally available Haunted History Tours. If you want to watch a live performance in this historic venue, be sure to check out the Ryman Auditorium's events calendar.
Broadway: Experience the vibrant energy of Nashville's famous Broadway, lined with honky-tonks, bright lights, live music venues, and restaurants. Enjoy live music performances, savor delicious Southern cuisine, and soak in the lively atmosphere of this iconic street.
The Johnny Cash Museum: Pay homage to the legendary "Man in Black" at this museum dedicated to the life and career of Johnny Cash. Explore exhibits featuring memorabilia, artifacts, and interactive displays that chronicle his influential musical journey.
The Frist Art Museum: Located in a beautifully renovated art deco building, the Frist Art Museum features a diverse range of exhibitions showcasing local, national, and international art. Explore the galleries and appreciate the captivating works on display.
Bicentennial Capitol Mall State Park: Take a stroll through this expansive park that commemorates Tennessee's rich history. Admire the iconic Tennessee Capitol building, learn about the state's heritage through various monuments and exhibits, and enjoy the scenic views of the city skyline.
These attractions offer a glimpse into the vibrant music scene, cultural heritage, and artistic offerings that Nashville has to offer, all conveniently located within walking distance from the Cumberland River.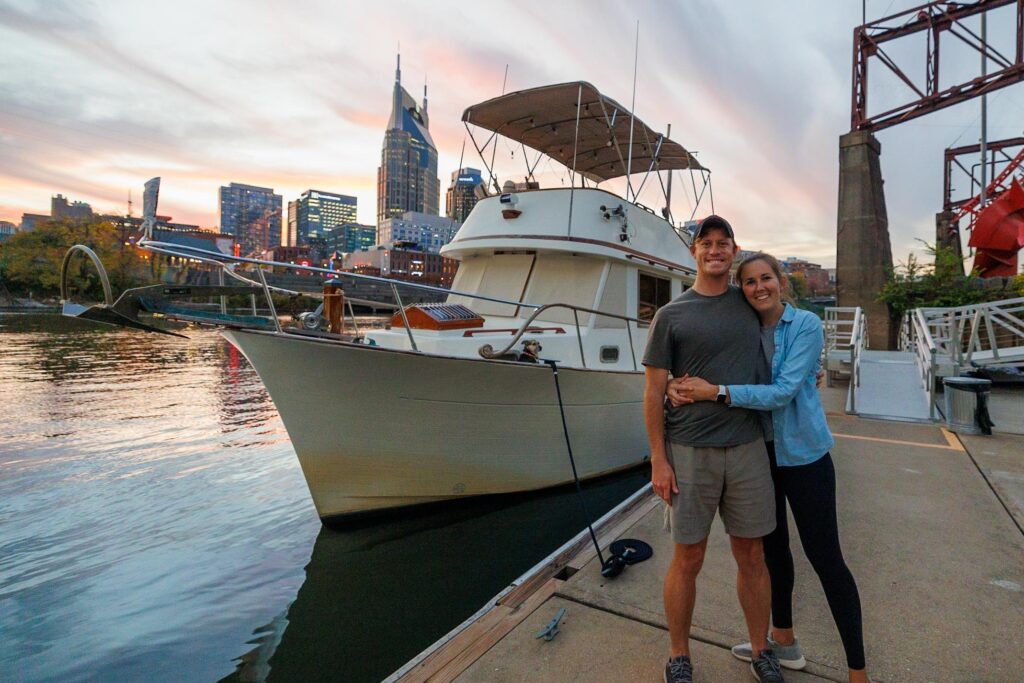 Nashville Side Trip Sample Itinerary
The Nashville side trip is a relatively quick trip. Usually completed in the fall when the autumn colors are at full bloom, giving boaters a beautiful view of the Cumberland River. There were a few things we learned during this side trip that we would do differently. Due to Nashville's popularity, we'd recommend visiting Nashville on a weekday so the Downtown docks aren't as busy. We had to wait for a few days in an anchorage since there was a Nashville Titans football game going on when we initially expected to visit Nashville. This itinerary is based on a boat speed of 6-7 knots. If your boat goes faster, you'll be able to shorten some of these travel days. For example, you could leave Clarksville early and arrive in Nashville, skipping the Dover Creek Anchorage, however, that is one of our favorite anchorages on the Great Loop.
Day 1 – Start the Nashville Side Trip
48.6 nautical miles | 9 hours travel time
Travel from an anchorage on Lake Barkley to Dover Creek Anchorage. This will be one of the longest travel days, so it's best to leave early in the morning to maximize sunlight hours.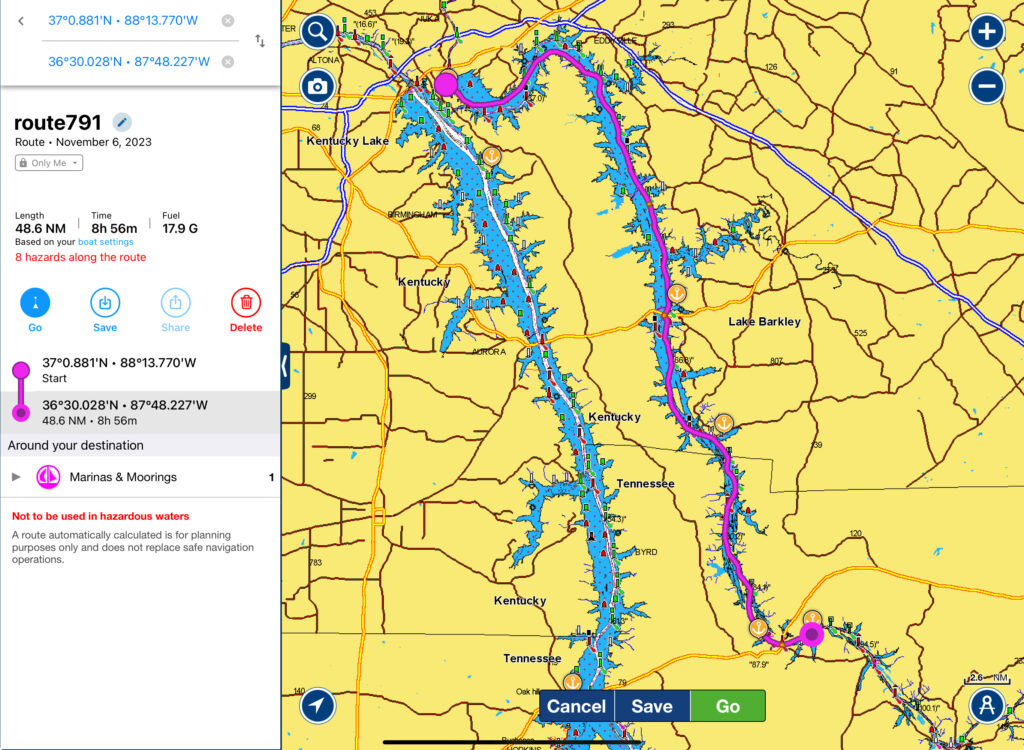 Day 2 – Short travel day to explore Clarksville
30.2 nautical miles | 5 hours and 30 minutes travel time
Travel from Dover Creek Anchorage to Clarksville, Tennessee staying at the Clarksville's McGregor Park Courtesy Boat Dock. Watch out for the Cumberland River Ferry that runs every 30 minutes across the river. Enjoy a delicious meal at the Mailroom followed by beers and games at Upstairs at Strawberry Alley. If you happen to visit on a Friday night, make sure to check out the Downtown Commons or a show at the Roxy Theatre (and the farmers market on Saturday morning if it's in season)!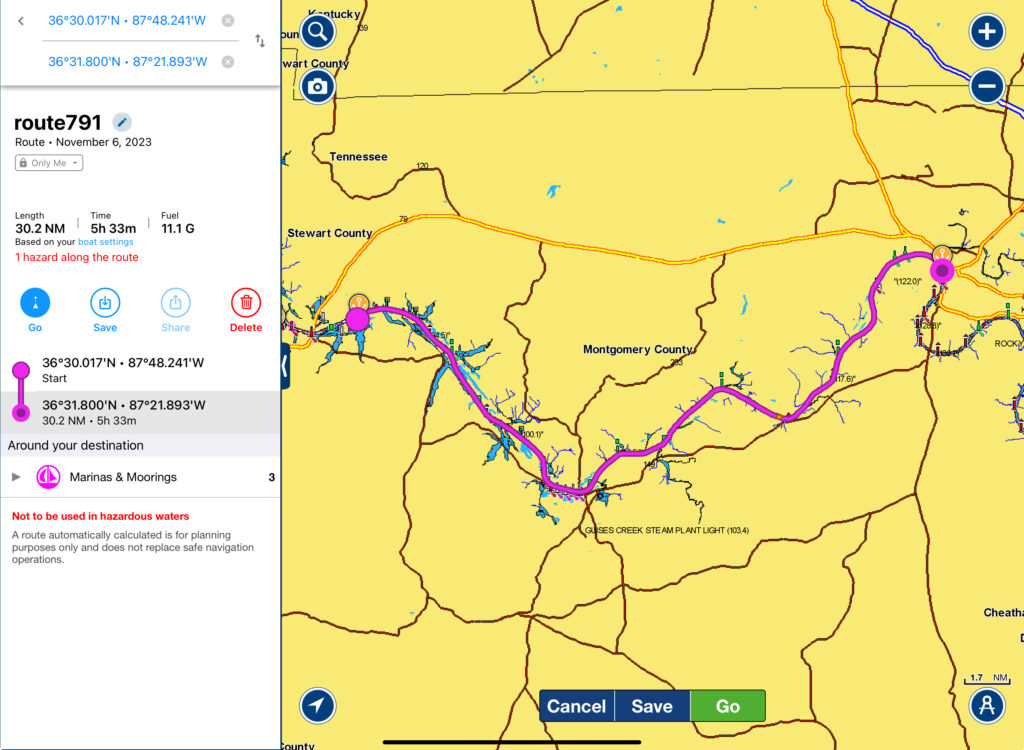 Day 3 – Cheatham Lock & Dam to the best Anchorage!
24.1 nautical miles | 4 hours and 30 minutes travel time + time for the lock
Enjoy another short travel day as you lock through Cheatham Lock and Dam and cruise to one of our favorite anchorages on the Great Loop – Harpeth River Anchorage! This day is short to take into account any delays at the lock. Make sure to call the lock master before leaving Clarksville to ask about current wait times. Enjoy the sunset over the limestone cliff faces in this quiet and protected anchorage.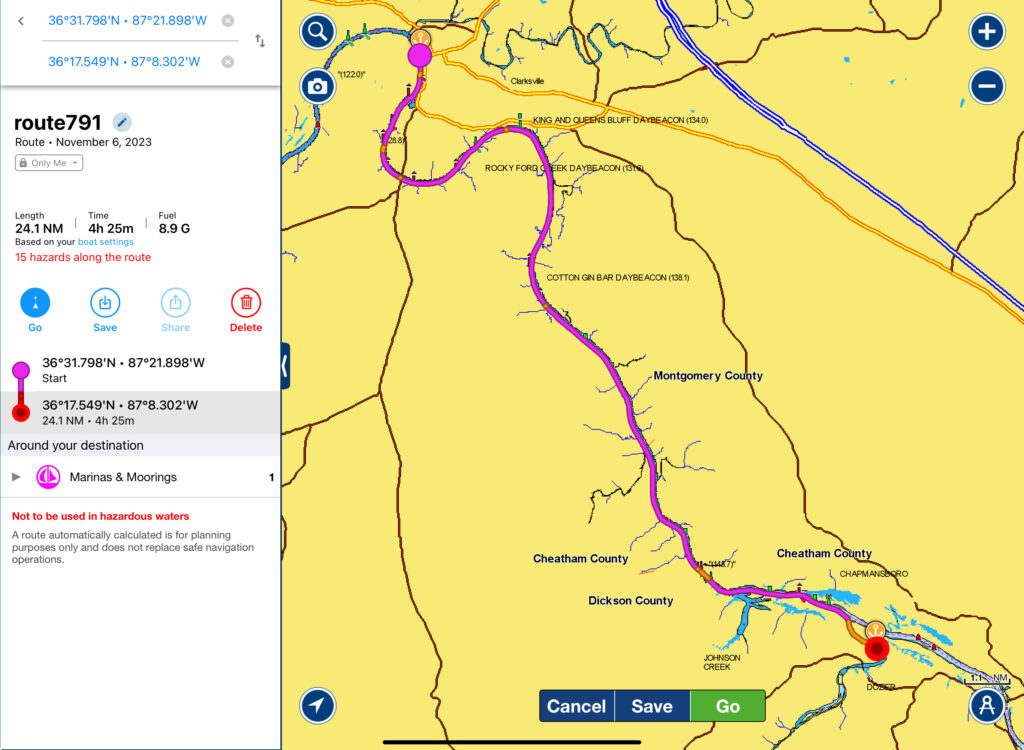 Day 4 – Arrive in Nashville
34.1 nautical miles | 6 hours and 15 minutes travel time
Leave Harpeth River Anchorage for Nashville! This part of the trip will be a bit industrial as you get closer to Nashville. Enjoy your first night out in Nashville listening to live music and eating delicious food.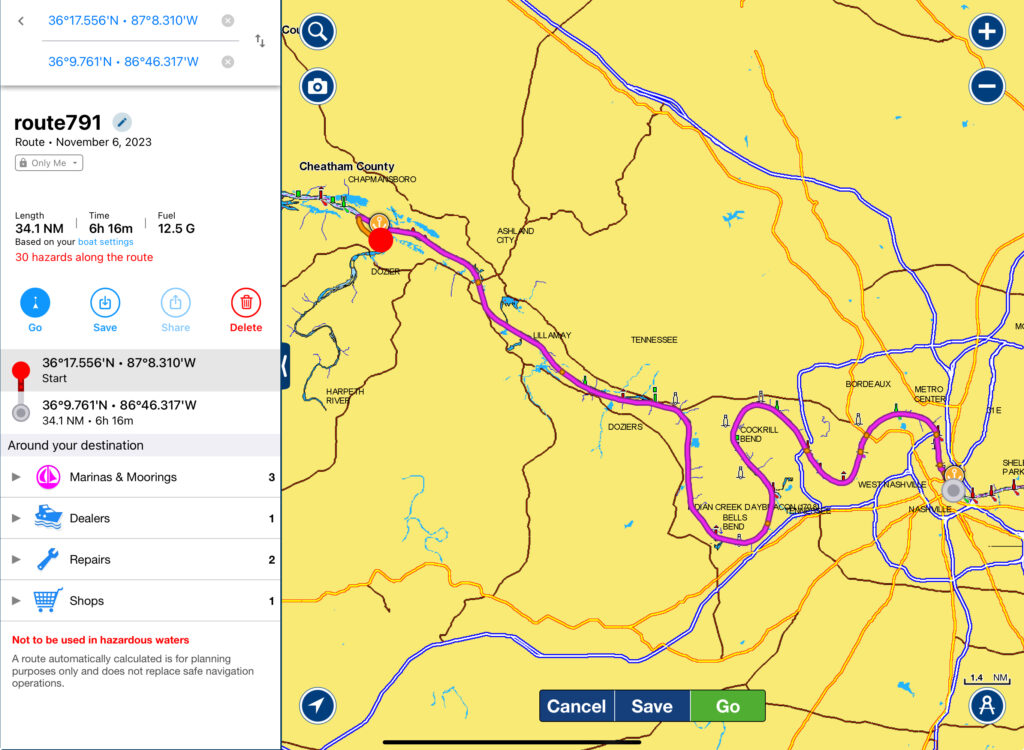 Day 5 – All Day in Nashville
This is your one full day to explore in Nashville.
Day 6 – Leave Nashville for Harpeth River Anchorage
34.1 nautical miles | 6 hours and 15 minutes travel time
Enjoy the morning in Nashville before leaving the dock and heading back to the Harpeth River Anchorage (or Riverview Restaurant if you prefer to be on a dock).
Day 7 – Cheatham Lock & Dam to Clarksville
24.1 nautical miles | 4 hours and 30 minutes travel time + time for the lock
Leave Harpeth River Anchorage and head through the Cheatham Lock and Dam to Clarksville. Make sure to call ahead so you hopefully don't have to wait at the lock. End your cruise in Clarksville and enjoy another great meal in town or a beer at one of their local breweries.
Day 8 – Long Travel Day from Clarksville to a Marina on Lake Barkley
48.6 nautical miles | 9 hours travel time
Leave Clarksville early and have a long travel day back to the main Great Loop Route. Visit Buzzard Rock Resort & Marina or Green Turtle Bay Marina, both of which have courtesy cars, so you can re-provision for another section of the loop. Make sure to route this section with your boat speed so you can work backward and figure out what time to leave Clarksville so you arrive to your destination before sundown.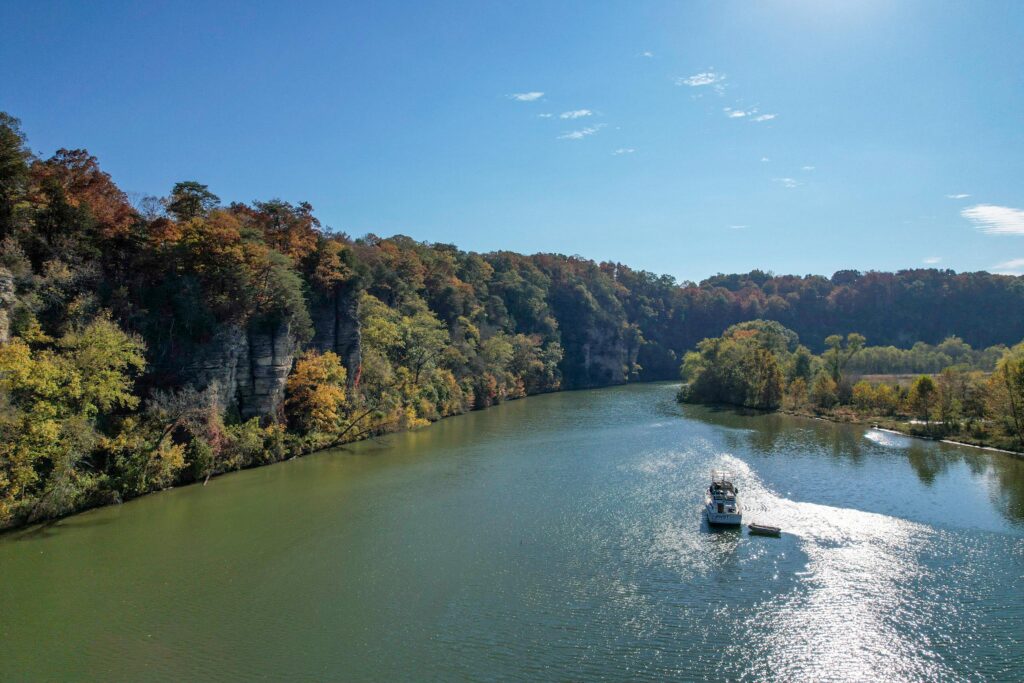 Additional Resources
The book, The Cumberland River Cruise Guide by Fred Meyers, is a great guidebook giving mile-by-mile information on the area's history, attractions, and geological features.
Watch our Nashville Side Trip on YouTube
We hope this post provided you with some insightful information on boating the Nashville side trip on the Great Loop. Share this post with a friend if you think someone else might find this information useful. The ups, downs, and everything in between, we share it all. If you like what you see, there are lots of ways to show your support and say thanks!
Comments
Hi. Thanks so much for the Nashville side trip info. We are heading there now. I noted that you refer to your favorite anchorage before and after Nashville as Dover. Don't you mean Harpeth? It's a long way from Nashville to Dover.

Hi Debi,

You're welcome for the information. I hope it's helpful. Yes, we mean the anchorage on the Harpeth River. Thanks for catching that. Enjoy the Nashville side trip!

Safe travels,
Jen

Thank you so much for catching that! It slipped both Elliot and I. I've updated the detailed itinerary so it should be correct now.