How Much it Costs To Do America's Great Loop in One Year
In this blog post, we share our total expenses as we traveled around America's Great Loop in one year. This 6,000 nautical mile journey around part of the US and Canada by boat is typically completed by people who are retired after working and saving money throughout their lives. By sharing our expenses, we hope to inspire other young couples, families, and individuals to do the Great Loop sooner rather than later.
During our first loop attempt in 2021, we received a lot of questions about how we're doing the loop at a young age (the answer to that question is that we're both working full-time) but I think the more relevant question was how are we doing the loop in an economical way? This sparked our idea to share our monthly great loop expenses on our website for anyone to read. We want to be clear that the Great Loop can be done for less money than we spent and can also be much more expensive than what we spent this past year. This Great Loop Expense Report is shared as a reference for prospective loopers who are interested in planning for their trip of a lifetime on the Great Loop. We hope you find this information valuable and helpful.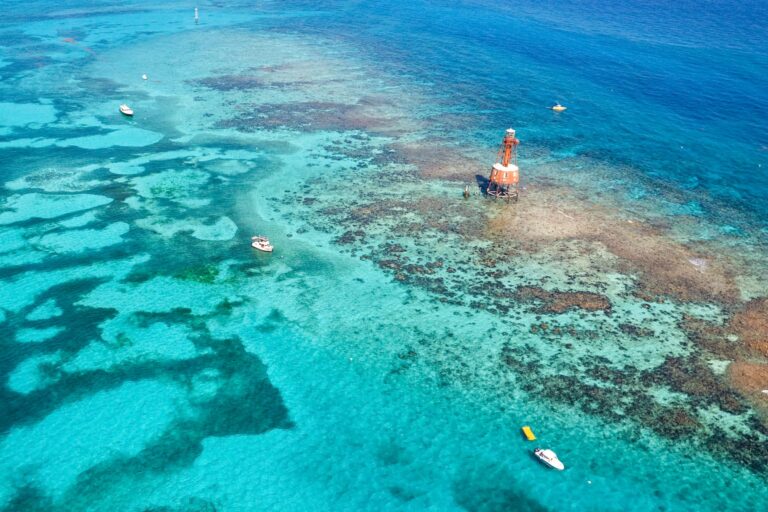 Not All Great Loop Budgets Are The Same
Completing the Great Loop is a completely unique experience as it varies from person to person. The Great Loop is full of a variety of people with varying-sized boats, budgets, and lifestyles. This is by no means the only way to do the loop, but it's how we did our loop. Just as the Great Loop experience is completely customizable, so is each person or couple's budget. We chose to anchor more than we visit marinas because it maximizes our largest controllable budget category. Our time at marinas is typically very focused on getting convenient boat tasks done like washing the boat, filling up our water tanks, grocery shopping, boat work, etc. We found that spending the money to have a reliable and trustworthy anchor setup and dinghy was valuable to our overall budget because it helps us limit our time at marinas which can add up quickly. You can read more about our boat and our ground tackle (aka anchoring gear) here. Elliot also wrote an E-book explaining the electrical system changes we made to make our boat capable of being off the grid for extended periods of time.
"The secret to budgeting is that it needs to be honest. Not what you think it should be or wish it could be, but what it really is."
― Lisa Conway-Hughes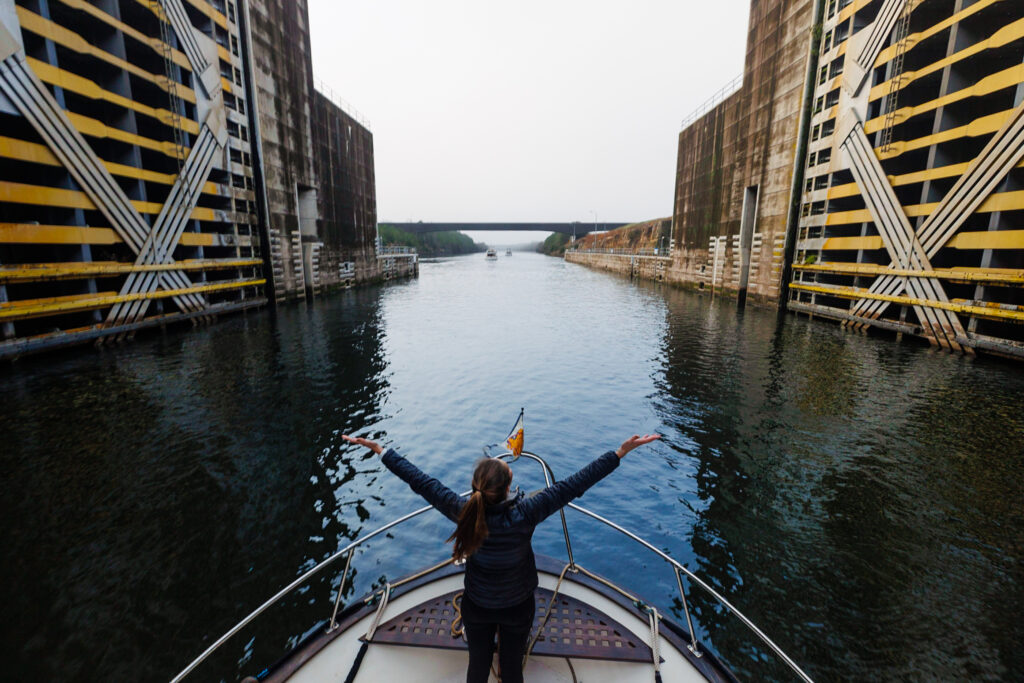 What Kind of Expenses are on the Great Loop?
Traveling on the Great Loop has many of the same expenses as on land, however, there are a few specific to cruising full-time. We divided up our Great Loop expenses into a few categories including marina, fuel, groceries, housekeeping, restaurants, attraction/tours, insurance, and other. Here are how we made these categories and what is included in each of them:
Marinas
This category is for overnight dockage or mooring. This could be at a marina, a paid dock, or any paid overnight stays. Throughout our journey on the Great Loop, we saw marinas range from $0.50-6/foot depending upon your location. The northeast, specifically New York City had the most expensive marina, Liberty Landing Marina at $6/foot whereas some of the least expensive marinas were on the midwest rivers at $1/foot. When available, we try to get a mooring ball as they are a fixed price and provide many of the same amenities as a marina, just without the convenience of a dock. Since you're paying for the marina, a mooring ball typically comes with the marina amenities including showers and laundry.
Fuel
This category is just diesel fuel. Our engine and generator take diesel so we have two large diesel tanks that hold about 300 gallons total. When our tanks are getting low, we begin to shop around for diesel before making a large fill-up. We made a video on Tips for Saving Diesel on an Old Trawler which includes searching for the best diesel prices on Waterway Guide and Cruisers Net. When researching fuel prices, be sure to look at whether tax is included or not. That can affect your overall fuel prices when filling up hundreds of gallons. By doing our homework and searching around ahead of time, we can avoid high fuel prices and can rest assured that we're getting the best price available.
Groceries
This category includes groceries, pantry items, large provisioning hauls from Walmart or Amazon, and alcohol. While we lived on land, we would shop around at various grocery stores for deals. Now that we live on a boat, we're at the mercy of whatever is most convenient to our boat and shopping at whatever grocery store is available. In some cities or towns, there might only be one grocery store in town, while other locations might have several options available. When available to us, we prefer to buy organic, however, that wasn't always an option.
Housekeeping
This category includes things like laundry, propane refills, pump outs, water refills, and tipping dock hands. We primarily wash our clothes in marina laundry facilities. Each load can cost between $1-4 per load, with the average load costing $2 for a total of $4 to wash and dry one load of laundry. Our galley uses two primary fuel sources for cooking: electricity and propane. We have two propane tanks on our boat for our stove top and grill cooking. Fill-ups usually cost around $5-10 per tank. Pump-outs can range from free to $10, however, we usually see pump-outs costing $5. In Canada, pump-outs cost us $15/tank. Usually, water is free with a diesel fill-up or overnight dock stay. While we cruised in the Florida Keys, we paid for water which cost us about $0.10/gallon. Each time we visit a dock, there are usually people there to help catch lines and assist us when docking. We tip $5/person.
Restaurants
Part of the fun of traveling is tasting the delicious food that's popular in a specific region. This category includes everything from bars, restaurants, desserts, breweries, coffee shops, etc. Anytime we ate out whether it was taken out or dining in, it went in this category.
Attractions/Tours
The other part of traveling is seeing various sights and taking tours to learn more about a place. This category will vary significantly from place to place but is something we valued to make the most of our Great Loop experience.
Insurance
Part of owning a boat includes boat insurance. It's just part of doing business.
Boat Projects
This category is for all hardware, maintenance items, or engine pieces that are completed on the loop. This can range from boat improvements to maintenance items like an oil change. Basically, anything that's related to our boat goes here.
Other
This category is for any miscellaneous items that don't fit into the previously mentioned categories.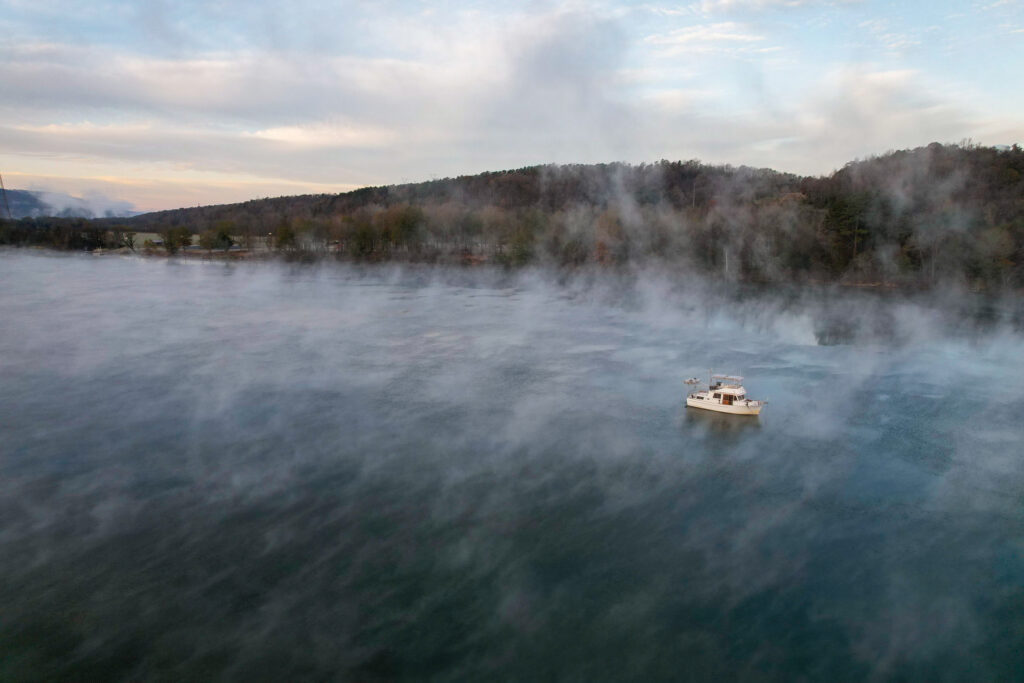 Annual Boating Expenses
These are the boat expenses that we pay for on an annual basis that didn't make it into our 12 month of expenses for one reason or another:
This totals $3,109.67 of expenses which were not all included in our Great Loop Expense total. We didn't include some of these items like Starlink because they're business expenses, but since we received so many questions about it, we thought it was important to share.
The Travel Summary
America's Great Loop is a 6,000-mile journey around the United States and Canada by boat. It's typically done in one year, however, it can be extended into multiple years where boaters enjoy a slower pace to enjoy each region deeper. The Great Loop has a 'standard route', but also has many options when planning your trip, primarily in the Great Lakes region. The trip also can include a few side trips including the St. John's River in northeast Florida, the Potomac River to D.C., the Rideau Canal to Ottowa, Ontario, the Cumberland River to Nashville, Tennessee, the Tennessee River to Chattanooga, Tennessee, and lastly the Florida Keys. Each Great Loop is different and ours was not an exception, so it's important to understand where we traveled, how far we cruised, and some specifics in our particular loop experience.
We began our Great Loop in Key West, Florida, traveled a total of 5,861 nautical miles, and crossed our wake in Stuart, Florida. During our Great Loop, we choose to cruise through Canada, took the side trip to Nashville, and Chattanooga, and took the Big Bend – hugging the Florida coastline instead of doing the overnight Gulf Crossing. Here's our Nebo travel summary: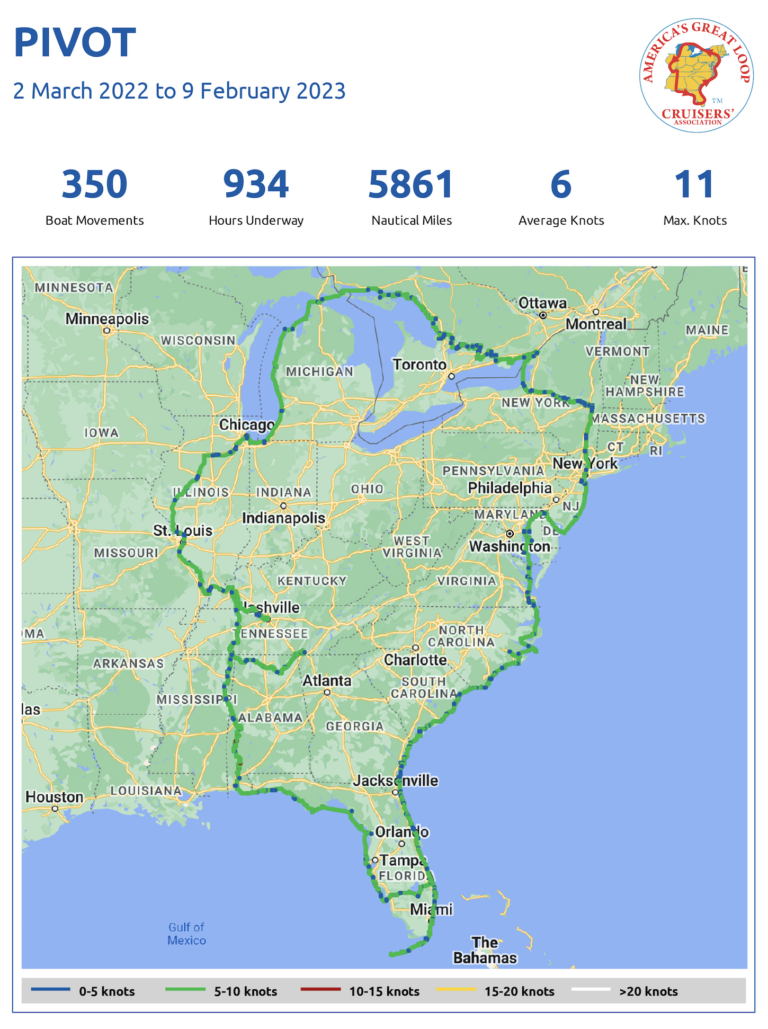 NIGHTS SPENT
Marina dock: 98
Marina mooring ball: 18
Free dock: 61
Paid dock: 12
Free lock wall: 7
Paid lock wall: 8
On Anchor: 161
Anchoring has been key to our Great Loop budget. Prior to starting our Great Loop, we created our budget for the trip. There are a few "given expenses" on the Great Loop including fuel, boat maintenance, and boat insurance, but there are a few expenses that are much easier to control. Our budget required us to stay on anchor more than we spent time at marinas. Spending time at marinas is a reoccurring high expense for loopers, but by anchoring out significantly helps control this expense category. We spent 63% of our nights free of charge – either on anchor, at free docks, or free mooring balls. Anchoring is by far our easiest way to save money on the loop!
The type of boat you choose to complete your Great Loop with has a huge effect on your budget. The length of your boat will affect your marina budget as marinas charge by the length of the vessel. So a smaller 27 Ranger Tug will have a significantly cheaper marina budget than a 45 Carver or a 55 Fleming. We were in the smaller range of boat sizes with a 34-foot boat since the average looper boat is about 40.5 feet long.
The next boat characteristic that will determine your budget is the number of engines you have (one or two) and how fast you run your engines. Looper boats are typically categorized into two categories: go fast boats and slow boats. If someone is hoping to save money on their loop, reducing their cruising speed from 10 knots to 8 knots or from 8 knots to 6 knots can drastically reduce the amount of fuel they consume. Fuel consumption on a boat is exponentially calculated from how high the RPM of the engines run.
We bought an old trawler, with a reliable diesel engine that had low engine hours on it. Our boat was a "slow boat" that sips diesel and was on the smaller scale of looper boats, which allowed us to tuck into spaces that larger boats would not fit into. Having a smaller, fuel efficient boat was a great way for us to keep our expenses lower.
TOTAL MILES TRAVELED: 5,861 nautical miles (6,745 statute miles)
TOTAL TIME TRAVELED: 934 hours
TOTAL DIESEL FUEL BURNED: 2035 gallons (7703.313 liters)
AVERAGE FUEL BURN: 2.18 gallons/hour
TOTAL OIL CHANGES: 4
Our Great Loop Total Expenses
From March 2022 to February 2023, we spent a grand total of…
$40,501.79
GRAND TOTAL OF GREAT LOOP EXPENSES
This list does not include personal expenses like healthcare, phone bills, or subscriptions, and business expenses as those all vary from one person to another. All expenses are in USD.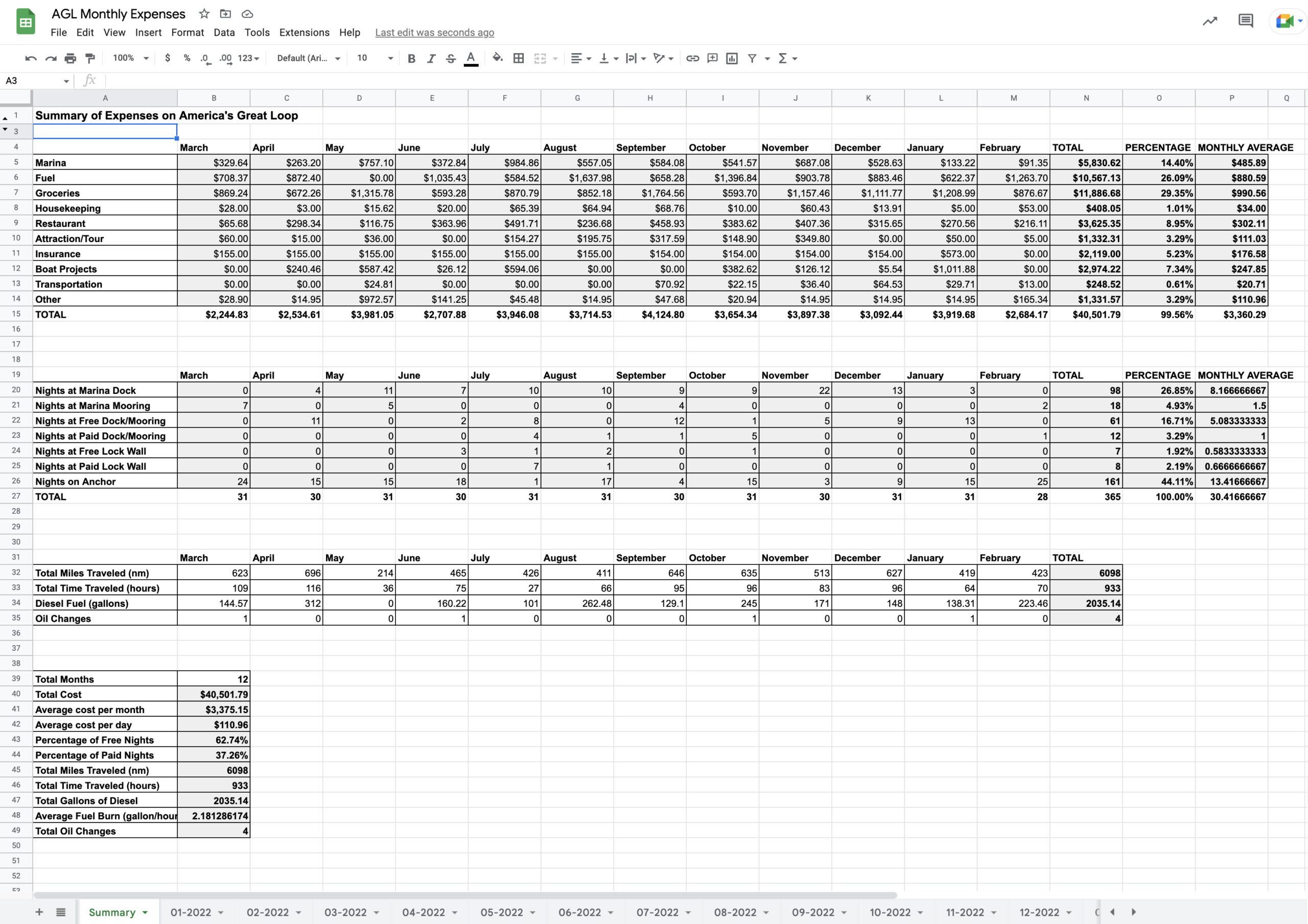 Our largest expense was groceries for a total of $11,886.68. Most of the meals we eat are cooked on our boat, making this a reoccurring high category for us.
Our second greatest expense was fuel for a total of $10,567.13. We fueled up on average once a month which ranged from about $600-900 a month depending upon the region we were in and average fuel prices during the time we were filling up.
Our third greatest expense was marinas for a total of $5,830.62.
Our expenses based on category ranging from most to least expensive and their percentage of our total expenses:
Groceries $11,886.68 (29.35%)
Fuel $10,567.13 (26.09%)
Marinas $5,830.62 (14.04%)
Restaurants $3,625.35 (8.95%)
Boat Projects $2,974.22 (7.34%)
Boat Insurance $2,119.00 (5.23%)
Attractions/Tours $1,332.31 (3.29%)
Other $1,331.57 (3.29%)
Housekeeping $408.05 (1.01%)
Transportation $248.52 (0.61%)
Great Loop Budgeting Resources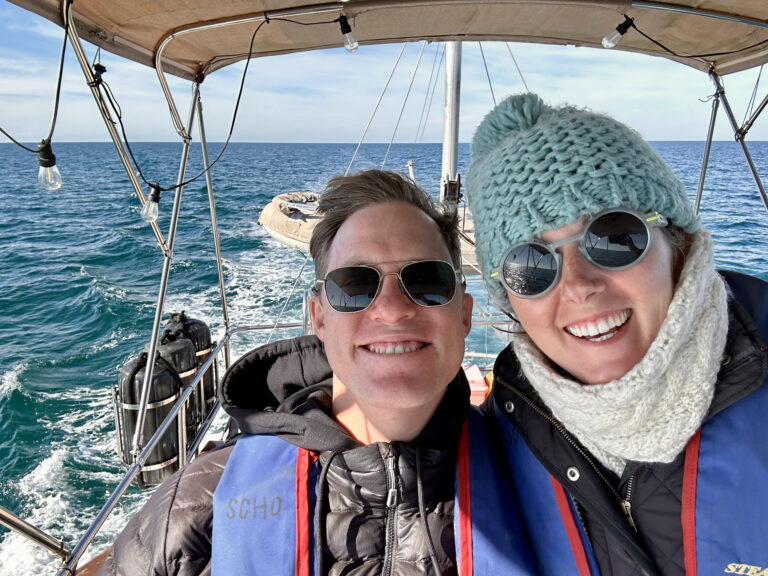 We hope this post provided you with some insightful information on how much it costs to do the loop on a budget. Share this post with a friend if you think someone else might find this information useful. If there is something you would like us to include in our final Great Loop Total Expenses, let us know in the comments below!
The ups, downs, and everything in between, we share it all. If you like what you see, there are lots of ways to show your support and say thanks!
Comments
Hi! A inexpensive way to get out and see things most people don't and have fun doing it and at a low cost how much would it cost you to live on land in a apartment or a house and get to see nothing like you did. Still waiting on your next adventure. I still hope it's a board pivot. If it's in there somewhere that you put it that didn't stand out I may have missed it that is your next adventure. Get the next flag!

Very true! When you take a look at land-life expenses, it really is not much more. We typically relate our monthly diesel expense to what rent might be! Next adventure will be coming soon ❤️

Thanks Dennis!

Just found you guys ! A little confused watching your videos, did you do the loop twice ??
We are future loopers for sure. In fact we just found a 34 MT that we like. Decks done, alumimum gas tanks, and a sub 2000 hour 120 Lehman with a hydraulic stern thruster. It is unusual though, it has two doors from salon to decks directly across from each other. Looks factory ??
So glad you did such a great job with the expense sheets. We would have thought diesel would have topped the list.
Your thoughts on the MT 34 as a looper. If you were to do it again would you have went bigger ?

Thank you !

Hi Michael,

We attempted to complete the loop in 2021. We started in northeast Florida in April and made our way up to the Chesapeake Bay by May where we had a boating accident. The boating accident lead us to postpone our loop for a year. We cruised south for the winter and restarted our loop in March 2022. You can find all of our Great Loop videos in chronological order here.

Congratulations on finding a 34 Marine Trader! That's awesome. Sounds like a great find with those big boat projects done.

I'm sure diesel tops the list of expenses for some loopers, especially if they run fast and have two engines. Having a slow trawler with one engine really helped us with fuel economy!

If we were to do the loop again, we would have gone with a smaller boat – possibly a C-Dory or a Ranger Tug. There are pros and cons with every boat, and "there's no perfect" boat as they say!

Thanks again for watching our videos and following along!

Kind regards, Jennifer

Hello, have been reading and watching all your post absolutely love it. So glad to hear about your comments on C-Dory it Ranger Tugs. My husband, Dave and I are in the planning stages of the great loop. Really love the Ranger tug 29. Would you go inboard or outboard? Thanks Pam G.

Hi Pam!

I would personally go on inboard because that's what we know with Pivot. However, we do not dislike the outboard versions too! The trade-offs are that you will need more service intervals with the outboard, which can be a bit challenging on the Loop, but you will have more space and storage since the engine won't take up as much room. The other piece that we like about the inboard, is that it is connected to our hot water heater so we have free hot water after cruising, which is very nice. The outboards will typically give you more speed and a lesser draft, so there is no wrong option!

Hope you enjoy!

Just want to say thank you both for your weekly updates and vlogs this past year. We are about to start to our adventure on our 1985 Monk 36 – Renown II. We live in Anchorage, Alaska so its been a wee bit difficult to get to her on a regular basis but she has been in a marina in Murrels Inlet SC. Our plan at the moment is to leave Myrltle Beach (she's getting her bottom done right now!) April 15 and go to the Spring Rendezvous (that's are only schedule as i know everyone advises DON"T HAVE A SCHEDULE but this is something we would like to attend).
Have enjoyed and appreciated your stories. THANKS.

Hi Vicki and John!

Thank you so much for watching our videos and reading our updates! We appreciate it.

Congratulations on starting your own adventure! That's great to hear. You have a great plan. The AGLCA Spring Rendezvous is a great event to help prepare you for the Delaware Bay, New Jersey, and the Great Lakes region. You should be able to get up to Norfolk in two weeks just fine. Watch your weather for the Neuse River, Pamlico Sound, and Albermarle Sound. These bodies of water should be taken seriously. If you incorporate some wiggle room to accommodate waiting for a good weather window for these bodies of water, you should be all good.

Have a great time at the Rendezvous with your fellow loopers and on your loop journey!

Kind regards, Jennifer

Hey guys, I enjoyed watching your videos and reading about your email letters with your expense reports. I have a few questions for you so if you had to do it again is the size boat the right size for you and was the speed the right speed for you. And I was just curious to see what your budget was when you purchased a boat and if you had to put any additional money into it to get it running .it's a possibility that we would like to be doing the same thing and I'm just trying to see what an accurate budget would be to purchase a boat and insure it definitely looks like a trip of a lifetime. Did you ever get bored being out there especially in the evening? And was safety ever a problem especially anchoring Thanks for your info Paul &Cathi Stuart Fl

Hi Paul and Cathi,

Thanks for watching our videos and reading our expense reports!

We love our trawler because it was a great first boat and taught us a lot. If we had to do it again, we would have gotten a faster and smaller boat, possibly a C-Dory or a Ranger Tug, however, those boats were not in our budget at the time. The two reasons we would have choose a faster, smaller boat would be that a faster boat could get us out of nasty weather faster and a smaller boat is less money spent at a marina. We don't mind being in a small space together and we didn't have a lot of guests visit us while we were on our loop. A faster boat would have also meant less time at the helm, which could have made balancing work and looping easier. Since we spent 8 hours at the helm, we had only a few hours to work on our laptops and sight-see. For us, it was a tough juggling act of balancing two full-time jobs with the loop. We love our trawler and have learned to embrace 6.5 knots, how weather affects our boat, and much more. It's been a great learning experience!

Our budget for purchasing the boat was that we had to purchase it outright, with no boat loans. At this time, we won't be sharing the exact purchase price, but we did put some work into the boat including doing a bottom job, installing solar, installing new lithium batteries, re-coring our leaky decks, upgrading our ground tackle (anchoring gear), purchasing a new electric dinghy motor after ours died, and a few more small upgrades. All completed most of the work ourselves, with some help from our family.

No, we never got bored! Most of our nights were spent working on our laptops since we traveled most days for a considerable amount of time. There's really no time to be bored on the loop. Looping keeps you very busy!

Safety was never a problem for us. We never felt unsafe, especially at anchor.

Best, Jennifer

Thank you for reading this, Bryan!

Brilliant, truly brilliant.
I will refer many "Question askers" to your classic:
Looper Primer.
What you have assembled reminds me of the cover page of every important exam.
Read instructions completely before starting test.

Hello!!
Just ran across your site while looking for cruising around Florida. You guys are brave and remind us of us when young (We are late 60's now), but were in our 20's when we started our adventures. Our first were not in a boat but a 17ft Toyota motorhome, with our 2 year old daughter. Still remember getting a thousand miles down the Baja in Mexico when the State Dept had tourista warnings up for banditos and finding there was not a part to be had for a Toyota on the whole Baja in those days (1982). Our Toyota, like your boat came through like a champ.
Since then we have retired and have had every boat you can think of, but you have given me a renewed interest in cruising the East Coast. We are West Coast and have cruised the San Juans, Puget Sound, Oregon and Washington, and California coast and rivers like the Columbia so if you are planning on continuing cruising and have any of these in mind hit us up for info! Thanks for the sterling detailed blog!

Hi Steven!

Wow, sounds like you guys have had some fun adventures! We would love to continue to explore the US by both land and boat. We've heard nothing but raving reviews about the San Juan Islands, Puget Sounds, and Desolation Sound. We hope to explore more in the future!

Jennifer,

I really enjoy your videos and can't wait to see the rest, especially concerning the Tennessee. My question is whether the Loop imposes a lot of time pressure on you. Getting from Waterford, Ny to Chicago by September 15th seems like a rush. Would it be better to go to Winter Harbor at Brewerton, NY and stay for a few years, cruising the Triangle Loop, the Trent-Severn and Georgian Bay before moving on? That probably would be ore expensive, yet less pressured.

Hey Martin! Yes, completing the loop in one year definitely imposes a loose "schedule" to be maintained as we're traveling. We've met several other loopers who have extended the one-year loop timeline to 2-10 years, which allows them to take their time in regions they want to experience more deeply. We genuinely love that idea, however, since we live on our boat full-time, that's not an option for us – we don't have a home to travel back to when taking the boat out of the water for the winter. In the future, we'd love to get a trailerable trawler to give us more options for exploring like that. Regardless though, both options have pros and cons.

Hello Jennifer,
I have thouroghly enjoyed following your journey. Before stumbling across your videos, I had never heard of the Great Loop. My wife and I have spent the last 25 yrats living in ,and traveling through, Europe and North Africa. We are nearing retirement and are anxious to reaquaint ourselves with North America, and the loop seems to check-off many of our adventure seeking boxes. Your detailed expense records are wonderful. They add some concrete rreality to the dream. While I know little to nothing of the used boat market, my question woukd be, do you think that one can recoup a large portion of the boat cost should one try to sell the boat after a year or so of cruising?

Hi Angelo! Thank you for following along on our journey! We really appreciate it. Wow, you must have some really wonderful stories from Europe and North Africa. I'm glad you've found our expense reports beneficial! We can't speak to your question about the used boat market, as we've only bought a boat and have not sold a boat yet. We'll be listing PIVOT for sale in a few months, so we should get more insight to your question then. In the meantime, I'm sure other loopers who have bought and sold a used boat would have more insight to your question (either on the AGLCA forum or Great Loop Facebook pages). I hope that helps 😊

OMG. I am trying to convince my wife to take the dive and purchase a boat and try the loop. Maybe not the full year as a year from home might not interest her. We currently have been retired for a few years and are living in a condo here in Miami. Never owned a boat but could tile a Buick as we are retired home builders and very handy. Been wanting a boat since our retirement but haven't yet taken the plunge, pardon the puns. After reading your blog and summary about your adventure I am ready. We have looked at a few boats ranging from 35′ to 48′ SeaRay, SeaLions and Carvers and a few others. We have no real boating experience but the Loop sounds so exciting I need to try it. We both are very capable, tech savvy and learn fast. So glad I found this site just googling the Great Loop and will be a faithful follower. Any ideas, thought sor comments would be great. Thank. you for all your efforts for providing such valuable inside and information.
Mark

I watched all videos on you tube you guys are great. I live in Rochester ny.

Hey Guys,
We follow you on Youtube, and your webiste, and thank you for taking the time to document everything, it has been so helpfull, and informative for us. We are planning on starting the loop next year, but probally wont be till 2025. Your documentation has been a great help to share with my wife who is now all in.
thanks again great job and congratulations on completing the Loop

Thanks for providing all this fabulous information, we are looking at the idea of doing this over a several year period, such as leaving mid summer, doing a couple of months and leaving our boat (Mainship 390 Trawler with single Yanmar 370 – similar fuel burn) for winter storage wherever we are at and then the next year resume and go another couple of months, etc. We currently pay for winter storage at home so this wouldn't really impact our budget to a large extent we think. By splitting up the costs over a few years, we think we could get closer to normal out of pocket expenses we'd normally incur with our yearly mid-range cruises (grocery, marina, fuel, etc.) and local cruising although clearly still more than usual. Do you think this approach is feasible? Also, is the insurance cost you list your normal yearly insurance or an add on for looping? Thanks again

Hi Larry! Thanks for checking it out, that is a fabulous plan and we have some good friends attempting the same plan. The only tidbit I will share is that you will not want to haul out in Canada, but rather do it in U.S. waters (assuming you are based in the US) as I believe there are some serious tax implications with keeping the boat in Canada for an extended period of time. The insurance listed here isn't Loop specific but rather full time cruiser specific, and I'm not sure there is any difference. Cheers!

Elliot – thanks for the info, very helpful. I wish we had known of the Loop ten years ago and also had the same boat then (had a 32' Catamarran that was seriously under powered) but still am hoping we (my wife and I) can come together on a decision. Unfortunately I'm not getting any younger and not sure we have the budget to do this, need to do some serious pencil sharpening. Again, thanks for the reply