PERSONAL FLOTATION DEVICE (PFD's)
Not all waterways require you to wear your PFD's in a lock, however, it's a good practice to have it close by. In our experience, we found that they were required in all US Army Corp of Engineer Locks. We have PFD's that were given to us and work great. If you are shopping for new PFD's, we've heard great reviews about Mustang PFDs.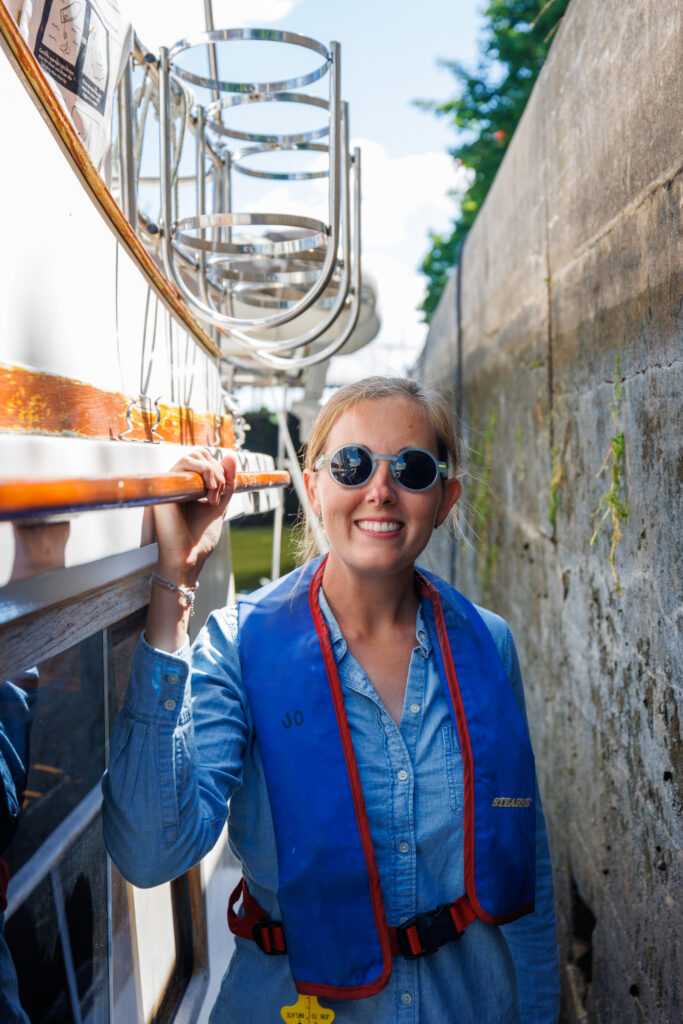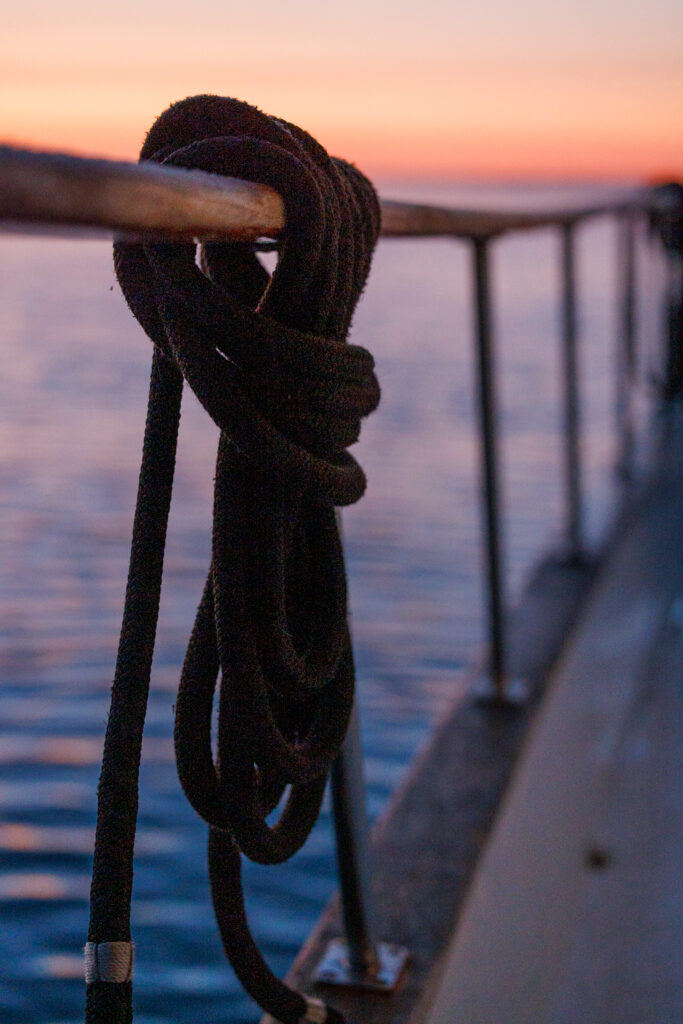 LINES
Lines are how you'll attach to the lock walls, bollards, or cables in every lock. Depending upon the size of your boat, you might need one line on the bow and one line on the stern or just one line on a midship cleat. To store our lines between locks, we neatly hang our lines on the railings. The thickness of your lines should correlate with the size of your boat, we use 5/16" lines for our 20-ton trawler.
As we cruised through the waterways with locks and expected to go through a few locks in one day, we kept one line on each cleat that we neatly tied to our handrails for ease of access during the locking process. This made it easy to quickly remove the line and have it ready for the lock.
FENDERS
The amount of fenders you will need corresponds to the size of your boat, and the size of the fenders. Boats are usually moving and rotating in the lock due to the motion of the water that's being pumped into or out of the lock. Turbulence can cause the boats in the chamber to move quite a bit, which is why you'll want to protect your boat with fenders. We have six of these Taylor Made black fenders and we really like them. We like that they have a center rope tube which allows us to go from a vertical alignment to a horizontal alignment quickly. Throughout our Great Loop journey, we saw many boats have large ball fenders that they arranged near the front of the boat. It's a juggling act between having enough fenders but not too many because you'll have to store your fenders when you're not using them. When we're not using our fenders, they're stored in these Taylor Made boat fender racks. We use lines to attach our fenders to our railings but we've also seen boats use a variety of adjuster clips.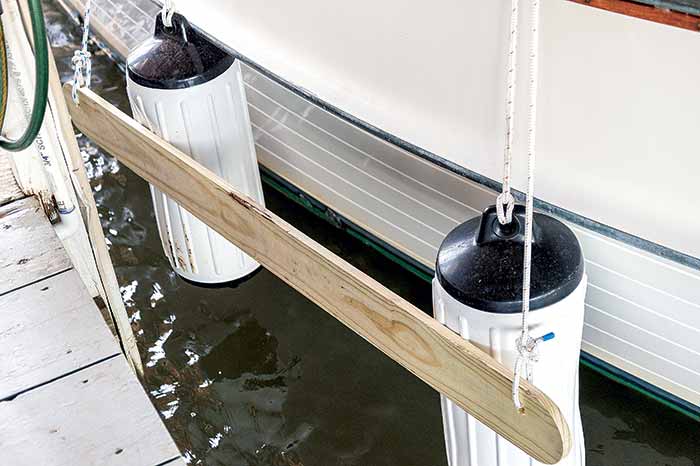 FENDER BOARD OR FENDER COVERS
A fender board is a piece of wood attached to your fenders to both protect your fenders as well as provide more surface area on the lock wall. On our Loop we didn't need a fender board, however, we saw many boats use a fender board to cover their fenders, protecting their boat against the dirt, algae, and grim in the locks. Boat US includes a great tutorial on how to create your own DIY fender board.
An alternative to a fender board could include fender covers, which need to be washed every so often and are a more expensive option. Fleece fender covers keep your fenders nice and clean but require you to wash them every so often.
Photo courtesy of BoatUS.
GLOVES
We bought yellow dish gloves prior to starting the New York State Canals based on our friend's recommendation. They really saved our hands from constantly getting gross from the grime, algae, and dirt that covers the New York State Canal lines. These reusable latex gloves worked great for us. Alternatively, we also saw boaters using work gloves which are more heavy-duty for the locks. Either works fine.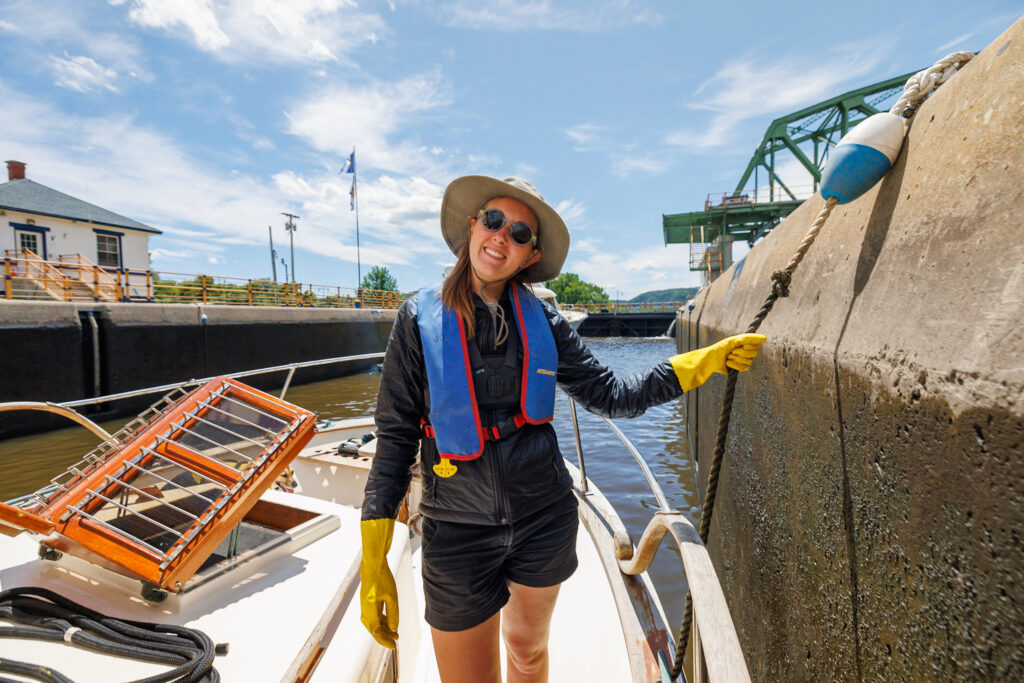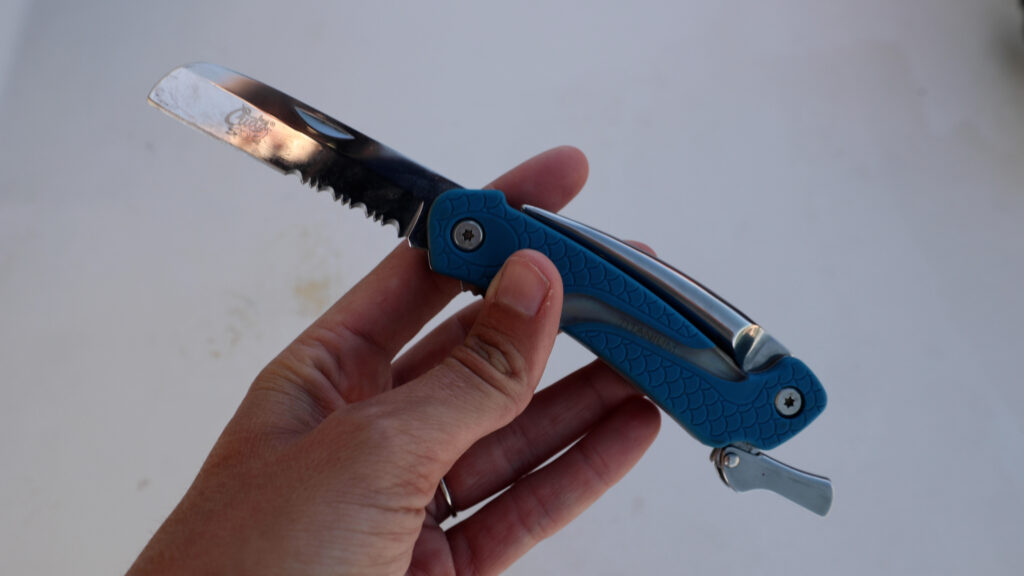 ROPE KNIFE
A rope knife is one of the most important safety tools to have while locking! Having a boat knife on your body and ready (not in a drawer stowed away somewhere) for an emergency is critical in case your lines get stuck and you need to cut your lines. As a boat is moving through a lock and the water is rising or lowering, there's an opportunity for the vessel to get caught on the lines and get stuck on the wall. In this case, you will need to cut the rope preventing long-term damage to your vessel. Thankfully, we've never experienced this ourselves, but have heard several stories from other boaters and loopers of this happening. This is the rope knife we have aboard PIVOT, but I'm sure any will work.
BOAT POLE
We have two boat poles on PIVOT that we constantly use throughout the locking process. We keep one at the bow and one at the stern. There are many things that we've benefitted from our previous owner's decision, and having two boat poles would be one of them. Boat poles are used basically as an extension of yourself. We've used them to grab a far away lock-rope, pass a line to a lock tender, as well as simply help fend off our boat from the lock wall.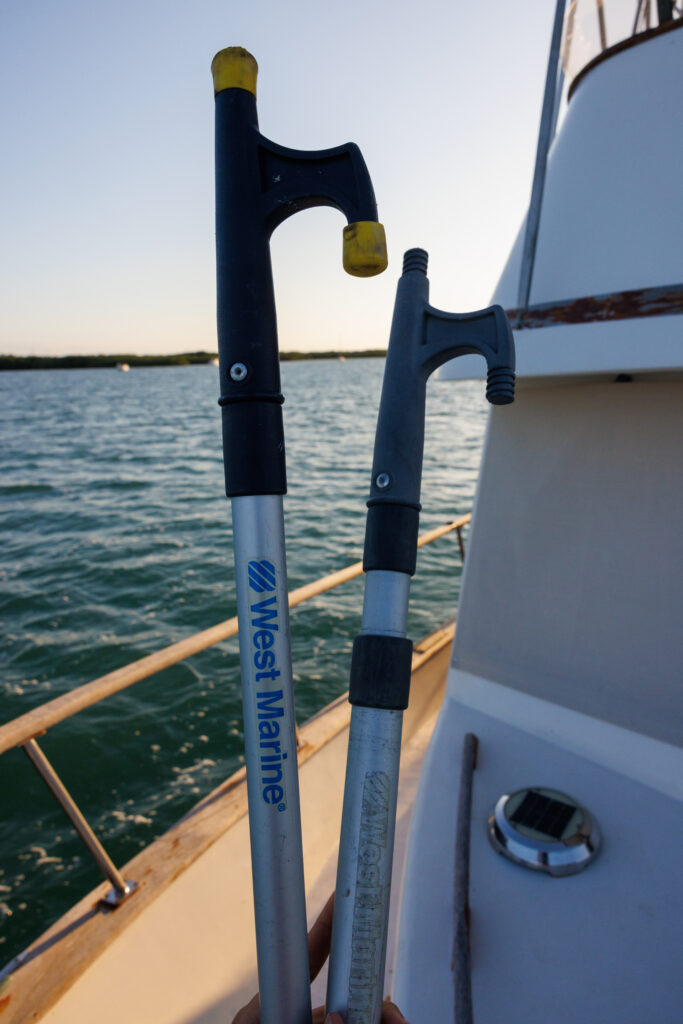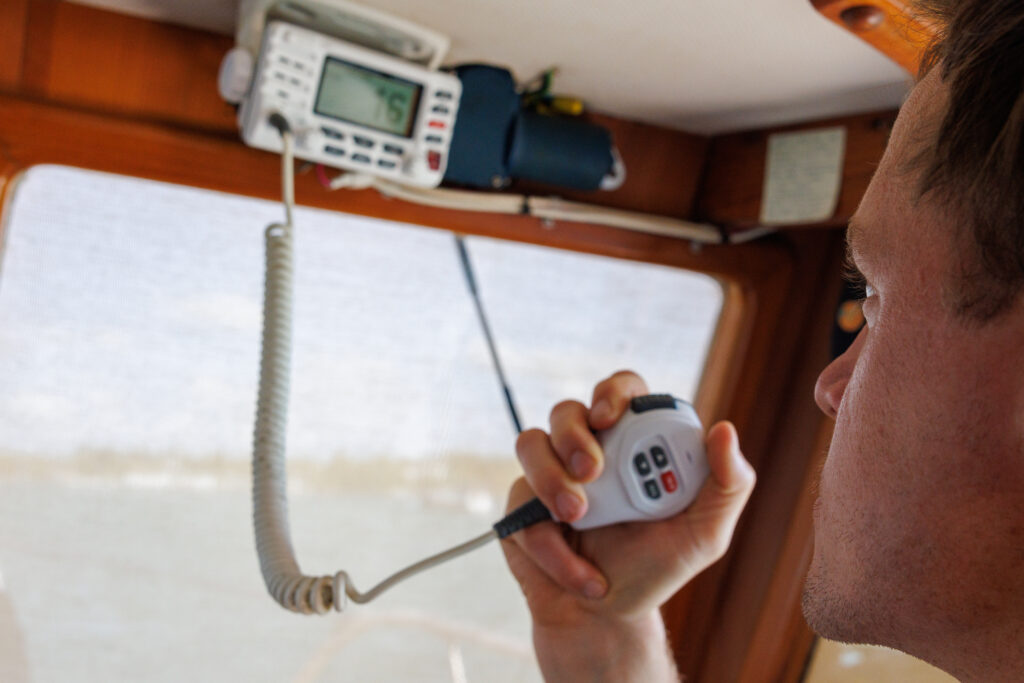 VHF RADIO
This last item may seem obvious, but having your VHF Radio on and at the ready is critical to a successful locking. While not all locks communicate over the radio, it is important to be able to communicate with other boats. The channel on which a lock listens varies by locking system and normally we will dual-watch, channel 16 with the locking channel.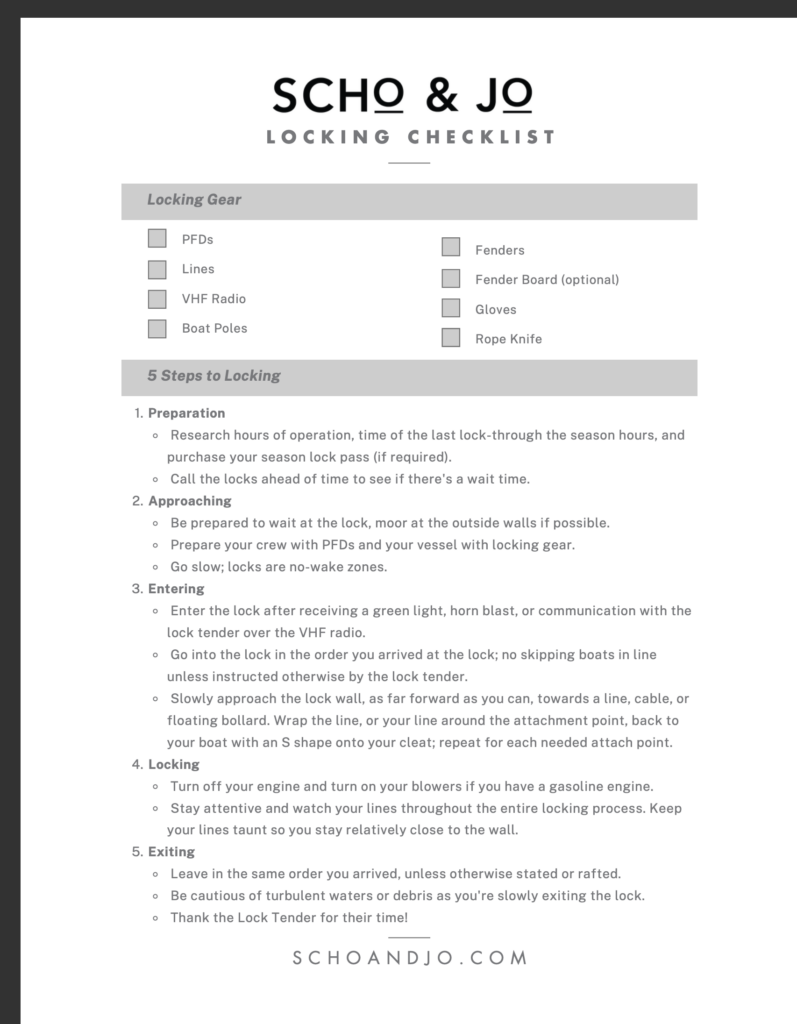 Download and print our FREE Locking Checklist to keep at your helm for your own boating adventures. It includes the Locking Gear and the Five Steps to Locking.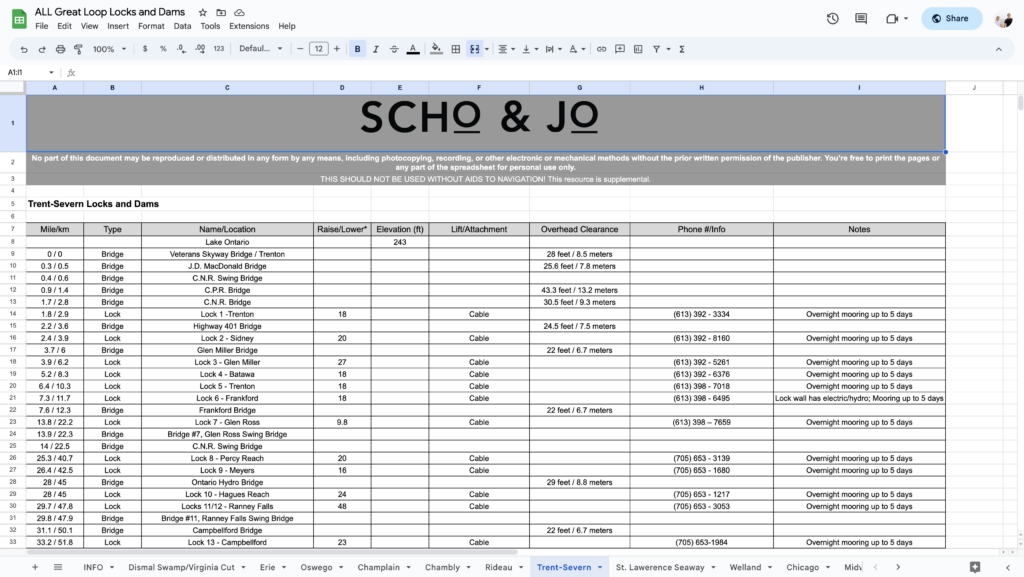 Check out our Great Loop Lock Spreadsheet which compiles all of the locks on the Great Loop route into one document including mile markers, locations, phone numbers, and more.